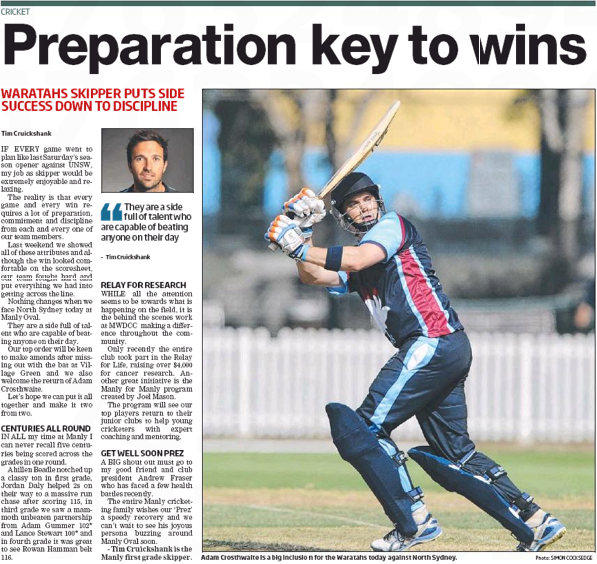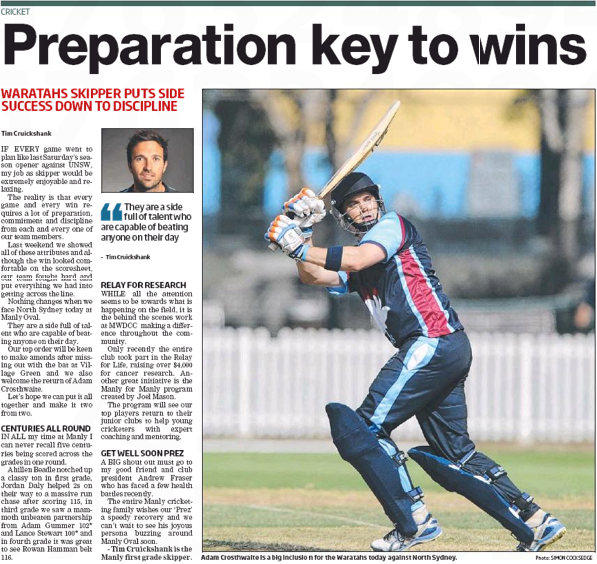 IF EVERY game went to plan like last Saturday's season opener against UNSW, my job as skipper would be extremely enjoyable and relaxing.
The reality is that every game and every win requires a lot of preparation, commitment and discipline from each and every one of our team members.
Last weekend we showed all of these attributes and although the win looked comfortable on the scoresheet, our team fought hard and put everything we had into getting across the line.
Nothing changes when we face North Sydney today at Manly Oval.
They are a side full of talent who are capable of beating anyone on their day.
Our top order will be keen to make amends after missing out with the bat at Village Green and we also welcome the return of Adam Crosthwaite.
Let's hope we can put it all together and make it two from two. IN ALL my time at Manly I can never recall five centuries being scored across the grades in one round.
Ahillen Beadle notched up a classy ton in first grade, Jordan Daly helped 2s on their way to a massive run chase after scoring 115, in third grade we saw a mammoth unbeaten partnership from Adam Gummer 102* and Lance Stewart 100* and in fourth grade it was great to see Rowan Hamman belt 116. WHILE all the attention seems to be towards what is happening on the field, it is the behind the scenes work at MWDCC making a difference throughout the community.
Only recently the entire club took part in the Relay for Life, raising over $4,000 for cancer research. Another great initiative is the Manly for Manly program created by Joel Mason.
The program will see our top players return to their junior clubs to help young cricketers with expert coaching and mentoring. A BIG shout out must go to my good friend and club president Andrew Fraser who has faced a few health battles recently.
The entire Manly cricketing family wishes our 'Prez' a speedy recovery and we can't wait to see his joyous persona buzzing around Manly Oval soon.