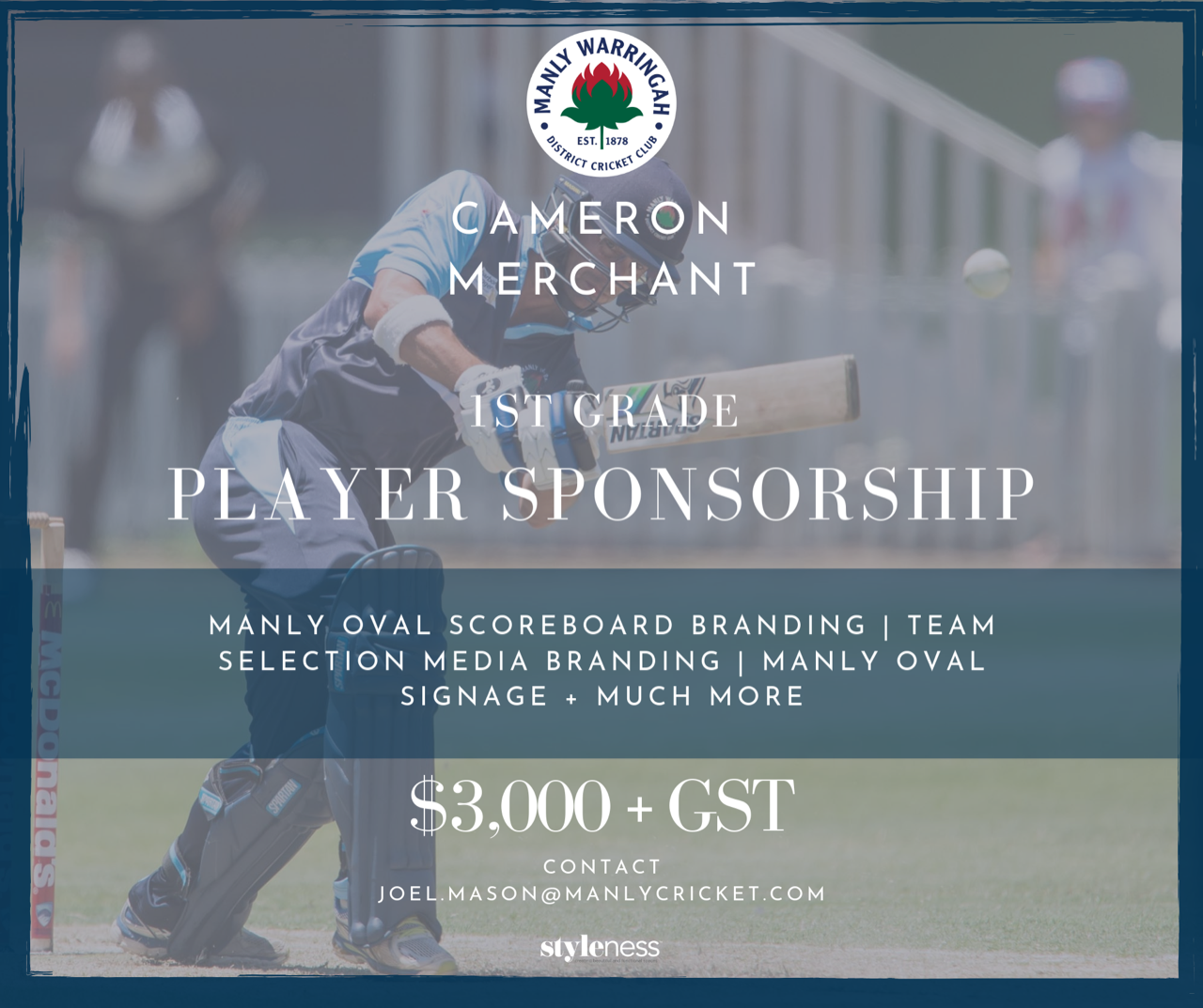 We are pleased to present a fantastic sponsorship opportunity with our very own Cameron Merchant.
The man affectionately known as "Nappa" has the potential for a big season with the Tahs , currently sitting in equal third spot on the most ever number of grade hundreds for the Manly Warringah Waratahs.
He is sitting equal with Jim Burke and Tim Cruickshank on 14 centuries, trailing Adam Crosthwaite and Terry Lee on 15.
Breaking such a record would be a huge achievement, and we have a great opportunity for a local, community minded organisation to join Cameron on the journey this year.
Our new 1st Grade player sponsorship category allows your brand to be associated with not only Manly Warringah's biggest stars, but some great prospects in the Australian cricket landscape.
Sponsorship of Cameron costs 3,000 +GST (cash or contra) and includes the following benefits:
Sydney Road signage on game day.
Logo included in 1st grade team selection social media post before each round if your player is selected.
Logo on Manly Oval scoreboard, facing Sydney Rd, when your player comes on to bat or bowl.
Looping Logo on Manly Oval Scoreboard for 1 hour prior to all 1st grade matches.
Signed Waratahs Playing shirt from Cameron Merchant.
1 hour individual coaching session with Cameron Merchant.
Invitation to Player / Sponsor event on Manly Oval on a Saturday evening.
Invitation to Sponsors Luncheon at Hugos Manly on Friday 30th September.
Addition to Player Sponsor section of website – Click here to view – including player profile and sponsor profile.
PA Announcements at Manly Oval 1st Grade T20 Sunday games when sponsored player comes in to bat or on to bowl.
News Item posted on website and social media throughout 2019/20 season advertising association
Manly Oval T20 functions and entertainment
Plus many other benefits
Of course we still have Club Sponsorship opportunities available, so don;t hesitate to get in contact with us about any level of partnership.
For all enquiries, please contact Joel Mason at joel.mason@manlycricket.com or 0478 319063
You can view our full sponsorship brochure for 2019/20 by Clicking Here