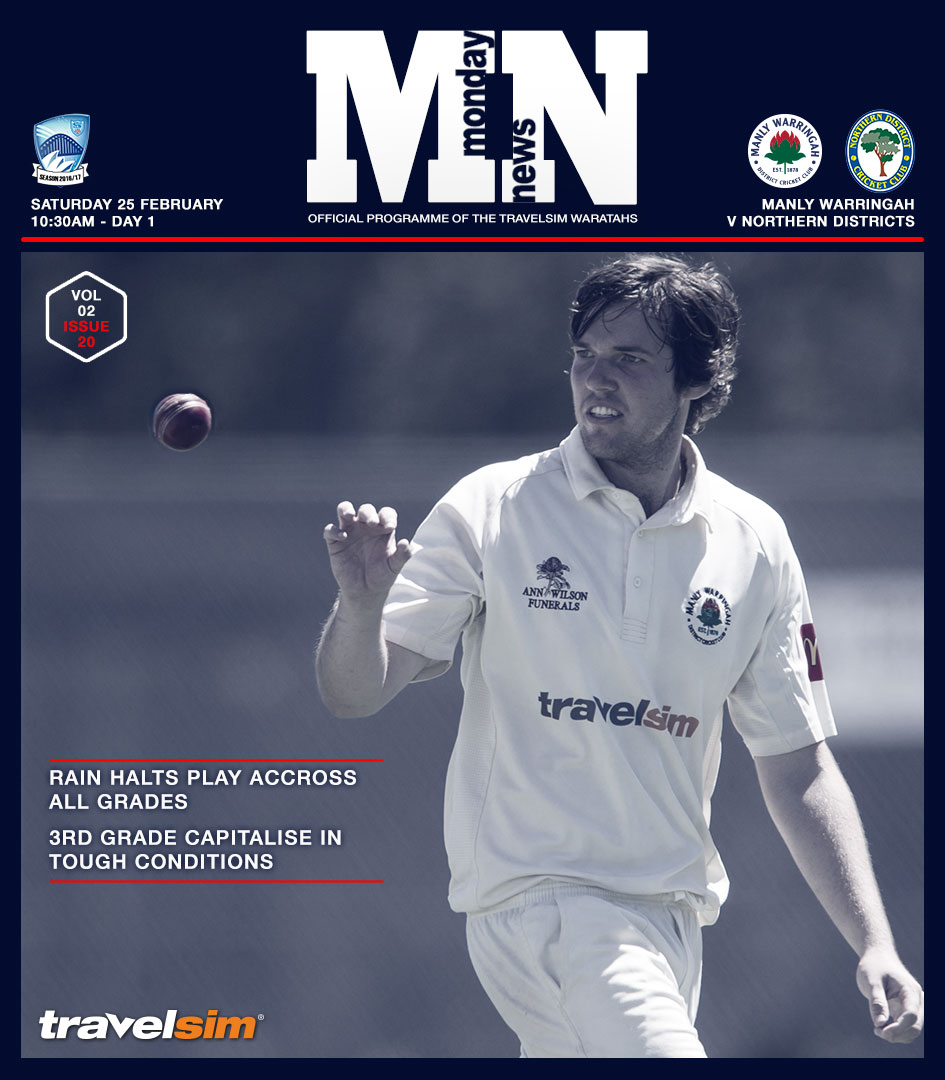 Wet weather wreaked havoc on Saturday which saw only our 3rd Grade side play on Saturday vs Northern Districts. With Warren Evans winning the toss, the Tah's capitalised on the conditions and have the trees in a spot of bother at 7/64 off 28 overs. Daniel McKenna (3/12) and Warren Evans (2/10) were the pick of the bowlers. All Grades will start early next week with 120 overs of play to try and manufacture some wins. A very important weekend ahead for the Tah's as all grades continue to push for a top 6 finish.
Go Manly!
4 Pines Players of the Week –
Daniel McKenna 3/12
This week's 4 Pines Player of the Week goes to 3rd Grade's Daniel McKenna. D Mac took advantage of the bowler friendly conditions Saturday bowling his usual consistent lines to trouble the Northern Districts top order. He finished with 3/12 from 10 overs and with 3 wickets still remaining in the Northern District's innings, we are sure he will be looking to snare all 3. Well done again to one of the most consistent wicket takers of the 2016/17 season.
1st Grade
No play.
2nd Grade
No play.


3rd Grade – Northern Districts 7/64 (D. McKenna 3/12, W. Evans 2/10)
Misty rain persisted for much of the day but when it cleared for long enough we were able to strip back the covers, sponge up a few bits and pieces and with NDs and the umpires keen to play we agreed on 36 overs commencing at 4.15. The outfield was wet, the run ups a bit soggy and possibly a bit slippery when landing and this was weighed up against a pitch under covers for at least 24 hours. It looked good though, a tinge of green, firm but as could be expected a bit tacky. Yet again we won the toss and chose to bowl.
Bishop-Perret (0/16 from 6) and Wilson (0/10 from 4) opened up and bowled good lines but possibly a bit guilty of over pitching allowing the batsmen to drive into the covers. With very attacking fields there were plenty of spaces for them. The ball didn't swing so a good length, rather than a full one, was needed.
NDs openers batted well and put on 27 (worth a few more due to slow outfield). With the ball's seam softened up and getting a bit slippery it was on the verge of back firing but then Ned Hole took an absolute screamer in the gully from McKenna (3/12 from 10). The rain got a little heavier and we came off for 20 mins. Upon returning Evans (2/10 from 6) found the swollen seam a few times with some sharp movement and managed two snicks to Webber as well. A great run out from Verdi to Webber had NDs move from 0/27 to 4/31 in no time.
McKenna continued to attack the stumps and knocked over no's 4 and 6 to have them 6/39. The ball was a bit slippery and the landing area a bit greasy for Evans so we tried Davies (1/14 from 2). An immediate chance via a sharp C&B was put down. Some clean hitting from the # 7 threatened to give NDs the push they needed into next week but just before stumps was called due to bad light he holed out to a set back mid off to leave NDs in trouble at 7/64.
NDs held back some of their batsmen who are due to possibly come down from 2s for day 2 so we still have plenty of work to do. However we couldn't do much more than what we did – hang around for 5 hours listening to quite a bit of claptrap from just about everybody, doing the covers a couple of times and snare 7 wickets in 28 overs.
4th Grade
No play.
5th Grade
No play.