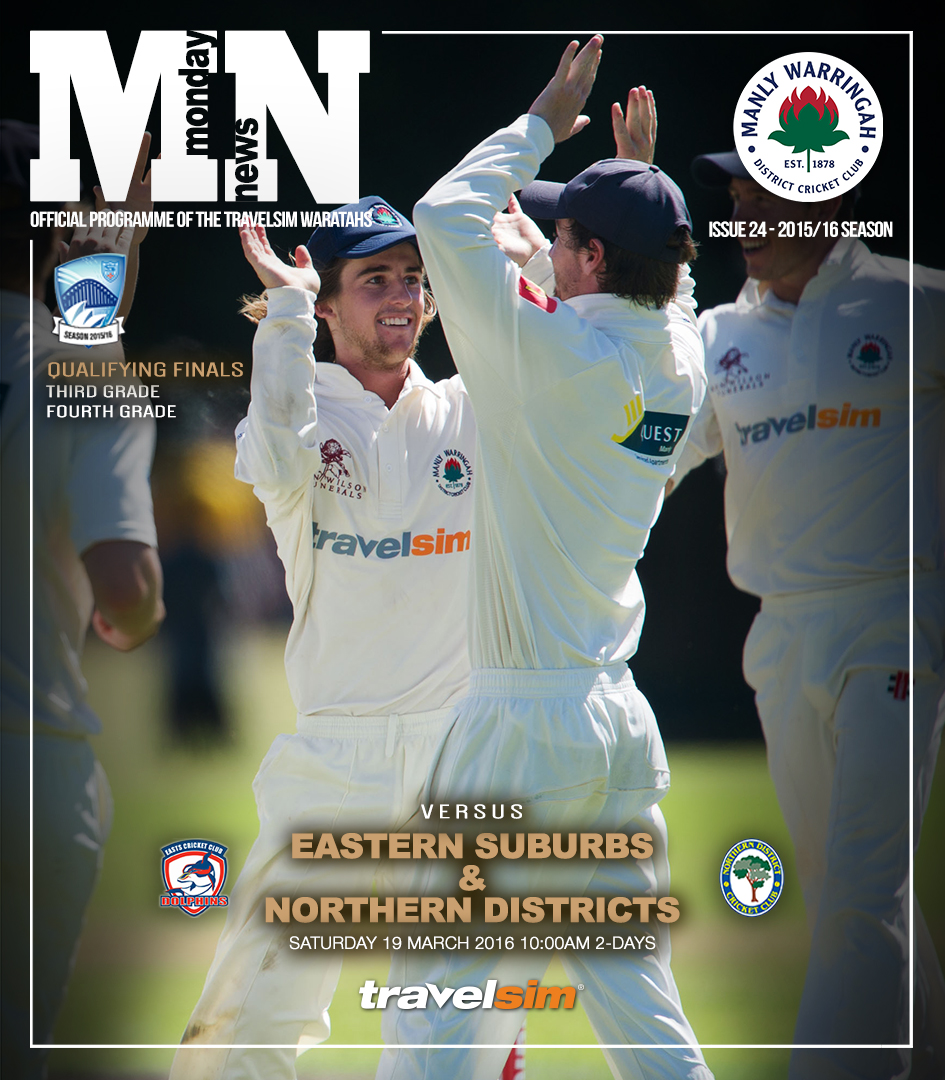 It was a weekend split between heartbreak and triumph as 3rd and 4th grade took to the fields in their respected qualifying finals.
3rd grade were victorious over Easts and find themselves in the Semi-Final next week against Sydney University. In what looked a dodgy start, being 5/46, we rescued the innings thanks to Zach Trewartha and posted a respectable 205. Our bowling line-up then did the job on day 2, Josh Wigney the highlight taking 5fa, and closing out the match just before the rain hit.
4th grade sadly saw their season come to a close this weekend, as minor premiers Northern Districts were just too good. Sent in on a deck that was doing a bit, the boys found themselves in real trouble at 5/15 after 5 overs and scrambled to 144. This was ultimately never going to be enough against the top side of the comp and ND's powered past us at 2/238 before the captains called it a match. However, a certainly respectable season for skipper Max Burgess and I'm sure the boys will be even hungrier for silverware next season.
Go Manly!
4 Pines Players of the Week – Zach Trewartha

This week's 4 Pines Player of the Week was a a tough one to split between 2 class individual performances in 3rd Grade. With 5/46 in the qualifying final, Josh Wigney can consider himself unlucky to miss out this week, however, Zach Trewartha's game changing innings was too good to pass up this round.

In a backs to the wall situation Zach entered the crease with third grade 5 wickets down, for only 46 runs. What proceeded after that point took some real talent, skill and guts as Zach posted 72 runs in a partnership that turned the game on it's head, guiding 3's to a very defendable 205 and ultimately the victory.

It was a curageous innings at a crucial time for 3's, so it's with great pleasure we award Zach with this weeks 4 Pines Player of the Week

Congratulations Zach!



3rd Grade: Manly 205 (Z. Trewartha 72, D. Marshall 28, W. Evans 22*) def. Easts 127 (J. Wigney 5/46, J. Edwards 3/17, J. Graham 2/23)
Sunny, strong southerly, firm pitch with some grass. Lost toss and sent in. Darcy and Edwards looked good early on against moving ball until Bill (5) chased and tickled. Joe found it a little tough batting at 3 but battled hard and got through a tough period. Pitch lively enough to keep you honest and Easts bowling in right areas. Jack (21) started to look very strong before he was disappointed with a close LBW decision. Next 18 mins was ugly with Jordan (2), Joe (4) and Aiden (0) all snicking off to take it from 1/39 to 5/46.
Zac (72) and Ash (23) scrapped to lunch to make it 5/61. These blokes battled hard after lunch and formed a match changing partnership. 65 very valuable runs were added and confidence grew. Zac was hitting out nicely and Ash was biding his time. A good bit of bowling had him edging to 2nd slip to make it 6/110. Dylan (23) then joined in and he too battled hard and another great 55 run partnership was formed. Zac showed great composure in getting to 72 and looked like he may have got a big one before he got a bit too aggressive to their spinner and top edged to make it 7/164.
Dylan and Evans looked to get us to tea but Dylan was bowled of his back leg and Wiggers went in the same over to make it 9/172. Falcs (6 from 59) came in and he and Evans (22no) added 33 for the last wicket. Great runs and Evans was hoping for another over to have a go but the dismissal of Falcs was OK as we had 200+ and a nasty little 17 over period for the Dolphins.=
Wigney (5/46 from 19) looked in great rythym and bowled an accurate bouncer early on which resulted in a simple catch to mid wicket. Falcs kept it tight before we brought on our surprise packet Edwards (3/17 from 17) who bowled a great spell into the breeze getting a nick to Bariol. Wiggers then bowled a jaffer for Daly to take a sharp one at 2nd slip. Edwards cashed in on the pressure when their best bat had an ugly swipe at a cut only to snick it to end the day at 4/26.
The weather at the beginning of day 2 looked threatening but we took the field and it took a while before Wiggers got an edge. The nightwatchman was doing a great job, occupying the crease and a partnership formed to take it from 5/36 to 74 before Jack in a returning spell got an edge. Manly had very attacking fields and Easts put themselves under a bit of pressure with their slow going and we got our reward. Soon after the pesky nightwatchman fell in a similar way caught well by Jack in the gully from Wiggers to make it 7/76. With a bit of a rush on for more overs prior to lunch we managed to scrape in an extra one (good idea not to move the board hey Joe?) Joe( 2/23 from 9) bowled a beautiful arm ball that had the #9 shouldering arms and pinned in front.
At 8/80 only weather was going to stop us and it tried it's best. Wet and cold just as play was meant to resume. Covers not covering whole square nor runs ups. Massive logs for weighing it down, radar looking crap, get a break, take it all off, put it all back on as another shower comes in, do it all again and suddenly we are a bit worried. It cleared enough, and thanks to Easts for chipping in and the great hands on work from both umpires, we were able to get under way, losing about an hour. Numbers 8 & 10 both looked pretty good as another band of rain started to build up. Thankfully Joe's arm ball struck again with another LBW to make it 9/115. Rain probably about 10-15 mins away and a lot of it. Wiggers produced a masterstroke, clipping off stump to end the innings. Within 10 mins it was hammering down and I reckon no chance to get back on.
A great finish for a well deserved win. We displayed heaps of maturity in our fightback and our bowling was relentless. Well done to Wiggers for a massive display of quality fast bowling and to Jack for delivering terrific spells as well. All bowlers kept the pressure on and we were the better team across the two days except for the 18 mins on day 1.
Looking forward to a semi final rematch with Syd Uni this weekend.
Warren Evans
Waratah TV
Click on the images below to view the videos
| | |
| --- | --- |
| | |
| "Zac Trewartha rescuing 3rd Grade at Waverley Oval" | "Josh Wigney skittles Easts taking 5/46" |

4th Grade: Manly 144 (M. Burgess 36, J. Graham 27, W. Outred 26) def by. Northern Districts 2/238 (J. Graham 1/30, D. McKenna 1/52)
4th Grade turned up to Mark Taylor Oval to play first placed Northern Districts, in what was a highly anticipated quarter final encounter. Following a considerable amount of precipitation during the week, the square was evidently quite damp, and the groundsman was forced to prepare the same pitch as the previous week due to a lack of preparation time.
Maxwell called incorrectly and we were sent into bat, with Gummer and Hole opening up. Centre was marked a little too easily, revealing the soft muddy layer under the firm surface. We got off to a terrible start, losing Gumms to a mix-up on the second ball, then Boyer clean-bowled by his first ball. Crombie, Poole and Hole soon followed, leaving us in a real predicament at 5-15 after 5 overs.
Burgess and Outred then steadied the ship nicely, with some solid defence combined with calculated counter-attacks. The pair took the score to 47 before Outred was caught in-front for a very valuable 26. Jacob Graham came in and helped the skipper Maxy to re-build, with both batsmen defending diligently. They got us to lunch at about 6-80, which was a considerable effort following our disastrous start.
The strategy changed post-lunch, as we decided to go back on the attack and put on as many quick runs as possible. It worked quite well, with Burgo and Graham playing some nice shots and putting the pressure back on NDs. Graham was run-out for 27, losing the desire to slide his bat, and Burgess followed soon after for 36, as he skied the spinner, trying to hit him back to Manly. McKenna came in and launched an assault on the NDs attack, taking a particular liking to the off-spinner, hitting him for two of the cleanest straight bombs you will see. He was the last wicket to fall for a quick 25, and we were all out for 144 in the 50th.
We knew we had to take quick wickets to give ourselves a decent chance of rolling them, but unfortunately the early poles didn't come. McKenna and Bishop-Perret opened up well, but the NDs batsmen started strongly on the ever-flattening surface and fast outfield. Jacob got a break through just after tea, clean bowling the keeper after he started cramping up. We then shelled a few chances against the new batsmen, allowing him to build some momentum with his crafty late cuts. Meanwhile, the other batsmen continued to play his same brand of boring yet defiant cricket. NDs finished the day at 1-111, and while we knew our backs were up against the wall, we were still positive we could get a result on the Sunday with another 104 overs left in the game
We returned Sunday morning full of energy and confidence (although Sam Hole was hungover). We started well, with Dan nicking off the lefty in the 3rd over. Unfortunately that was the only joy of the day, as the NDs batsmen knuckled down defiantly, shutting down any form of attack that Super Skipper Burgess threw at them. Even the surprise forced landing of a helicopter on the oval wasn't enough to shake the batsmen, although Sam Hole was grateful for the surprise interval, giving him a chance for a quick power-nap. When play resumed, NDs eventually passed us 2 down, then picked up the run-rate ever so slightly. We remained up-beat for the whole day, willing a miracle to happen and keen to get in and set a quick total, but unfortunately it wasn't to be. Maxy decided to call it quits at the drinks break before Tea, and it was timely as a big storm hit and forced us off the ground. We shook hands, and congratulated NDs on a great performance, and a well-deserved semi-finals birth. Best of luck next week.
We will be back bigger and better next year!
Good luck to 3s next weekend. Go Manly!
Adam Gummer