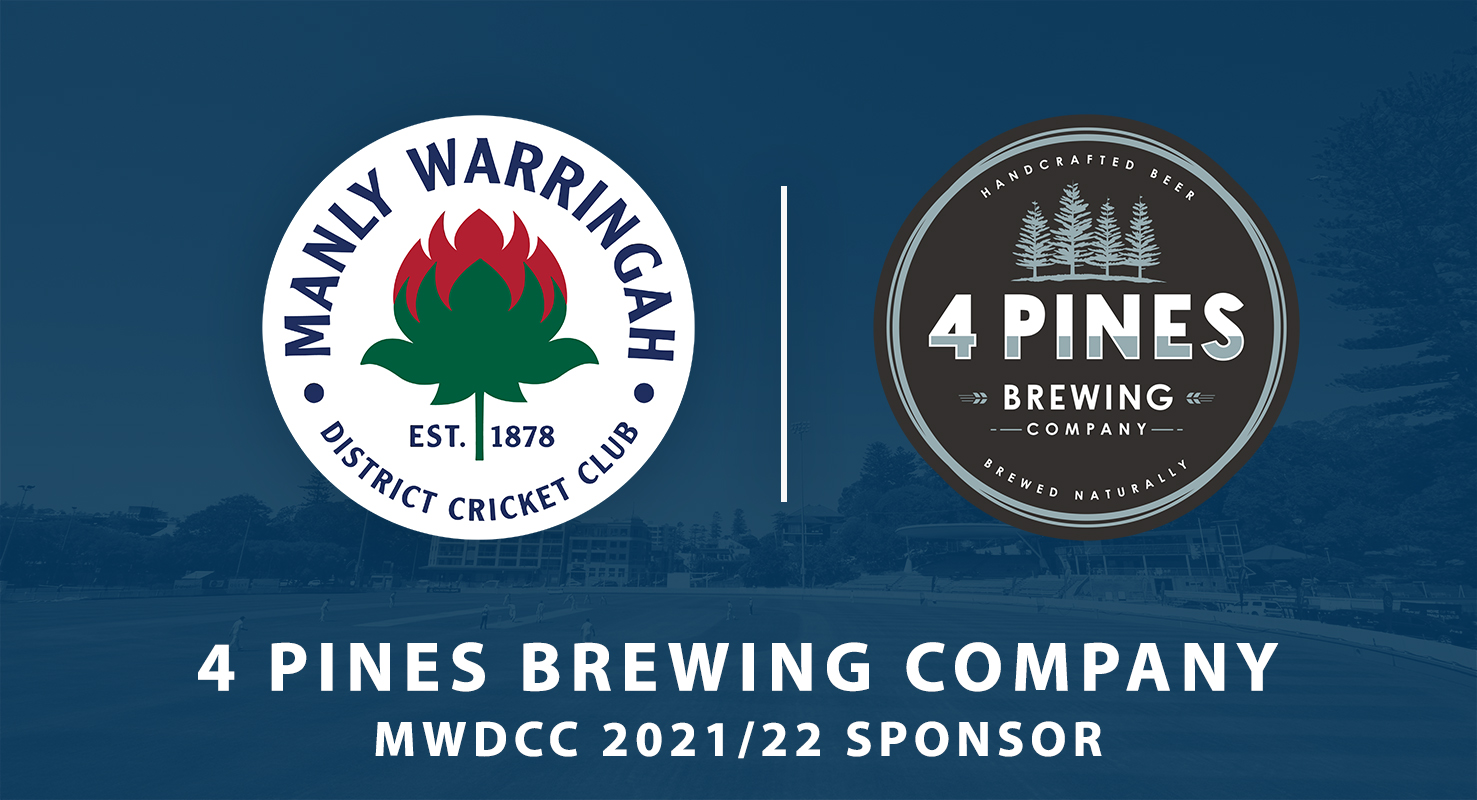 The Manly Warringah Waratahs are excited to confirm that 4 Pines will once again support us as a club sponsor for upcoming 2021/22 season and beyond.
4 Pines have been a loyal supporter of the Manly Warringah Waratahs for 12 years now, with the partnership blossoming further each year. We have both been an integral part of each other's growth and it is clear this will continue for many years to come.
Our relationship between these Northern Beaches icons has grown organically from year to year, with 4 Pines continuing to add so much culture to our club. The days of beers and brewery tours for our playing group are instrumental for our pre-season, while their beers add a different dimension to many of our events.
In fact, Manly Cricket were the very first sponsor of 4 Pines Brewing Company over a decade ago.
4 Pines are also a fantastic organisation to be associated with and a true ambassador for the Peninsula. They are a successful small business that has gone from strength to strength across Australia. But more importantly, they don't forget their roots. They are very active in the Northern Beaches community, with the most notable being their fantastic support of our friends at the Manly Warringah Sea Eagles.
A big thank you must go to Tom Baldwin and the whole team at 4 Pines.
"We are very pleased to once again support the Waratahs for their upcoming cricket season" said Tom, Hospitality Brand Manager at 4 Pines.
"The club was actually one of, if not the, very first sponsorships for 4 Pines. It was just minor initially, but rather than one party looking for more from the other, the relationship has grown of its own accord, so it has obviously helped both parties."
"We have seen great growth in our business over the last 6 or 7 years and Manly Cricket has ridden that wave with us. It's great to be involved with a club that has very similar values to ourselves and something we really look forward to every summer."
Part of that growth has been the success of the Newport Public House bar, located at 313 Barrenjoey Road Newport, over the last few years. Specialising in age barreled beers and Keller door specials, this venue has really taken off and is a must visit for all beer and food lovers (once COVID restrictions allow).
For more information click here, or to make a booking contact 9997 4014 or publichouse@4pinesbeer.com.au.
Let's also not forget the Truck Bar down at their 4 Pines brewery at Brookvale. If you haven't been there, do yourself a favour (once COVID restrictions allow) and give it a visit. Spending time socialising on the floor of a brewery is an amazing thing to experience, especially with the mechanics of the brewery in the background tickling your senses.
Located at 4G, 9-13 Winbourne Rd, Brookvale, you can find out more by clicking here.
We also can't forget their original Manly Brewpub and restaurant. Founded as a microbrewery back in 2008, it has proven to be one of Manly's most outstanding pubs. Read more about this by clicking here.
We want to thank 4 Pines for there ongoing support of the Waratahs and look forward to continuing our shared success in the years to come.