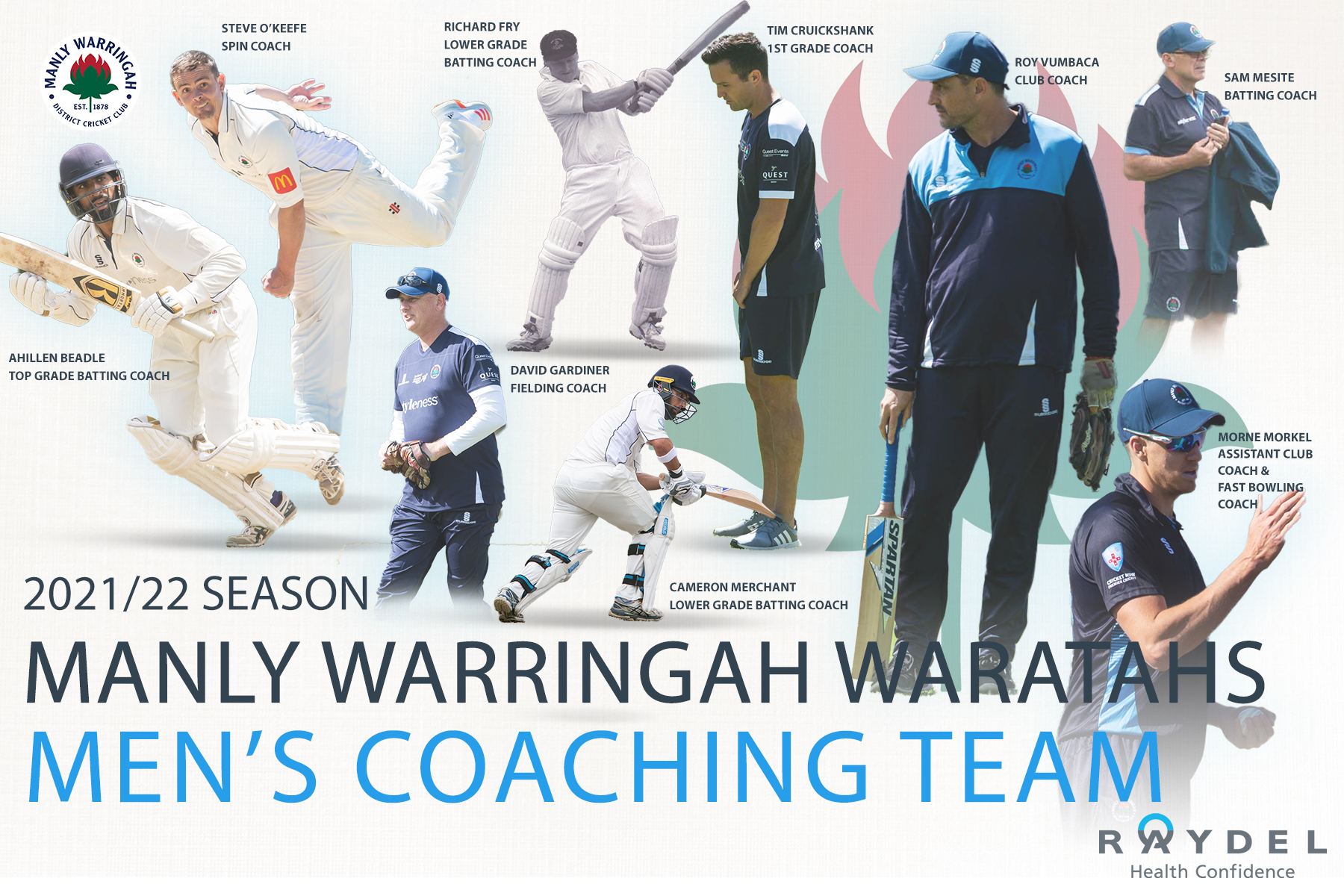 The Raydel Manly Warringah Waratahs are pleased to confirm that Roy Vumbaca and Morne Morkel will be joining forces as Men's Club Coach and Assistant Club Coach for the upcoming 2021/22 season.
They will be joined by a variety of specialist coaches as our coaching team looks to continue our recent success. They will also be supported by Director of Cricket (Men and Women) David Gainsford who oversees our cricket operations and has helped put together the structure.
It's a pleasure to have Vumbaca confirmed in the top job after coming through our junior coaching ranks. He was one of our most successful junior coaches in Manly's junior representative history and has completed his Waratah apprenticeship under the tutelage of club coaching legends as Marks, Bradstreet and Cruickshank.
While having learned from some of the best, there is no doubt that Roy has some clear ideas on how to run the club.
"I strongly believe in leadership from within the playing group driving the standards, expectations and success of our club", said Vumbaca.
"My role will be to ensure the coaching structures we have in place are working to provide valuable support to ensure this is happening."
"I will be a working closely with the coaches and players to get the best out of everyone. I am fortunate to have an extremely experienced and skilled coaching group to lean on, which has gone to another level with the addition of Morne Morkel, who will be phenomenal.
Indeed, Morkel's signing is one of the most prestigious in our club's history. He officially joins our coaching staff as Roy's partner in crime after his part time involvement at the club over the last 2 years.
However, with his Big Bash commitments with the Brisbane Heat completed, Morkel will be part of the coaching team full time next season, as well as being a member of the 1st Grade playing group.
"I have been blown away by what I have seen at this club over the last few years", said Morkel.
"One of my favourite days last season was the final day of the 2nd Grade Grand Final at Manly Oval, and to see the passion and pride on display that day convinced me that I want to play a further part in the club".
"Coaching is something I am very passionate about and both Roy and I are excited by what the season will bring. I am especially excited to work with our fast bowlers as there looks like a lot of talent in the top grades as well as coming through at the bottom".
Vumbaca and Morkel will be joined by a vast and varied coaching staff.
Tim Cruickshank will continue his role as 1st Grade coach. Although his commitments will reduce from last season with the immanent arrival of baby number 2. However Tim is committed to seeing our 1st Grade side continue last season's success.
David Gardiner will continue in his role as fielding coach, as will Sam Mesite and former Test spinner Steve O'Keefe as club batting and spin bowling coaches respectively.
Joining the team will be Ahillen Beadle who will provide specialist batting coaching and mentoring for our 1st and 2nd grade players, with Cameron Merchant and Club Life Member Richard Fry providing specialist batting coaching and mentoring for our lower grades.
Our Green Shield and PG's coaching structure's, alongside our Women's set-up, will be announced shortly.