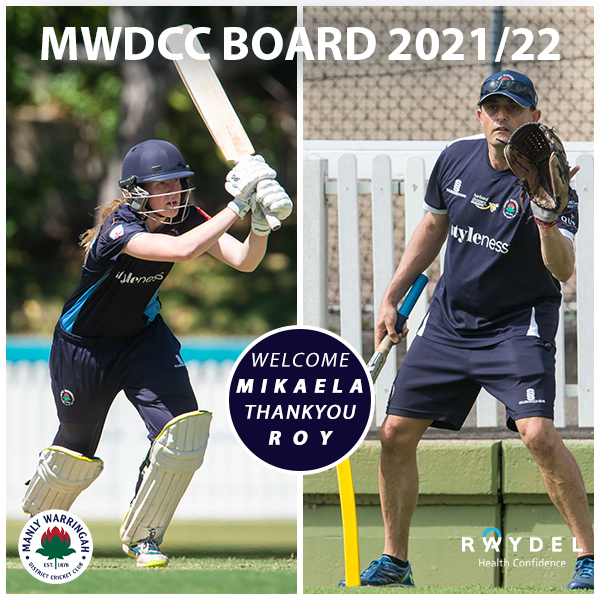 The Raydel Manly Warringah Waratahs are pleased to confirm the Board for the 2021/22 season, following the clubs Annual General Meeting on Sunday 11 July.
President Andrew Fraser, elected for his 15th year as club President, was pleased to announce that 1st Grade Women's Captain Mikaela Turik would be joining the Board for the 2021-22 season, the first female Board member since the late Fiona Lyon.
"We welcome Mikaela Turik on to the Board, believed to be only our 4th ever female Board member. Our most recent one was the late Fiona Lyon," said Fraser.
Mikaela has been integral to the Women's Cricket program at Manly Cricket, both on and off the field, and will continue to play an important role in her capacity as a Board member.
"Mikaela will be a terrific asset for us," said Fraser. "She's a great leader and will largely focus on assisting the club to continue building the momentum on our women's program."
Mikaela will take over from Roy Vumbaca, who is stepping down from the Board to focus on his role as Men's Club Coach. 
Roy has been an invaluable asset to the Board over the last few seasons, and whilst no longer on the Board will continue to play a key role at the club.
Congratulations to Mikaela on her well deserved appointment.
The full composition of the Board for 2021-22 is as follows:
Executive
Andrew Fraser – President
David Gainsford – Deputy President / Director of Cricket
Steve Beatty – Secretary
Scott McLachlan – Treasurer
Joel Mason – Assistant Secretary and Partnerships/Media Manager
Adam Gummer – Assistant Treasurer and Events Manager
General Board
Phill Edwards – Community Manager
Mikaela Turik – Women's Player Liaison and Gear Manager
Andrew Jamieson – Men's Player Liaison
Andrew Rochford – Men's Pathway Manager
Ross Denny – Women's Program Administrator and Pathway Manager
Duncan Kerr – Player Welfare Manager