After whats been an emotional week for all those involved in the cricket community, it was time to get back to business against Western Suburbs, who were fittingly the grade club of the late Phillip Hughes. With emotions and tributes flowing around the grounds, it was a strong opening week for the Manly-Warringah TravelSim Waratahs who are well placed across the grades to take maximum points.
1st grade led the way yet again winning first innings points within the day thanks to a complete performace with the ball and a determined run chase. With a full days play to come and the rare oppurtunity of taking 10 points, the Tahs are extremely well placed to extend their lead at the top of the competition. 2's also had a successful day finishing at 5/336 at stumps with Ryan Farrell (94*), Jarrod Rawlings (70) and captain Rowan Hamman (81) cashing in back at home on Manly Oval. 3rd Grade restricted Wests to 206 thanks to Tom Kaye's hooping spell of 5/39 while 4's continued the momentum of their undefeated start piling on 258 with Lance Stewart, Ed Burgess and the returning Jack Ritchie all making half-centuries. Finally 5th grade shared the wickets around to keep Wests to 149 out at Punchbowl Oval.
On sunday PG's took on an undefeated Parramatta side and compiled 205 with the runs well shared. In a heartbreaking finish, the boys went down by only a couple of runs via the Duckworth-Lewis Method however can still claim a finals berth with wins in the final 2 games.
Hopefully another strong week of training willl lead to more points for the TravelSim Waratahs and the extension of our lead at the top of the Club Championship. Go Manly!
4 Pines Player of the Week – Tom Kaye
This weeks 4 Pines Player of the Week goes to none other than superstar allrounder Tom Kaye. Predominantly known for his delicious cover drives and beautiful salad, Tom has crafted himself into quite the medium pace bowler. Bowling absolute hooping outswing on saturday TK took a well-deserved 5/39 and led 3rd grade with the ball.
Tom's results so far this season, which also includes a century in 4th grade, have been a testament to his much improved training ethos and commitment. It's great to see Tom back to his best and we can't wait to see him continue this form throughout the rest of the season. Well done TK!

"Tom Kaye looking as stunning as ever even after taking 5 wickets"


1st Grade – Manly 4/128 (C. Merchant 59) vs Wests 124 (N. McLachlan 3/17, L. Disserens 3/41, S. O'Keefe 2/19) and 0/3
First grade turned up to Pratten Park on a very hot morning on what was to be a very emotional and interesting day for both Wests, and the mighty manly boys. After an unbelievable display of touch football ability from both sides, we begun warm ups. With Nicko awarded least valuable player, Timmy tossed, lost, and Wests chose to bat.
Nicko and Billsy opened up with a great display of bowling, with Nicko taking the first wicket of the day. Wickets fell quite quickly following the first, with Mickey, SOK and Dizzy bowling well in the middle period, the score plodded along slowly, reaching 6-60 at one point.
A small partnership formed, but a very sharp catch from Tim Cookshank at slip brought about a quick round up of the tail, with much help from Nicko, who burgled 3 wickets for the day. Luke "Dan Cullen" Diserens return to first grade was a welcome one, with rare chat, and brilliant bowling, finishing with a well-deserved 3 wickets.
Chasing 124 for victory, Cameron "Napkin" Merchant, and bomber started well, putting on 70 before Luke was trapped in front by a turning ball. The tempo was upped by the incoming batsmen, in Crosthwaite, Lenton, and Cookshank, and 124 was reached in no time. Shank then declared, sending Wests in to bat in what was most likely the darkest Pratten park has ever been as a result of the incoming apocalypse. Play was called off after one over due to light, and shortly after, we all swum home.
A great day by everyone, with 6 points in the bag.Mickey Edwards
2nd Grade – Manly 5/336 (R. Farrell 94*, R. Hamman 81, J. Rawlings 70) vs Wests

Rocking up to Manly oval on a sunny morning despite a dreadful storm the night before, the Western Suburbs skipper sent us in to bat even though the deck looked flat. Hamman and Rawlings started things off nicely, favouring the pace bowling by playing some sweet sweet drives. In the 4th over Rowan was struck on the hand (which was later revealed to have been fractured). As a true leader, he fought on and was unscathed at lunch with the score at 0-132. One of our goals as a batting group was to play out a session without losing a wicket and was good to see this completed.
After the lunch break, Rowan fell quickly for 81 which ended a 132 partnership with Ralphy, the highest opening stand for the year. Ryan was introduced and even though he was scoring at a slow rate against the spinners, he never looked like being dismissed. When things were running smoothly, Jarrod was clean bowled by a short ball off a spinner that did not bounce as much as expected. This left the score at 2-174 and was quickly made 3-176, when Walter was run out amidst confusion.
Pughy came in and scored a well-constructed 25 before being caught by 1st slip. It is always a pleasure to watch Pughy from the sidelines and see his impeccable timing and cover drives in action. Sam Webber accompanied Farrell before being caught on the long on/cow corner for 23, trying to up the ante with a lot of wickets in hand. Farrell and Beatty finished things off beautifully with Ryan hitting two 6's. Beatty ended with 28*, it's good to see the PG's skipper back in the runs as we all know he is a weapon. Ryan ended with a 94* even though he was probably run out by a metre on the last ball of the day, but we won't go there.
It was a great day for second grade. However, in recent times we have only been playing quality cricket on Day 1 and have not been finishing the job. Next week will be vital in our search to move up the ladder. Up the TAHS.
Jarrod Rawlings

"Captain Hamman leads the charge"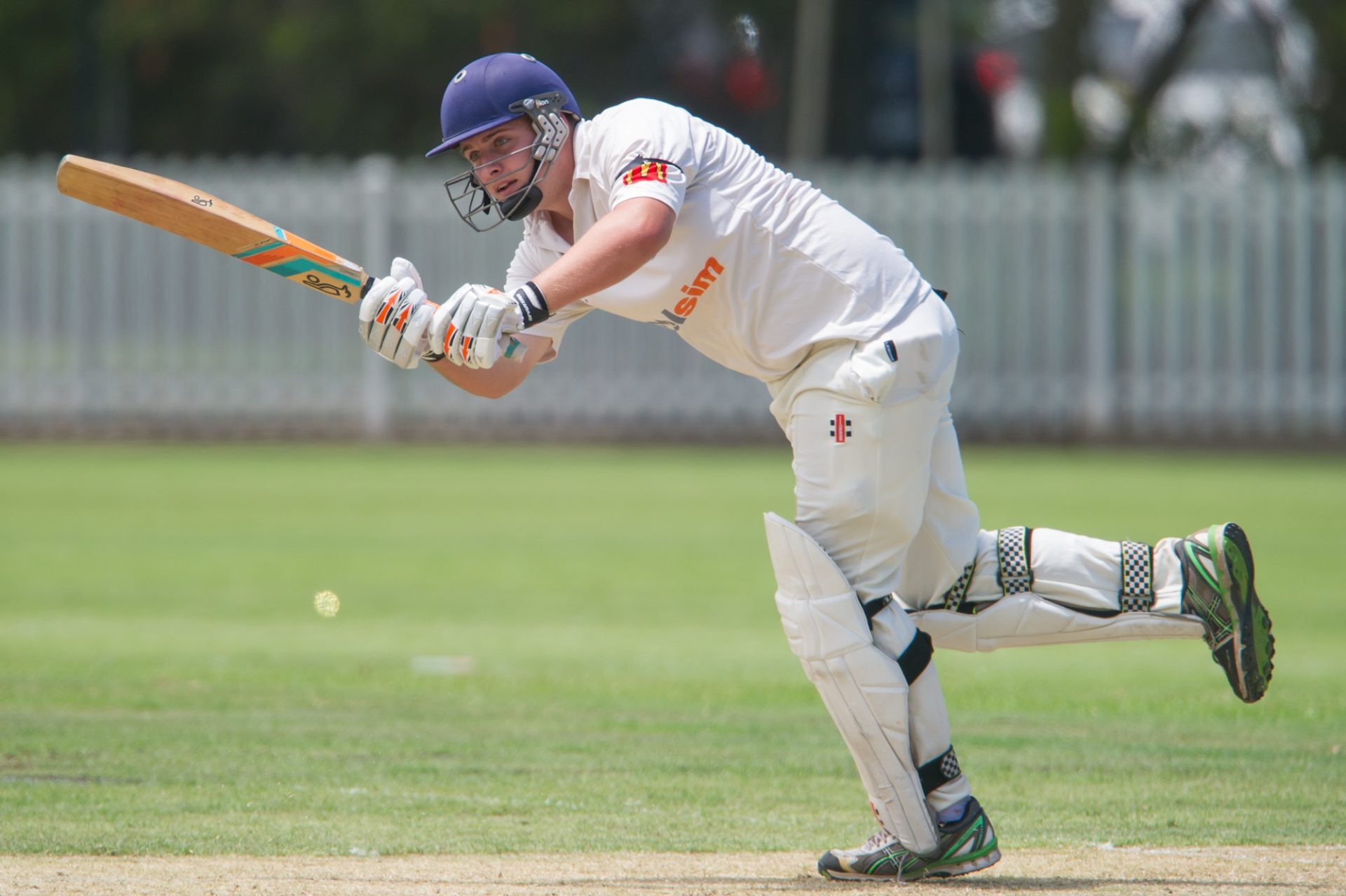 "Ralphy continues to pile on the runs this season"

3rd Grade – Manly 0/3 vs Wests 206 (T. Kaye 5/39, S. Alexander 2/40)
Blick looked in pretty good shape given the repeated drenchings during the week. The pitch grassy and not completely hard and the outfield a thick kikuyu in certain places ensuring a day full of ones and twos. Not exactly a given that you would win the toss and bowl but that is what we did, breaking Wests run of 5 from 5 with the toss.
Nick (2/47 from 15) started well gaining a couple of 4th slip edges that ran away for runs and along with a couple of well struck straight drives it was an ominous start with 9 coming from the first over, 17, if it was at Grahames. Ronnie (1/35 from 14) bowled his usual tight lines and had an enormous number of play and misses. Ridiculous that an edge wasn't to be found, I've never seen so many. Nick got the breakthrough with a top of off corker. Tom Kaye (5/39 from 14) then came on and also got in on the act of lots of play and misses. The pitch was offering a bit of seam but the humid conditions were productive for swing bowling. Tom got one to square up the number 3 and Jake took a simple gully catch to make it 2/47. Their #4 came out and had a blast quickly scoring 17 before he edged to Daly who took a smart catch at 1st slip. Soon after Ron came back on and got rewarded immediately with an edge to make it 4/80, getting rid of the opener who looked like he could bat but unsure if he was in the best of form with the number of play and misses. Evans (0/11 from 9) beat him 4 balls in a row a bit earlier on and usually, like all other bowlers, at least once or twice an over prior to that. It was crazy!
Sam Alexander (2/40 from 8) picked up a bonus wicket with an awkard sweep finding Ron at backward square leg. A good partnership then threatened to take the game away. Wests raced to 194 before Kaye had the dangerman caught well by Ron in the deep for a swash buckling 75. He gave chances, including a plumb LBW from Jake (0/34) from a no ball when he wasn't yet 50. He also gave an early chance on 5 just after tea.
These two things sums up our play at the moment….not taking our chances in the field, a well drilled team would have taken all 6 chances offered, yep a few of them would have been excellent catches, but that's what we want to read about – the excellent catches we took to restrict the oppostion to 100, not the numerous chances we put down allowing them 206. A further 9 no balls as well – in the one dayers this will cost us a game or two if we don't tidy it up.
Tom cleaned up the tail nicely and is on a hattrick next ball he bowls.
Cole and Gummer survived the 2 overs bowled in the gloom and the game is there for the taking if we have a couple of good partnerships next week.
Warren Evans
4th Grade – Manly 258 (L. Stewart 87, E. Burgess 70, J. Ritchie 57) vs Wests 0/0
We arrived at Graham's to a slightly wet outfield and slightly soft pitch prompting the wests skipper to send the tahs into bat. Opening with billy and Joe we got off to a bad start with both openers chasing wild ones and getting out. However Jack Ritchie and Lance Stewart got us out of trouble and put on a strong partnership taking us to 2-100 odd before cub fell shortly before tea on 57.
Ed burgess joined digits at the crease and the two put on a good partnership with both getting fifties and taking us to 200 before lance unfortunately fell for 87. This prompted a quick succession of wickets however Ed managed to continue to score runs at the other end. However Ed unfortunately was caught in the deep looking for quick runs before the end of days play for a well played 70 odd. The tail stuck around for a bit longer before the tahs lost the last wicket for 258, leaving one over to be bowled in the day. Unfortunately a wicket could not be taken in that over however the boys will be fired up to bowl out west's next week.
Josh Wigney
"Lance on the way to 87"
"The returning Jack Ritchie celebrates his half-century"
"Strokemaker Ed Burgess on the attack"

5th Grade – Manly 141 (J. Wood 62) vs Wests 149 (R. Bishop-Perrett 3/55, M. Burgess 2/10, I. Vumbaca 2/11, A. Bain 2/24)
A hot and humid day greeted us at Punchbowl Oval on Saturday against Western Suburbs. The ground looked good although the outfield was very slow. The wicket was green and fairly hard but we knew there was moisture underneath, so stand in skipper Max Burgess won the toss and bowled.
Despite an excellent ball from Ryan Bishop Perret to get our first wicket caught behind, our first 20 overs weren't great with Wests getting to 1 for 55. Despite continually beating the bat, we also bowled 2 lengths and Wests punished the bad ball.
With only 3 seamers in the side, 2 of who were U/16 in Joel Wood and Alex Bain, Ryan Bishop Perrett put in a huge workload on a day when seam bowling was needed, and got us back on track with the next 2 wickets. From this point, our consistent lengths returned, our catching was brilliant from Burgess, Lawless and Pickering, and our ground fielding was excellent for the most part. We went to tea with Wests at 7 for 95 off 39.
After tea, the Wests batsmen dug in and were determined to see the day out. Not playing many shots but keeping their wicket in-tact, we finally found the final 3 wickets through Burgess and a run out. Bain ended up with 2 wickets, Bishop-Perret 3, Burgess 2, Vumbaca 2 and a fantastic Max Burgess run-out.
With a target of 150 exactly for victory, openers Mason and Burgess survived the 4 overs before rain and thunder intervened.
Big weekend ahead next Saturday to come up with the 6 points, but with quality and depth in the batting, we are confident of victory.
Joel Mason
Poidevin-Gray Shield – Manly 6/205 (M. Cole 51) def. by Parramatta 2/79
Report When the waratahs arrived in the morning it appeared that manly had put on a beautiful day for cricket. The toss was won and the manly boys sent Parramatta into trundle.
The pitch was flat and the batting began very pleasant with Jarrod 'Ralphy' Rawlings and Matty Cole getting the Manly boys to a great start. Cole with his first 50 for the PGs team and Ralphy with a well compiled 30 odd.
The batting then slowed up and we seemed to dig ourselves a little bit of a hole. Something to address in the coming weeks. Ryan 'Faz' Farrell battled through it only to be run out at the non-strikers end for 30 which left Jordan Daly at the crease. He ended up with 30 odd and Tom Kaye made a useful contribution to leave the Waratahs with a defendable score of 205.
Along came the Parramatta batting innings and with it, the storm that would eventually defeat the mighty tahs. As the light got gloomier, the Manly bowlers persisted to reduce the two blues to a measly 2/77 after 24.2. One run in front of the Manly boys. It absolutely hammered down but the community rallied and the ground was almost ready to go until the mother of all storms turned Manly oval into a swimming pool.
The Waratahs lost by a single single. Devastating.
Big shout out to Jake Carden, Adam Crosthwaite, Allan Wright and Langdon Gould for their help throughout the day as well as the parents who helped try and get the ground in good condition.
Taylor

"Matt Cole punishing the Parra attack"

"Gainsford at his finest"