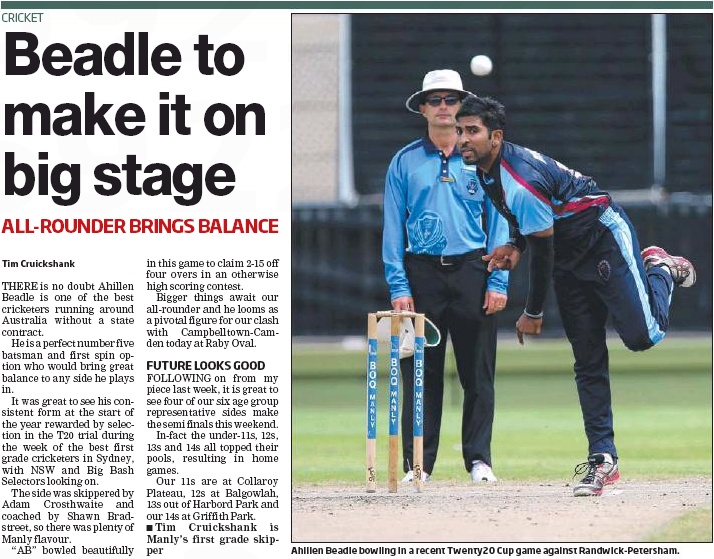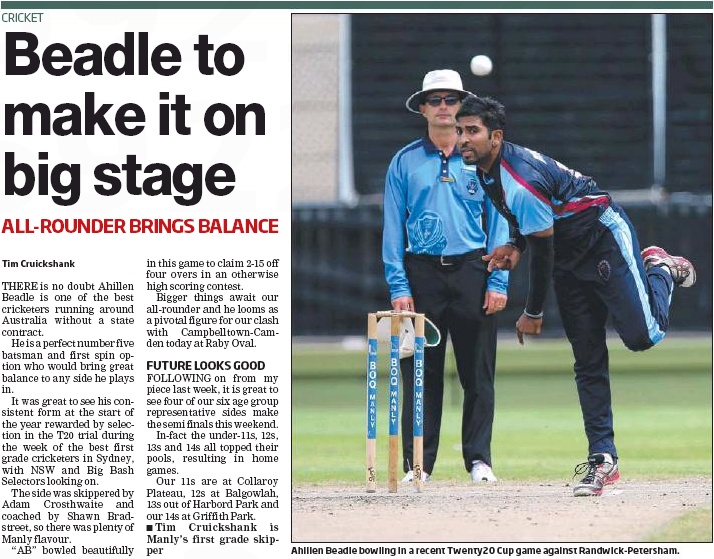 THERE is no doubt Ahillen Beadle is one of the best cricketers running around Australia without a state contract.
He is a perfect number five batsman and first spin option who would bring great balance to any side he plays in.
It was great to see his consistent form at the start of the year rewarded by selection in the T20 trial during the week of the best first grade cricketers in Sydney, with NSW and Big Bash Selectors looking on.
The side was skippered by Adam Crosthwaite and coached by Shawn Bradstreet, so there was plenty of Manly flavour.
"AB" bowled beautifully in this game to claim 2-15 off four overs in an otherwise high scoring contest.
Bigger things await our all-rounder and he looms as a pivotal figure for our clash with Campbelltown-Camden today at Raby Oval.
FUTURE LOOKS GOOD
FOLLOWING on from my piece last week, it is great to see four of our six age group representative sides make the semi finals this weekend.
In-fact the under-11s, 12s, 13s and 14s all topped their pools, resulting in home games.
Our 11s are at Collaroy Plateau, 12s at Balgowlah, 13s out of Harbord Park and our 14s at Griffith Park.
{loadposition cricket}