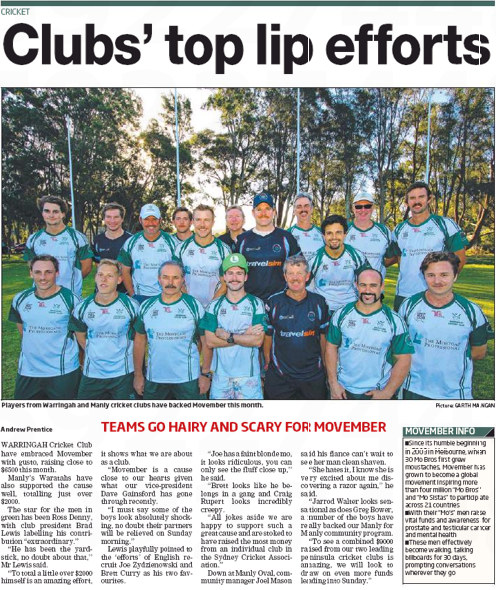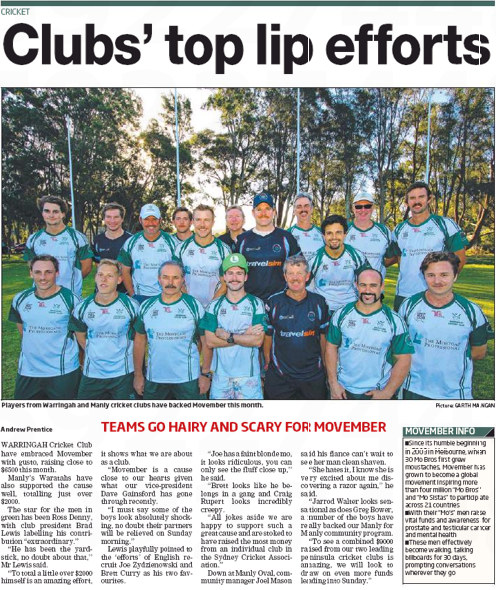 WARRINGAH Cricket Club have embraced Movember with gusto, raising close to $6500 this month.
Manly's Waratahs have also supported the cause well, totalling just over $2000.
The star for the men in green has been Ross Denny, with club president Brad Lewis labelling his contribution "extraordinary."
"He has been the yardstick, no doubt about that,'' Mr Lewis said.
"To total a little over $2000 himself is an amazing effort, it shows what we are about as a club.
"Movember is a cause close to our hearts given what our vice-president Dave Gainsford has gone through recently.
"I must say some of the boys look absolutely shocking, no doubt their partners will be relieved on Sunday morning."
Lewis playfully pointed to the 'efforts' of English recruit Joe Zydzienowski and Brett Curry as his two favourites.
"Joe has a faint blonde mo, it looks ridiculous, you can only see the fluff close up,'' he said.
"Brett looks like he belongs in a gang and Craig Rupert looks incredibly creepy.
"All jokes aside we are happy to support such a great cause and are stoked to have raised the most money from an individual club in the Sydney Cricket Association."
Down at Manly Oval, community manager Joel Mason said his fiance can't wait to see her man clean shaven.
"She hates it, I know she is very excited about me discovering a razor again,'' he said.
"Jarrod Walter looks sensational as does Greg Bower, a number of the boys have really backed our Manly for Manly community program.
"To see a combined $9000 raised from our two leading peninsula cricket clubs is amazing, we will look to draw on even more funds leading into Sunday."
{loadposition cricket}