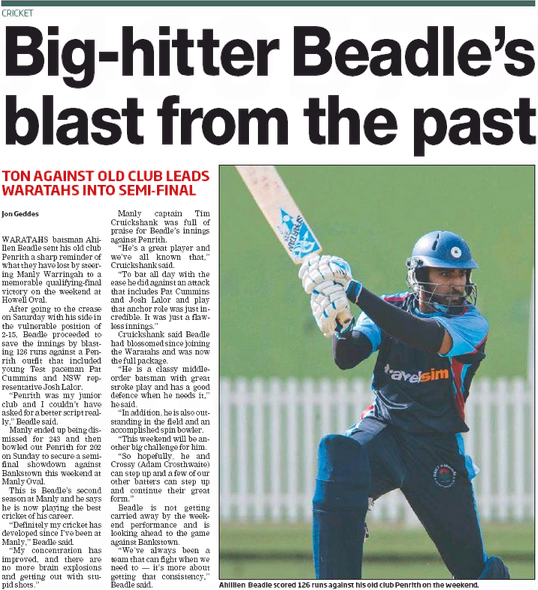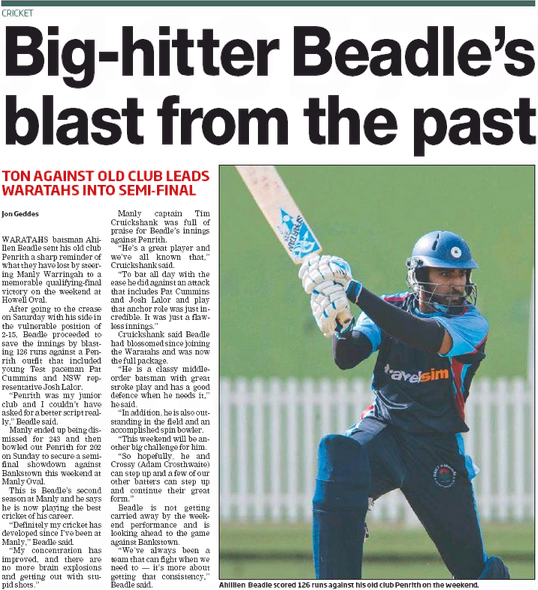 WARATAHS batsman Ahillen Beadle sent his old club Penrith a sharp reminder of what they have lost by steering Manly Warringah to a memorable qualifying-final victory on the weekend at Howell Oval.
After going to the crease on Saturday with his side in the vulnerable position of 2-15, Beadle proceeded to save the innings by blasting 126 runs against a Penrith outfit that included young Test paceman Pat Cummins and NSW representative Josh Lalor.
"Penrith was my junior club and I couldn't have asked for a better script really," Beadle said.
Manly ended up being dismissed for 243 and then bowled out Penrith for 202 on Sunday to secure a semifinal showdown against Bankstown this weekend at Manly Oval.
This is Beadle's second season at Manly and he says he is now playing the best cricket of his career.
"Definitely my cricket has developed since I've been at Manly," Beadle said.
"My concentration has improved, and there are no more brain explosions and getting out with stupid shots."
Manly captain Tim Cruickshank was full of praise for Beadle's innings against Penrith.
"He's a great player and we've all known that," Cruickshank said.
"To bat all day with the ease he did against an attack that includes Pat Cummins and Josh Lalor and play that anchor role was just incredible. It was just a flawless innings."
Cruickshank said Beadle had blossomed since joining the Waratahs and was now the full package.
"He is a classy middleorder batsman with great stroke play and has a good defence when he needs it," he said.
"In addition, he is also outstanding in the field and an accomplished spin bowler.
"This weekend will be another big challenge for him.
"So hopefully, he and Crossy (Adam Crosthwaite) can step up and a few of our other batters can step up and continue their great form."
Beadle is not getting carried away by the weekend performance and is looking ahead to the game against Bankstown.
"We've always been a team that can fight when we need to — it's more about getting that consistency," Beadle said.
{loadposition cricket}