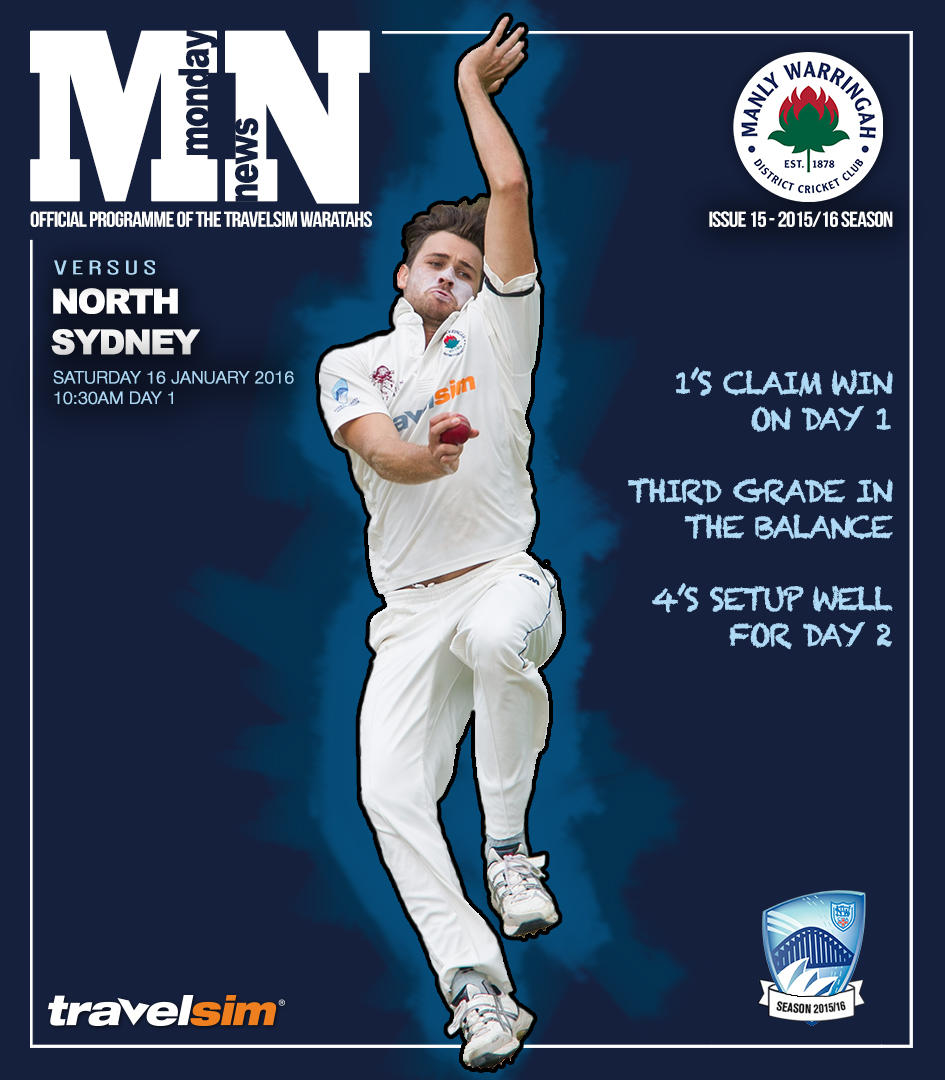 The TravelSim Waratahs had a solid weekend against local rivals North Sydney on the opening day of this rounds 2-day fixture. After a disappointing start last round after Christmas, it was vital for the Tahs to bounce back to form in a big way.
1st grade did just that, picking up 1st innings points already thanks to 6 wickets to English fast-bowler Nathan Buck. Bowling North Sydney out for 123, James Crosthwaite (57) and Jack Ritchie (49*) then made light work of the total and setting Adam Crosthwaite's side up for a chance at taking 10 points next week. 2's frustratingly were called off without a ball being bowled due to persistent rain flooding Tunks Park overnight.
3rd grade struggled on a soft deck at the newly-turfed Grahams Reserve making just 99 before having Norths 3/45 at the close. Early wickets will be crucial next week if Warren Evan's side has any chance of taking any points this round. 4's toiled all day and restricted North Sydney to 165 thanks to 3 wickets each to Ryan Bishop-Perrett and Jacob Graham. Finally 5th grade had a similiar day keeping Norths to 7/188 with the wickets shared around.
I'm sure a strong week at training will be required in order for the TravelSim Waratahs to take maximum points away against The Bears next week!
Until next time, Go Manly!
4 Pines Player of the Week – Nathan Buck


This week's 4 Pines Player of the Week was an absolute no-brainer, with English recruit Nathan Buck putting in his most impressive performance for the TravelSim Waratahs taking 6 wickets in 1st grades victory within a day over the weekend. 'Bucky' bowled with some serious pace and rhythm to tear through the heart of The Bears batting line-up and show exactly why he's been plying his trade as a first-class cricketer in the UK for a few years now.

As one of the most loved overseas players to arrive at the club in recent memory, it's great to finally see Bucky reaping the rewards he deserves. Congratulations and can't wait to see you continue you this form throughout the rest of the season Bucky!



1st Grade: Manly 2/128 (J. Crosthwaite 57, J. Ritchie 49*) def North Sydney 123 (N. Buck 6/43, N. McLachlan 2/13, A. Beadle 2/17) and 1/54
Get the job done day 2! That's the mentality of the Adam Crosthwaites 1st grade men when they resume play on Saturday against North Sydney.
Losing the toss and being asked to bowl first is never a bad thing especially when one of the most popular overseas players in the clubs history in Nathan Buck decides to stand up and produce exactly what everyone knows he can.. Bucky found some wonderful rythm, pace and discipline to finish with his best figures for the Tahs of 6/43 off 14 overs. With Nickos showing glimpses of his number 1 wicket taking season from last year in grabbing 2 wickets along with AB with 2 aswell. North Sydney all out 123
Our task at hand.. Just bat and see what happens with 50 overs left in the day.. But when James Crosthwaite and Jack Ritchie are at the forefront, you only need 25.. James Crossy blazing yet another half century finishing with 57 from 59 deliveries with 2 Sixers and 7 4s and Cubby finishing unbeaten with 49 from just 69.. 6 points but the job isn't done!
Declaring straight away to put the Bears back into bat and certainly on the back foot. This is where the hard work starts.. Finishing the day having North Sydney 1/54 with some disciplined and quality team cricket once again needed for Saturday to really get the boys back on top to work for an outright victory! See you then
Cameron Merchant
2nd Grade: North Sydney vs. Manly
No play over the weekend.
3rd Grade: Manly 99 (A. Virdi 28) vs. North Sydney 3/45
Another day, another soft, popping deck, another lost toss. 3rds have won one so far this year from 10 and again another massive advantage to Norths getting to bowl first on a wicket that was unsurprisingly soft and difficult. Together with the new, slow outfield, scoring was going to be tough and I had 140 in the back of mind as a score that would take some beating. We never really got ourselves in a position to get this though with wickets falling at regular intervals. Joe & Bill had a tough time of it early and got through a number of overs before Joe fell. Aiden too battled hard but was out first ball after drinks. Jordan Daly was unlucky to be given out LBW and Bill top edged a slow, poppy, half tracker. Bill, Jordan, Zac and Crombie all made it to double figures but were unable to kick on. Zac was run out again which did not help our cause. Ash (28) was hitting the ball as well as you could on the slow, seaming wicket before edging the spinner to the slips. Evans and McKenna did not trouble the scorers and Marshall (13) batted as well an anybody before also maybe being a bit unlucky when adjudged LBW.
This gave us 99 which was a few short of a winning total as the pitch was started to even out. McKenna and Wigney were maybe guilty of trying a bit too hard and not getting enough balls in the right area. Wiggers got the edge to Ash at 1st slip and soon after Evans did the same. Daly then took a fantastic running catch in the outfield from Marshall (1/5 from 8) to leave Norths reasonably placed at 3/45. Their opener on 21 survived somehow and the bloke with him can hit the ball cleanly so a big partnership to break if we are to entertain thoughts of winning. If we can get a couple of early ones then we will go on and win. Critical first 15 minutes.
Warren Evans
4th Grade: North Sydney 165 (R. Bishop-Perrett 3/24, J. Graham 3/24, S. Hole 2/26) vs. Manly 0/6
Another tough day in the field for 4th Grade this week with stand in Captain James Bowyer losing the toss and North Sydney electing to bat on a very flat deck. Ben Kittlety and Ryan BP troubled North Sydney early but were unable to take wickets. Ryan finally with the breakthrough at the 10th over. Kittlety also taking one just after. Matt Morris bowled beautifully back from injury taking only one with a good catch in the deep from Jack Pickering.
Our two other leggies Isiah and Will Outred bowled well, and were unfortunate not to take one. Sam Hole was then called upon, bowling great dots tying down both batsmen and taking two good wickets one of those being a great catch from Will Walter. Jacob Graham was then called on, bowling great lines and fantastic length denying North Sydney runs over after over, he took 3 good wickets and successfully closed out North Sydney's innings, bowling them out for 165 off 75.5 overs.
After safely keeping out 4 overs late in the day we are now 0/6 feeling as though we are in a good position for next week.
Jack Pickering
5th Grade: North Sydney 7/188 (S. Waddington 2/11, H. Brown 2/21, G. Harris 2/27) Manly
5th grade arrived at a damp Mike Pawley but the pitch was dry and the boys got stuck into warmup. The top 6 won touch footy and Waddo lost the toss and we were asked to field. With two young fast bowlers making their debut, Hayden Brown and Gabriel Harris, the boys were keen to make inroads early and put Norths on the back foot. Alex Bain (0-22 off 11) and Hayden Brown (2-21 off 11) opened up, bowling with control but to North Sydney's credit they dug in and we were made to work for the opening wicket. With no wickets in the first 12 overs, skipper Waddington introduced Gabriel Harris (2-27 off 12) and Will Akhurst (0-26 off 11) and Gabe made the first breakthrough from a catch at square leg. Consistent line and length bowling and pressure in the field gave skipper Waddington (2-11 off 6) his first wicket whilst also taking a screamer of a one-handed catch low to his right in slips off Jonah Anderson (1-42 off 21) who bowled economically all day. Ollie Davies (0-26 off 10) bowled pretty much every variation of spin possible also creating pressure with the ball.

At stumps we have them 7-188, a total that we are comfortable chasing down especially if we take wickets early next week with the new ball available. A few dropped catches and missed run outs aided Norths total but to our credit the boys bowled well on a flat deck. Special mention to Hayden and Gabriel who took their first grade wickets, and both bowled consistently all day. Next week we'll be keen to chase down their total and get us back on track to compete for the premiership.

Alex Bain