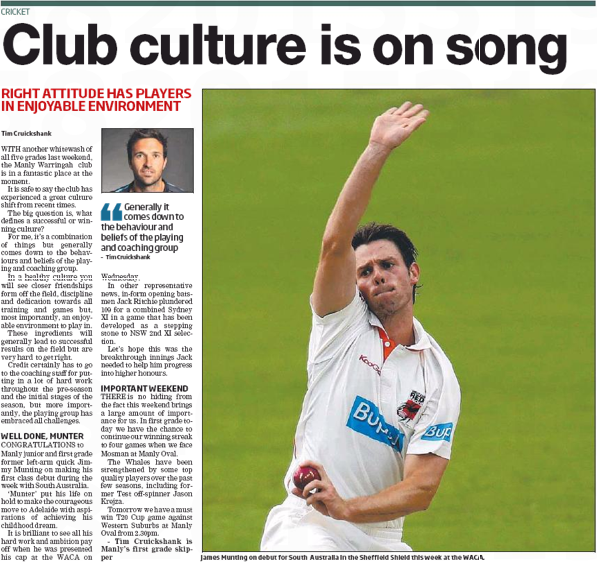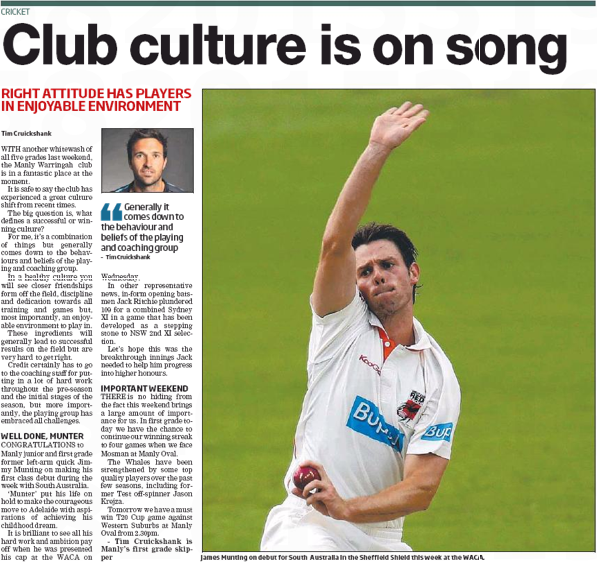 WITH another whitewash of all five grades last weekend, the Manly Warringah club is in a fantastic place at the moment.
It is safe to say the club has experienced a great culture shift from recent times.
The big question is, what defines a successful or winning culture?
For me, it's a combination of things but generally comes down to the behaviours and beliefs of the playing and coaching group.
In a healthy culture you will see closer friendships form off the field, discipline and dedication towards all training and games but, most importantly, an enjoyable environment to play in.
These ingredients will generally lead to successful results on the field but are very hard to get right.
Credit certainly has to go to the coaching staff for putting in a lot of hard work throughout the pre-season and the initial stages of the season, but more importantly, the playing group has embraced all challenges.
WELLDONE, MUNTER
CONGRATULATIONS to Manly junior and first grade former left-arm quick Jimmy Munting on making his first class debut during the week with South Australia.
'Munter' put his life on hold to make the courageous move to Adelaide with aspirations of achieving his childhood dream.
It is brilliant to see all his hard work and ambition pay off when he was presented his cap at the WACA on Wednesday.
In other representative news, in-form opening batsmen Jack Ritchie plundered 109 for a combined Sydney XI in a game that has been developed as a stepping stone to NSW 2nd XI selection.
Let's hope this was the breakthrough innings Jack needed to help him progress into higher honours.
IMPORTANT WEEKEND
THERE is no hiding from the fact this weekend brings a large amount of importance for us. In first grade today we have the chance to continue our winning streak to four games when we face Mosman at Manly Oval.
The Whales have been strengthened by some top quality players over the past few seasons, including former Test off-spinner Jason Krejza.
Tomorrow we have a must win T20 Cup game against Western Suburbs at Manly Oval from 2.30pm.
{loadposition cricket}