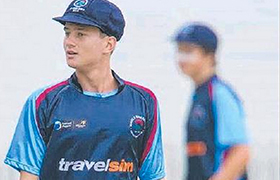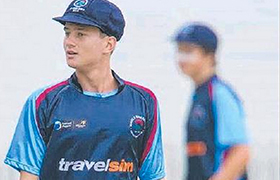 UPLIFTING TO SEE SUPPORT FOR PHIL'S FAMILY
YOU would have had to have a heart of stone not to have been moved by the scenes at Phillip Hughes's funeral.
But while it was such an emotional occasion, it was uplifting to see and hear the support for Phillip's family and learn more about this outstanding young man.
The cricket community stood tall, as it had from the moment tragedy struck, and made me proud to be part of it.
I told you last week how we almost lured Phillip to Manly in 2006 and today I can reveal a couple more links between Manly and the left-hander.
It was against us at Manly Oval that Phillip made his grade debut for Western Suburbs – on September 23, 2006.
If it wasn't already obvious, Hughes confirmed his ability and class by smashing 70 runs at the top of the order.
And guess who we play today – Western Suburbs. It will be an emotional day.
DAVIES EARNS CALL-UP
OUR Green Shield (under-16) squad has been unveiled for the 2014/15 season and I can't recall a more experienced line-up.
Six players have already had a taste of grade cricket and all 14 have come through our Pathway Program.
The side is skippered by Jack Pickering, who has been at the helm for two years.
We've got six players from our undefeated under-16s and seven from the unbeaten 15s.
And in-form under-14 batsman Ollie Davies, who has 317 runs at 79.5 in the reps this year, has earned a deserved call-up.
REP TEAMS FIRING
FOUR teams in the finals and four teams still standing – that was the good news from our junior rep qualifying finals last Sunday.
The 11s, 12s, 15s and 16s advanced to the semi-finals after fairly comfortable victories.
The stand-out performer was keeper-batsman Aiden Bariol, who hit 118 in the under-15s, his second ton in as many weeks.
We also pulled off an astonishing win in the Poidevin-Grey (under-21) clash with Randwick-Petersham at Manly Oval.
The Tahs were coasting at 0-56 before we lost 10-51 for an overall score of 107.
The Randy Petes were 3-75 and seemingly cruising in reply before some inspired bowling and fielding from the Manly boys saw the last seven wickets fall for just 29.
A remarkable three-run win which epitomises the great fighting qualities we possess from the under-11s right through to first grade.
To View Our Other Media Articles Click Here
{loadposition cricket}