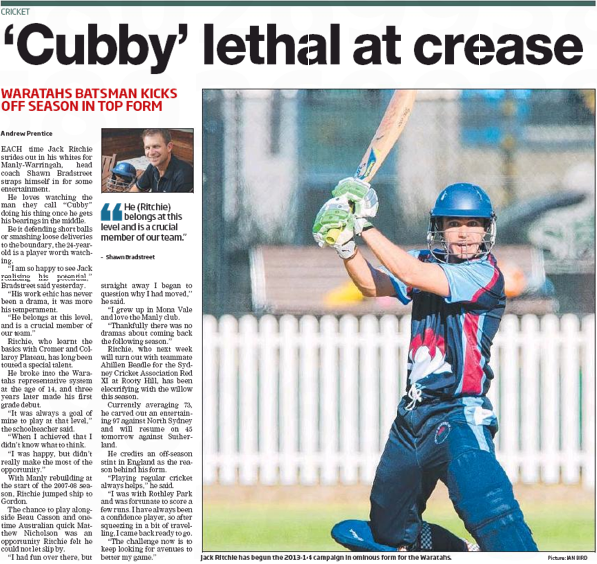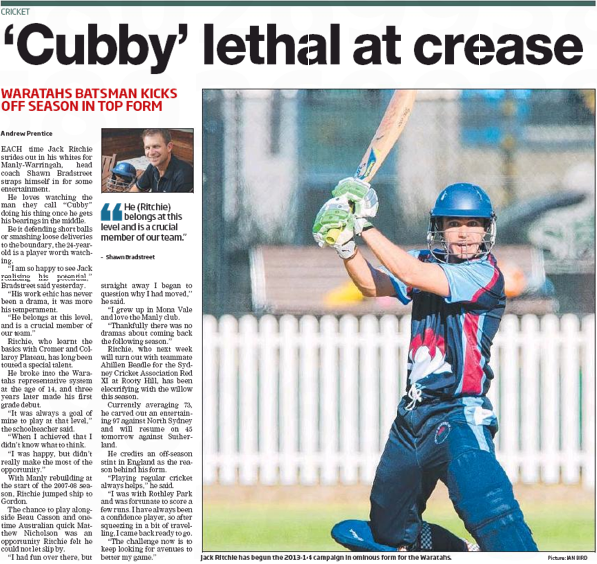 EACH time Jack Ritchie strides out in his whites for Manly-Warringah, head coach Shawn Bradstreet straps himself in for some entertainment.
He loves watching the man they call "Cubby" doing his thing once he gets his bearings in the middle.
Be it defending short balls or smashing loose deliveries to the boundary, the 24-yearold is a player worth watching.
"I am so happy to see Jack realising his potential,'' Bradstreet said yesterday.
"His work ethic has never been a drama, it was more his temperament.
"He belongs at this level, and is a crucial member of our team."
Ritchie, who learnt the basics with Cromer and Collaroy Plateau, has long been touted a special talent.
He broke into the Waratahs representative system at the age of 14, and three years later made his first grade debut.
"It was always a goal of mine to play at that level,'' the schoolteacher said.
"When I achieved that I didn't know what to think.
"I was happy, but didn't really make the most of the opportunity."
With Manly rebuilding at the start of the 2007-08 season, Ritchie jumped ship to Gordon.
The chance to play alongside Beau Casson and onetime Australian quick Matthew Nicholson was an opportunity Ritchie felt he could not let slip by.
"I had fun over there, but straight away I began to question why I had moved,'' he said.
"I grew up in Mona Vale and love the Manly club.
"Thankfully there was no dramas about coming back the following season."
Ritchie, who next week will turn out with teammate Ahillen Beadle for the Sydney Cricket Association Red XI at Rooty Hill, has been electrifying with the willow this season.
Currently averaging 73, he carved out an entertaining 97 against North Sydney and will resume on 45 tomorrow against Sutherland.
He credits an off-season stint in England as the reason behind his form.
"Playing regular cricket always helps,'' he said.
"I was with Rothley Park and was fortunate to score a few runs. I have always been a confidence player, so after squeezing in a bit of travelling, I came back ready to go.
{loadposition cricket}