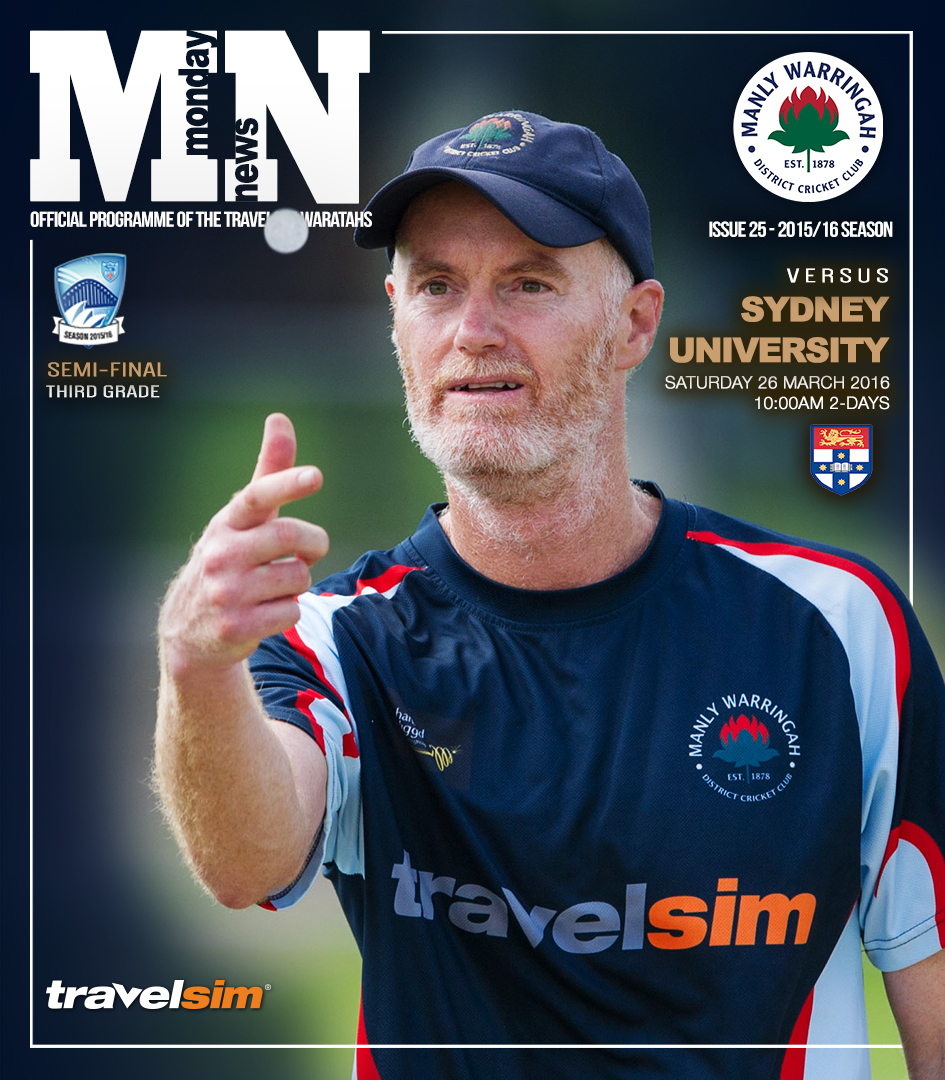 With the 3rd Grade side one step closer to defending their title after a dominating performance against Eastern Suburbs, the Travelsim Waratahs ventured out to Sydney University with the hopes of reaching the second consecutive grand final. Warren's men unfortunately went down to a class Sydney University outfit that proved to be too much for the boys. With rain affecting a large majority of the second day's play, the Waratahs were in strife at 3-14 at the first stoppage of play. The boys preceeded to get back on the park after hours of trying to get the field suitable for play. The Tah's were only given 36 overs to chase down a further 208 runs for victory. Unfortunately our horrid start and consistent wickets falling saw few of the batsmen get set and ultimately, saw the defending premiers 2015/16 season, come to an end.
This unfortunately wraps up the Travelsim Waratahs 2015/16 season with all teams now out of contention for titles. A big thankyou on behalf of the playing group, to the volunteers, the sponsors, and the Grade cricket nuffies for all of their support this year. The boys will be back bigger and stronger in the 2016/17 season.
Go Manly!
4 Pines Players of the Week – Luke Edgell


This week's 4 Pines Player of the Week goes to the club favourite Luke "Bomber" Edgell. After missing a few games in recent times, Luke returned to the park on Saturday and put in a stellar performance and arguably led the way with the ball for the Manly boys on Day 1. With impressive figures of 3/31 off 17.3 overs, he deservedly is named 4 Pines Player of the Week. Well Done Big Fella!



3rd Grade: Sydney University 221 (L. Edgell 3/31, J. Wigney 2/46) vs Manly 148 (J. Graham 37, W. Evans 31, D. Marshall 28*)
An interesting start to the game when it was confirmed SU were given the green light to play 4 players that had not met the agreed semi-final criteria, given permission by the SCA for no apparent reason. Having a pre toss chat with Ash Cowan, SU's capt, he was staggered that they got the go ahead for them. But good luck to Sydney Uni, we would have tried to do the same. Anyway we won the toss and decided to have a bowl on the tacky surface. It was going to flatten out for 5 sessions of good batting conditions but given the rain forecast for Sunday we thought we would give ourselves a chance by having a bowl.
Josh Wigney (2/46 from 29) clean bowled their opener to make it 1 for 2. There was life in the wicket but early wickets were going to be critical, maybe 4 down by lunch would be required. When Wiggers picked up the #3 well caught by Edwards in the gully in the 12th over to make it 2/20 we were on our way. To their credit the opener and #4 battled hard. Plenty of play n misses were happening but not the snick. They got to lunch 2/60 from 36 overs.
After lunch SU kept their slow progress up and a stalemate was fast approaching. Eventually Luke Edgell (3/31 from 17) got the edge to 2nd slip to make it 3/88 off about 50 overs. Edwards (1/29 from 17) then got rid of the #4 to make it 4/103. When Dylan (1/47 from 15) dismissed the #5 well caught by Ash at 1st slip to make it 5/105 we were starting to feel a bit more comfortable. Their capt came out swinging and the #6 was wanting to play some shots but Evans (1/20 from 10) dropped short and was top edged to mid on to make it 6/124.
Marshall went down sick at the tea break and Sam Hole came on to field and the ball followed him around. Firstly a catch to end a threatening partnership from Trewartha's bowling (1/9 from 4) to make it 7/151. Soon after the capt hit one down Sam's throat at deep mid off from Joe Graham (1/38 from 29) who was toiling away nicely to make it 8/161.
At this point we decided to take the new ball against two new batsmen. They batted well and added 50 to take the score to 211 before Edgell got the edge to Daly. Soon after a similar result with an edge to Ash at 1st slip to have them all out for 221 from 103 overs.
We had 1 over to deal with and it was uneventful, except for the walk off where SU ripped in. Bill loved it.
Next morning the clouds were very heavy and literally perfect bowling conditions on a fresh pitch. The rain came in at 10.30 but a lot of damage was done in that 30 mins with Bill's leading edge to short cover, Luke's chop onto foot and trickle onto stumps and Jack's first baller, given out caught behind. We were suddenly 3/8. Daly (8) and Graham (37) got us to 3/14 when it bucketed down. A top class oval should be able to cope with 30 mins of heavy rain and 45 mins of steady rain but Uni #1 was drenched. Manly boys, including lots of help from lower grade supporters Ned Hole, Jacob Graham and Joel Wood all pitched in and worked continuously for 4 hours bucketing water off the playing surface. SU have a large Super Sopper that was going to mop everything up within an hour but unfortunately the engine cut out.
Eventually we had 36 overs to score 208 runs. Not impossible although difficult on the slow outfield. We were never in it losing regular wickets. Graham batted well as did Trewartha (23), Evans (31 – drawing equal with Zac on 15 bombs for the year with another two added), Dylan (28no) again showing good form with the bat but the wickets fell regularly and we needed a top order bat to bat through but that did not happen. We were bowled out for 145 with 4 overs to go.
Not a great finish to the season – I reckon bright, sunny conditions would have meant a good game but you can't pre-order that unfortunately.
My annual report summary will contain all the important things but once again a big thanks to the help over the weekend – coaches there all day, Peter Garlic scoring for us all day everyday this year, Todd Harper for his help and humour, Wrighty for his support and the boys that came out and enjoyed themselves on day 1.
Warren Evans
Waratah TV
Click on the images below to view the videos
| | |
| --- | --- |
| | |
| "A collection of Sydney Uni wickets as 3's toiled well on Day 1" | "Expansive stroke play was seen at 3's, as rain affected the Semi-Final" |