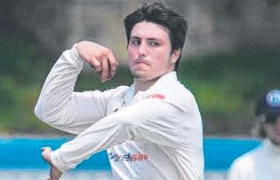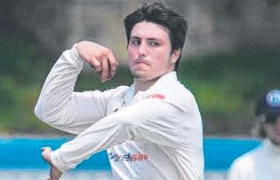 WE MAY have scored more than 400 runs against UNSW on day one but there is no way we will hit cruise control when we take to the field this morning at Village Green in Kensington.
The students boast a quality batting line-up and are more than capable of doing to us what we did to them if we don't get it right.
One of our key men will be Ryan Farrell, who inherits frontline spinner duties with Stephen O'Keefe and Ahillen Beadle absent on representative duties.
"Faz" has played in all but one of our top grade matches and has acquitted himself superbly with bat and ball this season.
He scored an undefeated 39 last week and now we need him to do a job for us with his leg spinners.
Farrell, who played in our premiership-winning third grade side last year, is also captain of our PoidevinGray (under-21) side, so expect to hear a lot more about him in the years to come.
HAPPY CAPTAIN
SOMETIMES giving someone the captaincy can be a kiss of death.
Other times it brings the best out in a player.
I'm pleased to say it has been the latter for our club captain Billy D'Arcy, who has been on fire with the bat all season.
He has scored 350 runs — the most of any batsman in any grade this year (not including T20s).
D'Arcy has now scored two hundreds this season and has come on in leaps and bounds since his recordbreaking partnership with former first grader Luke Edgell earlier this season.
The other in-form batsman is second grade number three Tom Kaye.
He has hit four half-centuries in his last five grade innings plus a 43 run out.
A big hundred is just around the corner.
Like Farrell, Kaye also won a third grade title last year and is pushing hard for top honours.
YOUNG STARS
THERE is one Manly team standing after the DCA rep semi-finals — the mighty under-13 Gee Shield side.
Coached by current grade player Aidan Baker, the boys easily beat Canterbury/Wests to advance to their second final in two years.
It's great to see a current grade cricketer putting aside time from his busy schedule to put back into our junior system and a huge congratulations to Baker for his achievements so far.
He credits the successful season to a team effort in which all 12 players have contributed at different stages throughout the tournament.
The boys will meet Sutherland in the decider at Solander South Fields tomorrow. Go Manly! Unfortunately our 15s and 16s couldn't go that extra week, bowing out in the semi-finals after tremendous campaigns in their respective competitions.
{loadposition cricket}