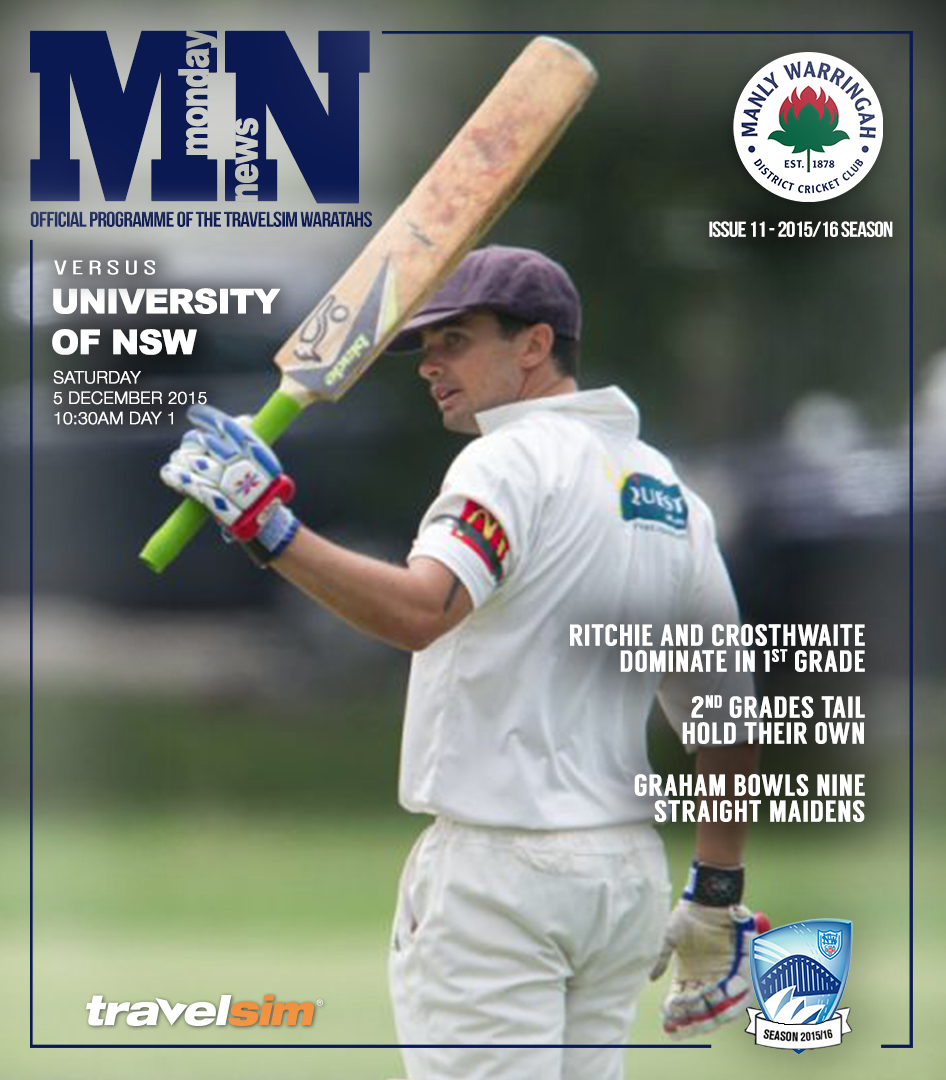 With the Christmas break fast approaching, it was this round against UNSW was crucial in the positioning of all grades. Some fantastic individual performances saw some massive totals posted by Manly in the upper grades, while 4th and 5th grade had mixed results which will make next week all the more interesting.
1st Grade compiled a mammoth 5-422 off the back of centuries from Adam Crosthwaite and James Ritchie while run-a-ball innings from James Crosthwaite (50) and Jay Lenton (43) helped keep the run rate motoring. 2nd grade had a very interesting day's play with the match evenly in the balance but for crucial inning's from Tom Kaye (68) and Jake Carden (50), with 2s finishing the day 8/277 and Matt Alexander on 46*. At a very windy David Phillips, 3rd Grade withstood early troubles against a swinging ball, recovering from 2/29 to finish with an imposing 6/341 thanks to a maiden 3rd grade century to Billy D'arcy (111) and 85 from Zach Trewartha. By all reports 4th Grade had a mind-numbing experience down at Grahame's Reserve, watching UNSW crawl to 6/162 on a belter. Sam Hole and Jacob Graham took 2 each in what was a vexingly negative day's play. The undefeated 5th Grade were the only side not to excel with the bat this week – rolled for 124 despite getting off to a flyer thanks to Will Wolter (43) and Isaiah Vumbacca (32). UNSW have already secured 1st innings points – passing us only 4 down.
4 Pines Player of the Week – Billy D'Arcy


This week's 4 Pines Player of the Week Award was one of the most hotly contested in the history of the award with centurions Jack Ritchie (125) and Adam Crosthwaite (127) making compelling cases. Despite this however, it's Billy D'arcy and his maiden 3rd Grade century at David Phillips that wins the award this week.

Billy, the self-proclaimed lower-grade specialist in his Grade career to date, made the step up to 3rd Grade in Round 5 off the back of an unbeaten 114 the week before in 4s and had been searching for the form he showcased at the start of the season. With this hallmark innings it appears that that moniker is no longer accurate – the vocal Club Co-captain playing an innings of great patience, maturity and skill that laid the rock solid foundation 3rd Grade need after losing two quick wickets in the first session.

His 111 enabled the rest of the team to bat around him and was pivotal in steering 3rd Grade to the formidable score of 341 off only 80 overs. It's fantastic to see Billy's excellent off-field performance brought on-field – no doubt we'll see plenty more of both throughout the season as he continues to Bleed Blue in everything he does!
1st Grade: UNSW v Manly 5/422 (A. Crosthwaite 127, J. Ritchie 125, J. Crosthwaite 50, J. Lenton 43)
The Manly boys were coming off 3 wins on the bounce and were keen to keep that rolling at Village Green. The table has us equal 6th with another 8 or so teams so a good last 2 games for the year would be crucial and will set us up nicely for after Christmas.
For some reason the UNSW skipper thought it was a good idea to have a trundle on what looked like a flat deck, fast outfield and perfect day so we set about building a large total. Jack Ritchie and Jimmy Crosthwaite opened up and the skipper was immediately regretting his decision as Jimmy moosed the ball all around the ground and brought up his 50 before drinks. Straight after drinks he fell without adding to the score which was disappointing but he really set us up nicely to post a big score. Cubby and Adam Crosthwaite then dug in for the rest of the session and didn't give them an inch, batting with patience and control. In this time cubby past his 50 which was full of composure and cut shots. Special mention also to Adam who during this time passed 5000 runs for the club which is massive achievement considering the limited time he has been with us at the club – serious player.
Manly 1st Grade's twin centurions – Jack "Cubby" Ritchie (125) and Adam Crosthwaite (127)
After lunch the boys continued in the same way they had before lunch and had the same result. Crossy brought up his 50 and we began to loosen the shackles. Cubby at the other end stayed patient and before tea brought up his well deserved hundred after just missing out on one a couple rounds before – well done Cub. Cubby fell for 125 and it was Crossy's turn to bring up yet another hundred for the club, finishing on 127. Jay also hit a run a ball 43 which was a crucial innings and allowed us to have batsman batting in the last hour of the day to post a big total. Nappa and Ryan Farrel threw the bat at it at the end and helped us reach a massive score of 5/422. The batsman did their job and it's now up to the bowlers to bring home the win next week, go manly.
Ryan Farrell
2nd Grade: UNSW vs Manly 8/277 (T.Kaye 68, J. Carden 50, M. Alexander 46*)
The boys arrived to a picturesque Manly Oval with a few dusty souls. After fill-in Captain Sam Webber won the toss we chose to bat on a hard but green pitch, that would surely offer the UNSW quicks some help.
Jack Edwards and Joe Graham then opened the proceedings and after a positive start, with both batsmen looking solid, Jack fell for 20. In-form Tommy Kaye then strode to the crease after numerous fiftys and looked at ease as he combined with Joe for a 56 partnership. Joe Graham then fell to uncharacteristic shot off the spinner and spin began to take control of the innings. After two quick wickets of Flat and Webber, Taylor joined Tom at 4-100 where the pair struggled to tick the scoreboard over as a result of the tight bowling. However the two toughed it out and worked extremely hard for their runs.
With the score on 4-145, Tom then fell LBW to the off spinner for a hard earned 68 and when Taylor fell 9 runs later, we looked in a bit of trouble at 6-154.
After the tea break Gainsy and Mattoes batted beautifully finding the boundary with ease whilst rotating the strike. With the score on 205 in came Jake Carden with an appointment to be at. He smashed the UNSW spinners to all parts hittong 4 fours and 4 sixes for a run a ball 50. A brilliant knock that provided great entertainment.
After the brilliance of the lower order and a great knock from Tommy we finished the day on 8-277 full of momentum running into next week.
Jack Edwards
Joe Graham sending one through the covers
Tom Kaye was again his consistent self on Saturday, hitting his 4th 50 in a row
Joe Graham and Jack Edwards presented one of our youngest 2nd grade opening partnerships ever
3rd Grade: UNSW v Manly 7/341 (B. D'arcy 111, Z. Trewartha 85, W. Evans 66, J. Daly 49)
It's amazing what a true pitch can do. A hard, well grassed, flat deck awaited us and finally winning a toss we batted. Gummer (7) once again was fired and when Bariol (7) followed a gently outswinger and edged to gully to make it 2/29 we needed a partnership. Our pre game chat was based around…taking your time to get in, a top 3 batting the whole day, wickets in hand for late onslaught. We managed all 3 of these with Darcy (111) and Daly (49) settling things down. They were bowling accurately on the flat deck and it wasn't until Daly bombed 3 sixes from 4 balls from the medium pacer did we start to get comfortable. Billy played and missed the 4th ball of the day and after that looked impregnable. The benefits of having an opener bat for so long is untold…partnerships around him, shine off the new ball and the extra benefit when it's Billy – you don't have to listen to him all day. He batted beautifully in compiling a great century including 16×4 and 1×6. He and Jordan put on 87 before Daly lost concentration just before tea and mishit to mid on. At tea we were 3/116. Jordan was filthy as he made it look easy in his 63 ball stay.
Just after tea Crombie (6) got a fast full toss that took him by surprise and trapped him in front. This gave UNSW a sniff with the wickets either side of tea to make it 4/122. Zac (85) then entered and found it tough early to score freely. Full credit to him for weathering this and realising how important it was for him to hang in there. With just 2 from his first 27 balls it was going to go either way, any minute. Thankfully Zac punched a beautiful straight drive for 4 then 2 balls later a lofted six down the ground and he was away. Billy was stroking with firm elegance, especially a whip over mid wicket and his cover drives were sublime. These two blokes kept things ticking over nicely until Bill was caught out at deep mid wicket for 111 from 191 balls to make it 5/233 after 65 overs. Another settling partnership from Zac and Bill of 111. This is just the scenario Evans (68) loves. He raced to his 50 from 35 balls including 4 well struck 6's and six 4's. He and Zac were enjoying themselves and put on 90 in 11 overs before Zac was caught and bowled for a strong 85 from 113 balls including 5 sixes and 7 fours. It was great to see him bat with fluency and confidence and hopefully get his season started. I just hope he remembers it was tough at first and easy at the end. A really well built innings. Evans was out playing an odd sweep 2nd last ball to allow us to finish at 7/341, a great total that will allow us to set attacking fields all day next week.
Big thanks to our scorer, Peter Garlick, for putting up with tough conditions all day. Peter, as usual, went about everything with a minimum of fuss and did a fantastic job for all.
An exceptional follow-up from the last few week's disappointing efforts with the bat. Well done so far.
Warren Evans
4th Grade: Manly vs UNSW (6/162 [80] J. Graham 2-8 [15], S. Hole 2-25)
A nice flat wicket greeted the manly boys down at Atmosphere Park for the first days play against a poorly travelling UNSW side. We all hoped that Max's tossing woes wouldn't continue and we would get first use of what looked to be another perfectly prepared highway. But alas that didn't occur and the quicks had an extra long bowl as the slippers warmed up.
The opening spell from Ryan and Ben was fast and tight, not giving too much away, and by the first change of bowlers the UNSW side were somewhat flailing at 0-25 off 16 overs. Jacob came on first change and took a wicket 2nd ball, with Will being brought on at Bens end. Jacob kept it tight at his end, as will went to work at the other but it was another long 18 overs before Will made the next breakthrough; the run rate still barely getting to 2rpo.
After the tea break Max rotated the bowlers regularly at both ends, trying to disrupt the negative brand of cricket UNSW were putting out, trying to induce any shot of an attacking nature. Unfortunately Ben went without luck in his second spell and it was Jacob's second spell, which brought the 3rd wicket of the day.
UNSW's number three continued on his merry way soaking up over after over of dot balls but provided an anchor for the other batsman to attempt to up the run rate somewhat… which, never really came. Sam Alexander toiled hard for no luck whilst regularly beating the bat but it was Max who came in and took the next wicket.
Sam hole followed suit at Max's end and after inducing some interesting shots from both batsman made a double breakthrough in his short but exciting 5 over spell.
UNSW batted out the day 6-162 off the 80 overs with their number three still in on 42 off a whopping 178 balls. That in itself was a reflection of the entire UNSW team's effort to actually try and play cricket, in what was easily the most negative showing of cricket that all of us have ever seen.
Bowling standouts were Jacob Graham 2-8 off 15 (11 maidens) and Sam Hole 2-25 off 5 over
Jacob Graham
Boys celebrate the fall of a wicket
Fast bowler Ben Kittlety sending one down on Saturday
Jacob Graham celebratyes another Grahams wicket

Ryan Bishop-Perrett and Will Outred both working hard to get through the crease on Saturday
5th Grade: UNSW (4/127) v Manly (124 W. Wolter 42, I. Vumbacca 33)
5th grade arrived at David Phillips North looking to keep their strong form going against UNSW. Stand in skipper Tom Sheedy won the toss and elected to bat on a hard surface with a bit of grass on a length and a 30m boundary off square. We lost Tom earlier, and after Ned and Will Wolter built a partnership, Ned was dismissed. Will and Isaiah built a strong partnership as they punished the bad ball and took advantage of the small boundary. However as Isaiah departed off a good catch in the 30's and Ollie Davies followed after a quick 10, the game was on and we had to fight back. However a collapse of wickets and not making most of their bowling, we were bowled out for 124 in 39 overs, a total we all knew was small and that would take some good bowling and build up of pressure to get back in the game. Credit to Will Wolter who top scored in the 40's. We felt like we should have scored 200+ after the strong start we made.
We came out after tea looking to take advantage of the new ball and after UNSW got off to a flier, the pressure eventually came and we forced a run out after a string off 5 maidens in a row. Lachie Kerr then bowled their number 3 for a golden and we felt we had a chance if we continued to build pressure. Their opener and number 4 dug in and after consistent bowling from Will Akhurst and Ned Hole, we managed a break through courtesy of an LBW from Ned. Our spinners Jonah and Isaiah also built up the pressure, drying up the runs. Sheedy then brought himself on and dismissed the opener for the score at 4-110. At stumps UNSW are 4-127, with them already claiming first innings points. A disappointing day with it coming down to our batting performance. Next week, if we hit our areas and get back into the game, we can make a game of it and look to get the win on 2nd innings.
Alex Bain