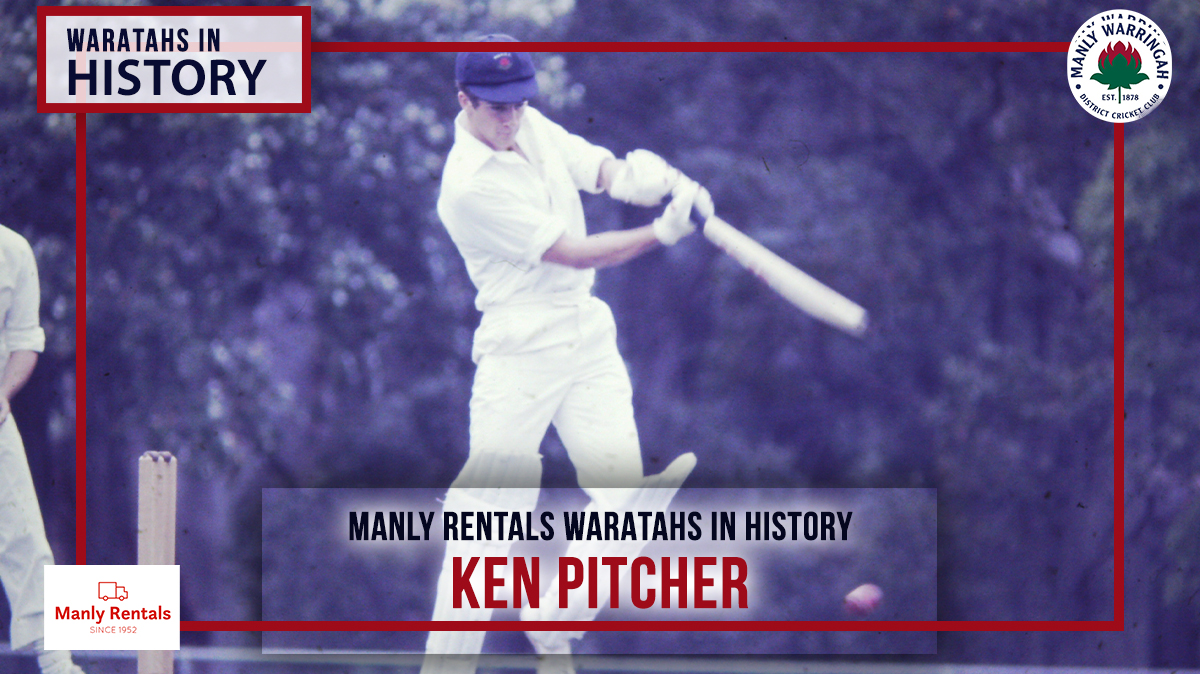 Today we are pleased to release the first Waratahs in History Q&A that we will be doing in the back half of the 2021/22 season. Every 2 weeks a new wrinkled Waratah will be interviewed with the results published on our website.
First up is Ken Pitcher, a long term and popular clubman who is as Manly as Manly Beach itself. We hope you enjoy the read.
How did your love of cricket come about as a child?
Born in Manly Hospital and growing up in a family of 3 boys, we played plenty of backyard Test Matches on our mowed out pitch with mums plants, trees and the family dog as fieldsmen. Younger brother Tony, who played many great years at Manly, Peter who was a very good keeper – batsmen and I followed in the footsteps of my father who had come from a family of successful Victorian based cricketers. Dad was a very good cricketer himself and played in Victoria and throughout country NSW before settling in Sydney for work. Dad played at Manly from 1961 to 1964. Mums family also loved their cricket and were very involved in cricket in country NSW, so cricket was in our DNA.
Who were your cricket heroes growing up?
Apart from dad, Doug Walters Greg Chappell, Alan "Froggy" Thomson (a Victorian) Jeff "Thommo" Thomson (Aust NSW & Qld) and Dennis Lillee were my heroes. We were in awe of the West Indians, Wes Hall, Sir Garfield Sobers, Sir Viv Richards, Sir Charles "Charlie" Griffith, and Michael "Whispering Death" Holding and didn't miss any Ashes Test matches against the old foe that were played. Dad used to take us to the SCG for Test matches and also to watch NSW in the Sheffield Shield. In fact, as a 10 year old, I jumped the fence at the SCG after a NSW game to pat Manly legend Mike Pawley on the back after a Shield game he played in around the late 1960's.
You were part of Green Shield in 1973/74, 1974/75 and 1975/76. What pathway did you take leading up to those years in Green Shield?
After the backyard cricket with my brothers I started playing cricket in primary school at St Kierans Manly Vale and went on to St Augustines Brookvale to play there also. I was first picked for Manly Reps in the under 10's Foster Shield and represented every age group, under 12 Cawsey Shield, under 14 Moore Shield, under 16 Green Shield & CS Watson Shield and under 21 Poidevin-Gray Shield before moving on to Grade Cricket.
Who were the star players you grew up with coming through the junior ranks?
He was a little younger than me but I remember current club president Andrew Fraser won The Eric Palmer Bat Award in 1974/75 for the Most Outstanding Junior Cricketer of the Season. Mark Jolly was a tear-away fast bowler, Greg Hill, Sam Mesite, Mark and Steve Byers, Tom "Marlin" Purcell, Paul Stephenson were all a little older than me but I looked up to them.
You rolled into Grade Cricket in 1974/75 with a couple of games in 4th Grade. What do you remember of your grade debut?
I think I was around 15 or 16 at the time and was really nervous but very excited to finally get the baggy blue Manly cap. I'd been watching Jim Burke, Terry Lee, Peter Philpott, Mike Pawley, Mal Elliott, Ian Howell, Paul Stephenson and their team mates wearing that cap over the fence as a spectator for years and now to wear it into the middle made me extremely proud. I mustn't of set the world on fire because I can't remember any stats from the game or who we played, I was just wrapped to be playing for Manly and wearing that baggy blue cap.
Who helped you the most throughout those initial years starting out in Grade cricket?
My mum, dad and brothers were my greatest supporters and offered me plenty of advice and lots of net practice. Living just up the road from Graham Reserve, Mum, Dad, Tony, Pete and I had the task of putting the covers onto the wickets at Grahams for many years. Rain, hail or shine we all chipped in to make sure the covers were on. There were plenty of times we had found out the covers had blown off in really bad weather so were down there at all hours of the night putting them back on. By getting in and contributing really creates a strong bond with the club and makes you feel part of something great. Rather than looking in from the outside, I recommend that all players take on some tasks to help the club rather than just turn up to play and leave all the work to others. As far as individuals go, Tom Spencer, Dr Jim Stewart, Mike Pawley, Dave MacPherson, Ron Holmes and Barry Rothwell all gave willingly of their time and offered great advice as well.
What do you remember as the difference at the club in the late 70s, early 80s compared to when you retired in 1995/96?
As the years rolled by the main differences were the many fantastic, diverse personalities, who loved supporting and playing for Manly. The level of professionalism has evolved as the club has evolved and has set Manly at the top of the Sydney Grade Cricket scene. The quality of the playing surfaces has certainly changed for the better. The bigger bats came in just after I stopped playing, so I would have loved the opportunity to bat with one of those. The club has always been a wonderful environment for families to be involved right from the day I walked in to the day I left.
On a similar note, what change in Grade Cricket from the late 70s until the mid-90's?
What has changed from when I was playing is that you would get the opportunity to play relatively regularly with and against top line State representative and Test players. We had Australian players in Graeme Beard, Kevin Wright, Michael Bevan, Gavin Robertson, Peter Toohey, Paul "Blocker" Wilson, West Indian Alvin Kallicharran, Englands CWJ (Bill) Athey, David "Sid" Lawrence, Paul Jarvis, Jason Gallian, NSW representatives, Mike Pawley, Steve Whitfield, Phil Marks, Kerry "Mouse" Mackay, Mark "Sparky" O'Neill, Michael Cox, Sean Bradstreet, Craig Glassock and played against the likes of John Benaud (Richies brother, Test player & selector), Jeff Thomson, Len Pascoe, Jeff Lawson, Sir Geoff Boycott, Tony Greig, Mike Gatting, Mike Whitney and many other Sheffield Shield and Test players. Hopefully there will be opportunities for the current players to play many games with the likes of Steve O'Keefe, Morne Morkel, the Edwards boys, Ollie Davies and others. You can learn so much from these guys.
What do you think your strength was as a cricketer?
I started off as an all-rounder who could do a bit of everything, so I could pretty much fit in wherever the team wanted. From opening the batting to batting in the middle or lower order and then to open the bowling or come in as a change bowler. I loved fielding so I was happy to field anywhere to contribute to whatever the team wanted. I captained a few teams and was a selector, so I hope I created a good environment and passed on some knowledge to the younger players.
Do you remember your first grade debut?
Yes I had a few games in first grade. I'm pretty sure my debut was against ND's at Manly Oval. Steve Whitfield played for them at the time before coming over to Manly and I think I became one of Steves many victims. My claim to fame was getting  51 not out opening the batting against Balmain with Sam Mesite and playing a part in the dismissal of two England captains. Tony Greig, caught Athey, bowled Pitcher and Mike Gatting, caught Pitcher, bowled Athey.
Who was the funniest team mate you ever played with?
It's impossible to pick just one. There were so many laughs on the field and also back at the Room at the Top and then over to Grouchos at the Manly Rugby Club after a days play. Each era had different personalities. From Landscape gardeners to Doctors, Teachers, CEO's, Solicitors, Retailers, Accountants, Tradesmen, Airline Employees, Students and all walks of life. The banter between Mike Pawley, Mal "Rolly" Elliot, Ian Howell, Dave Packer, Sam Mesite, Greg "Hilly" Hill, Bill Athey, Bob "Six Ball" Rickey, Mark and Steve Byers, Frank and Ken Turner and Ian "Macca" MacDonald in the early days then onto Andy Fraser, David Gainsford, Greg "Butch" Boyer, Richard Weekes, Phil Marks, Greg Bush, Bert Pearce, Geoff Tucker, "Wazza" and "Trunk" Evans, Timmy Blank, my brother Tony, Richard "Trimmy" Trim, Simon Couch, Steve Colby, Steve Johnson, Graham "Wiley" Wilks, Gavin Fletcher, Nick Johnson, John Borzi, Chris Hynes, Mark Kroschel, Greg and Russel Pierce, Dick Fry, John Warn and many, many more great people that there's not enough room to include them all.
Who was the best captain that you played with?
I had some wonderful Captains over the years. Barry Rothwell, Tom Spencer, Dr Jim Stewart, Mike Pawley, Ian Howell, Gary Flowers, Bill Athey and Ron Holmes. All great men with tremendous knowledge of the game and their contribution to the fabric of the Manly club to this day cannot be underestimated.
Can you re-call a funny, but clean, story the encapsulates playing for the club throughout the 80s?
This was in 1977-78 and we were playing Gordon at Chatswood Oval in a Poidos game. Graham Wilks was batting with England Test player CWJ "Bill" Athey. This probably isn't so funny for him, but Wilksy was hit on the nose by a bouncer from the Gordon opening bowler and grabbed his face and staggered around for a bit. Once he took his hand away from his face and saw the blood, his legs gave way and fainted. While lying flat on his back, prone on the pitch, Wilksy was then unmercifully sledged by the Gordon bowler. CWJ had to be held back, gave some good old Yorkshire verbal straight back to the bowler and then proceeded to smash the Gordon attack all round Chatswood for a blistering 133, only getting out by stepping back on his stumps after smashing another one over the fence….he wasn't going to let one of them take his wicket! We chalked up a very satisfying win that helped Wilksy recover from his injury. I'm pretty sure Bill still holds the highest aggregate for the Poidevin-Gray Shield from that year and his innings that day went a long way to achieving that record. It wasn't funny for Wilksy at the time but looking back on it has created lots of laughs from the boys whenever we catch up.
What is the best innings you saw at Manly from a fellow player?
Apart from that innings from Bill Athey, the best I saw was an innings of 287 not out from Brian Clemow v Bankstown in 1992-93. In 310 minutes off 85 overs Clem had broken a host of records, not only for Manly but the for the entire Sydney Grade Cricket competition. It was the highest ever not out score in Sydney Grade Cricket and beat a previous club record that had stood since 1897-98. Clem was then selected in the NSW U17 team that won the Australian Championships, where he had scores of 206 and 96 to become the highest run scorer at the Championship. He was chosen as player of the Tournament and selected in the Australian U17 team. Only injury kept him from going on to achieve higher honours. Not only was Clem a major talent but a very humble, laid back, great bloke from a terrific family.
Who was the one person that drove the standards of the playing group during your playing days?
Wearing the Baggy Blue really drove the standards across the club for all of my playing years. It's impossible to pick just one person. So many contributed to the club standards from Club Presidents Alex Anderson, John Hodgson, John Stephenson, Jim Stewart, Gary Flowers and Andrew Fraser, the administrators, Bob Brenner, Bob Tuckerman, Keith Marks, Dallas Fletcher, Gordon Currie, Ian Lamb, Geoff Rogers, Donny "Dollars" Sellin, to all the supporters who provided afternoon teas and turned up at the games to do the scoring and do the many other tasks that are needed around the club. As far as individuals, it's difficult to pick one person. Tom Spencer, Mike Pawley and Barry Rothwell could get the best out of you on the field without having to say anything,  just glare at you from where they were fielding and your effort picked up 100%.
Who was the best player at Manly that you played with?
I played with so many great cricketers but Phil Marks would be my pick. Once Phil arrived in the country from Rhodesia (Zimbabwe), it was plain to see the natural talent that Phil had. He made the difficult look easy. It didn't matter if he was batting, opening the bowling, sending down some spinners, fielding or flat out competing, Phil had the complete game. His catching was incredible, the best I've ever seen at any level of cricket. His ability to intimidate the opposition with his presence was also a significant part of his game and gave the Manly sides he played in some real respect from any opposition teams. A true Manly legend!
What do you consider the best innings/spell of bowling from yourself?
As far as batting goes, playing  2nd Grade in 1989-90 I shared a partnership of 196 with my great mate Greg "Butch" Boyer. Butch peeled off 108 and I got my best score for Manly of 119 not out. I think it's a record that Butch and I still hold today. It's a partnership that I'm very proud of and still get a smile whenever I read the Annual Report and see the record still standing after all these years.
From a bowling point of view it was in a Poidevin-Gray game in the Centenary year for the Manly Cricket Club 1977-78 against ND's. Bill Athey won the toss and sent them into bat. I had figures of 18 overs, 4 maidens, 9 for 47.  We had a fantastic team and went on to win the Shield that year in what was a highlight of my playing days. I'm pretty sure our score of  9 for 521 in the Semi Final against a star studded Randwick side is still a record. The celebrations back at the Byers house after we won that night, with Sam Mesite leading the way, will be remembered in Manly folklore for many years to come!
The club throughout the mid-80s was not very successful, however we had a golden run in the late 80s with multiple premierships over multiple grades. What do you think lead to that success?
We were fortunate to get Alan Campbell to the club as the club coach. Alan really lifted the standard across the whole club and the on-field results turned around during his time. With Alan at the helm, Manly took first grade honours in 88-89 and won the club championship, including one season when all five grades reached the semi-finals. Afterwards, Alan had a 14-season stint as a NSW selector, including five as chairman, so he was very well respected and had a very astute cricket mind. Once we realised what we could do as a club we kept performing to the high standards that we still have today.
You bowled quite a bit as a youngster but not so much as your career progressed. What was the reason?
There was no better place to play than our spiritual home at Manly Oval. To charge in from the southern end, into a nor-easter breeze that started out at sea, over the waves at North Steyne, around the Charlie Bar at the Pacific, past the ambulance station on the corner, where Thommo threatened that our entire First Grade side would end up (now a back packers) over the score board, across the hallowed turf and to catch an outside edge through to the slips cordon, is one of the greatest memories of my playing days. It was a privilege and I was lucky enough to play down there and loved bowling at Manly Oval. What seemed like a dodgy back from too much bowling started me on a path via, GP's, Sports Medicine specialists, Physios, Chiropractors (before Simon Couch), Chinese acupuncturists, Orthopaedic Surgeons, Osteopaths, Australian Olympic Team doctors, Radiographers and anyone else that specialised in bad backs. I was recommended everything from having my spine fused, to having steel rods put in my back, go see Australian opening bowler Bruce Reids surgeon (to have the same operation he had) go into traction for a month, give the game away, eat this….don't eat that… only to be diagnosed quite a few years later with an autoimmune disease which affects the spine shoulders, hips and other joints. Needless to say I couldn't bowl or bat anywhere near the level that I wanted to, so pretty much gave away bowling and changed my approach to batting.
You retired in 1995/96 after over 20 seasons, with a couple of games the following year. Looking back was it the right time to retire or do you think you could have played a little longer, especially considering how good a year you had in 95/96.
I never felt that I retired as I always hoped that I'd continue playing for a while longer (a bit like Ross Trewartha) but I had my lovely wife Janelle and my three beautiful children, Elise, Ashleigh and Daniel that fulfilled my life, so there just wasn't enough time to fit in cricket anymore.
What does your life involve now?
We still live in" Gods Country" on the Northern Beaches and enjoy all that goes with that. Mum and Dad are into their 90's and we're a close family, so have plenty of interests to keep us busy. We're big followers of all kinds of Basketball, the Sea Eagles Rugby League, I'm a Marlins fan and Janelle's a Rats fan, so that gets a bit interesting, the AFL, hitting the beach, Manly Golf Club and really enjoy each other's company and catching up with the many friends we've made over the years.  Life's really great!
Do you still keep across club results and what is happening down at Manly Oval?
I head down to Manly Oval and Graham Reserve most summer weekends for an hour or so to watch the cricket and keep a close eye on the results of all the grades. Having my son Dan play for a couple of years in the juniors and coaching a couple of Rep sides with " Butch" Boyer and Ian Ferguson a few years ago, I get a great deal of pleasure watching some of the guys from those days that have gone on to play grade with Manly. Sam Gainsford, Josh Wigney, Sam & Ned Hole, Zach & Lachlan Trewartha, Hamish Ferguson,  James Crombie, Ben Falconer, James Boyer, Ryan Bishop – Perrett, Ryan Farrell that have all gone on to wear the baggy blue.
From someone on the periphery, how does the club and cricket on the beaches look at the moment compared to when you were heavily involved?
Manly Cricket Club looks to be in great hands at the moment. As the history of this club evolves, personalities such as Andrew Fraser, David Gainsford, Steve Beatty, Joel Mason, Scotty McLachlan and the like will be held in the highest regard for all time. The quality in the coaching ranks and selection committee is un-equalled in Sydney Grade Cricket and would be right up there at the top with any club in Australia if not the world. The amount of former players that have put back into the club is remarkable and just proves the bond that many people form with the Manly Cricket Club. To see the pathway from junior cricket to the Shires team and onto grade cricket is the perfect environment for anyone who loves the game. The introduction of the Women's program has been a revelation and completes the perfect place to play cricket for everyone. The great support of the many sponsors is essential for the club to thrive and of course the families and supporters who give up their summers to follow the club all around Sydney means that Manly Cricket Club underpins a healthy and happy lifestyle for anyone who is involved. I have many lifelong friends from my days at Manly and I'm sure anyone else who is fortunate to be at the club has the same experience as I have had.
Ken Pitcher Career Batting Statistics
| Season | Inns | Runs | NOs | 50s | 100s | HS | Out? | Avg |
| --- | --- | --- | --- | --- | --- | --- | --- | --- |
| 1996-97 | 2 | 131 | 0 | 0 | 1 | 101 | Y | 65.5 |
| 1995-96 | 14 | 490 | 1 | 4 | 0 | 73 | Y | 37.69 |
| 1994-95 | 13 | 300 | 3 | 1 | 0 | 50 | N | 30 |
| 1993-94 | 13 | 355 | 1 | 2 | 0 | 72 | N | 29.58 |
| 1992-93 | 14 | 330 | 2 | 1 | 0 | 77 | Y | 27.5 |
| 1991-92 | 13 | 234 | 2 | 1 | 0 | 53 | Y | 21.27 |
| 1990-91 | 13 | 295 | 0 | 2 | 0 | 62 | Y | 22.69 |
| 1989-90 | 12 | 252 | 4 | 0 | 1 | 119 | N | 31.5 |
| 1988-89 | 13 | 321 | 1 | 2 | 0 | 60 | Y | 26.75 |
| 1987-88 | 5 | 202 | 1 | 2 | 0 | 81 | Y | 50.5 |
| 1985-86 | 11 | 249 | 0 | 2 | 0 | 59 | Y | 22.64 |
| 1984-85 | 18 | 202 | 1 | 1 | 0 | 53 | Y | 11.88 |
| 1983-84 | 11 | 313 | 0 | 2 | 0 | 91 | Y | 28.45 |
| 1982-83 | 17 | 417 | 1 | 0 | 1 | 114 | Y | 26.06 |
| 1981-82 | 20 | 284 | 3 | 0 | 0 | 37 | Y | 16.71 |
| 1980-81 | 13 | 150 | 0 | 0 | 0 | 23 | Y | 11.54 |
| 1979-80 | 15 | 92 | 1 | 0 | 0 | 21 | Y | 6.57 |
| 1978-79 | 16 | 242 | 5 | 1 | 0 | 51 | N | 22 |
| 1977-78 | 24 | 296 | 7 | 1 | 0 | 60 | N | 17.41 |
| Total (1974-1997) | 257 | 5,155 | 33 | 22 | 3 | 119 | N | 23.01 |
Ken Pitcher Career Bowling and Fielding Statistics
| Season | Catches | Overs | Maidens | Runs Against | Wickets | Avg | 5WI | Best Bowling |
| --- | --- | --- | --- | --- | --- | --- | --- | --- |
| 1996-97 | 0 | 0 | 0 | 0 | 0 | 0 | 0 | N/A |
| 1995-96 | 3 | 45 | 12 | 151 | 6 | 25.17 | 0 | 4/72 |
| 1994-95 | 4 | 64 | 14 | 204 | 6 | 34 | 0 | N/A |
| 1993-94 | 8 | 18 | 3 | 73 | 2 | 36.5 | 0 | 2/23 |
| 1992-93 | 5 | 0 | 0 | 0 | 0 | 0 | 0 | N/A |
| 1991-92 | 3 | 4 | 0 | 21 | 0 | 0 | 0 | 0/21 |
| 1990-91 | 2 | 5 | 0 | 27 | 1 | 27 | 0 | 1/27 |
| 1989-90 | 7 | 2 | 0 | 17 | 1 | 17 | 0 | 1/17 |
| 1988-89 | 2 | 3 | 0 | 18 | 0 | 0 | 0 | 0/18 |
| 1987-88 | 1 | 13 | 1 | 57 | 0 | 0 | 0 | 0/0 |
| 1985-86 | 7 | 46 | 16 | 99 | 4 | 24.75 | 0 | 2/21 |
| 1984-85 | 6 | 117 | 30 | 339 | 19 | 17.84 | 1 | 5/51 |
| 1983-84 | 3 | 22 | 4 | 58 | 0 | 0 | 0 | 0/10 |
| 1982-83 | 5 | 5 | 0 | 23 | 0 | 0 | 0 | 0/23 |
| 1981-82 | 9 | 176 | 51 | 451 | 19 | 23.74 | 1 | 5/36 |
| 1980-81 | 0 | 126 | 34 | 305 | 19 | 16.05 | 0 | 4/13 |
| 1979-80 | 7 | 150 | 45 | 419 | 20 | 20.95 | 0 | |
| 1978-79 | 2 | 137 | 31 | 437 | 18 | 24.28 | 0 | |
| 1977-78 | 0 | 158 | 35 | 442 | 36 | 12.28 | 0 | |
| Total (1974-1997) | 74 | 1,091 | 276 | 3,141 | 151 | 20.8 | 2 | 5/36 |