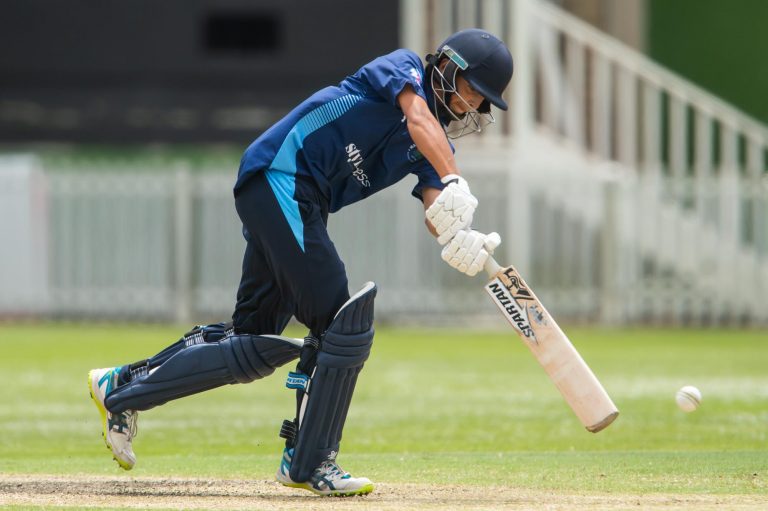 MANLY WARRINGAH 10-200 (J DAVIES 81*, B MCCARTEN 38) DEF BY CAMPBELLTOWN CAMDEN 10-212 (A BOULTON 2-15, F THORNTON 2-36)
The Greenies boys returned to Manly Oval refreshed after our 2 day camp and a few days off. Everyone was raring to go, prepared for the challenge we understood a strong Campbelltown side would bring.
The Nerds seriously need some help at this time. 5 from 5 for the Hulios in Vortex, and the losers look like they won't be finding the winning formula anytime soon.
Skipper Joel Davies got the revolutions of his coin toss wrong, with Campbelltown's captain electing to bat first on a typical Manly Oval wicket, a bit of grass but fairly flat as well.
Toby Laughton and Darcy Fleming continued their opening bowling partnership, with Darcy breaking through in his second over thanks to a catch behind by Blake McCarten. Campbelltown began to build a steady partnership before Hurshwin Sharma once again provided the goods with an important wicket, the other opener out for 36. This brought together Campbelltown's two most dangerous batsman, both with NSW representative experience. After both finding starts, young Andrew Boulton was introduced into the attack with immediate effect, sending the number three back to the sheds after a catch from Toby, before castling the visiting skipper. At 4-102, the game was evenly poised. Campbelltown's next two partnerships both yielded between 45-55 runs each, allowing the visiting side to slightly regain the momentum. Skipper Davies was yet again disciplined bowling, finishing with 1-31 of his 10 overs. Manly finished the bowling innings strongly, collecting the last 5 wickets for just 15 runs to bowl out the visitors for 212. Finlay Thornton with 2-36, Hurshwin 2-41 and Andrew 2-15. Although restricting the runs towards the end, the boys felt as though they had leaked a few too many runs during a couple of sloppy patches in the field. But all in all, the group was confident of chasing the total down.
After another magnificent lunch from the Manly parents, Lachie Johnson and Josh Cooper returned to the middle to begin our run chase. Some rain had fallen just before and during the break, and the pitch was starting to show a few soft, wet patches which may prove to make tougher work for the Manly batsman. Unfortunately Lachie was castled by Campbelltown's skipper in the third over, and after battling against the new ball, Josh Cooper was also out. Manly in a spot of bother at 2-15. Blake McCarten and Joel Davies joined one another at the crease and went about rebuilding the innings. The two combined for a 74 run partnership, before Blake was dismissed for a very well made 38. When Finlay Thornton was bowled trying to sweep, Manly were back in a predicament, but the skipper was standing tall at the other end. Ky Broome joined Joel and the two went about bringing down the required rate. Joel continued turning the strike over while Ky played a little cameo of 29 off 27 before going for one boundary too many, caught on the fence. This brought youngster Boulton to the crease, fresh off a great start to the Greenies season. Him and Joel continued to move the score along comfortably, bringing Manly to within 32 runs of victory, with 7 overs remaining. Unfortunately Boults was knocked over by Campbelltown's skipper, as the pitch started to play a few tricks as a result of the earlier rain. Tom Wood came to the crease and continued to be busy, with him and Joel turning the strike over regularly, moving the score to 6-189 with 5 overs remaining, Manly needing 24 off 30 balls. Raja Ganeshraj was the new batsman when Woody was dismissed, and he worked with Joel to edge us even closer to the target. When Raja fell to the Campbelltown skipper with us needing 14 off 20, the game was well in the balance, and an incredibly tight finish was on the cards. Unfortunately from here, Campbelltown's opening bowlers were too good for our tailenders, with our last two wickets falling in succession, Manly all out for 200. Skipper Davies playing an excellent, valiant innings of 81 not out, almost getting us home but without enough support from the rest of our batsman.
This is our first loss for this Greenies season, but in the post match meeting we understood that losing wickets in clumps and leaking a few too many runs in the field brought about our ultimate demise.
We will bounce back stronger when we face UNSW at David Phillips on Tuesday. Go Manly.
Will Gustafson