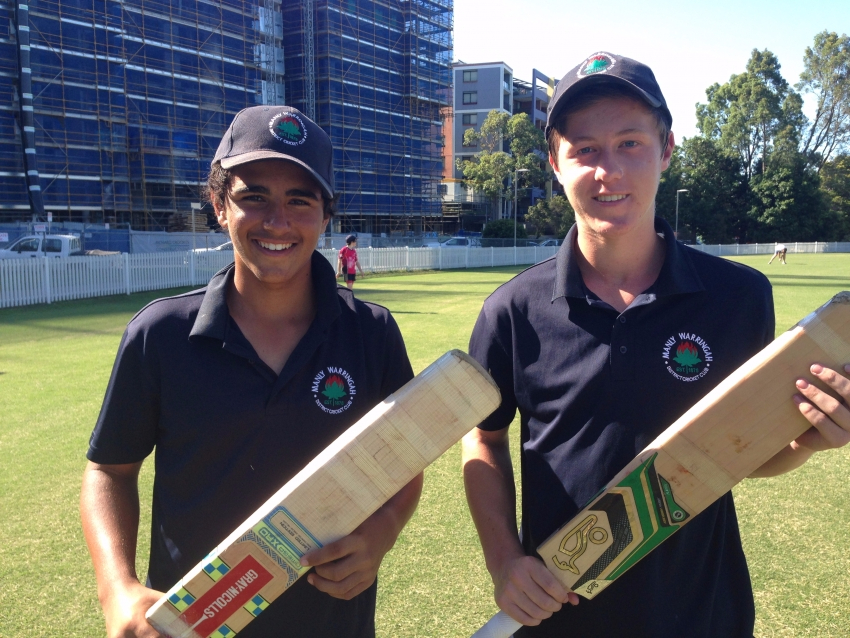 After ending the round matches with two disappointing defeats, Manly were hungry to knock off the top placed, undefeated Northern Districts.
Rocking up to Mark Taylor Oval, the Manly boys were sent into bowl after the new captain, Ned Hole, chose heads when really tails was the right way to go. With an extremely quick outfield, anything under 200 the Manly boys were confident in chasing.
Opening the bowling Hayden Brown (0-11) and Gabriel Harris (1-35) sought to keep the pressure on early, both hitting great areas and providing nothing for the tentative opening batsmen to put away. Enter Nick Osborne (1-39) who, with his first ball, managed to clean up the opening batsmen with a brilliant top of off delivery.
After ND's key batsmen built some crucial partnerships and started to score at a fluent rate, Jonah Anderson (3-25) managed to get the outside edge that was backed up with a fantastic grab by Matty Brewster who did not let in any byes throughout the whole innings.
With further tight and consistent bowling from Harry Kantor-Smith ( 1-20) and Benny Watts (1-32) a total of under 120 was looking promising. However a few blazing shots and slashes through gully lead to ND's creeping their score closer and closer to the 200 mark. Thankfully with some tight and smart bowling from Isaiah Vumbaca (1-9) and Gabriel at the death, the seemingly undefeatable Northern Districts line up had been bowled out for a chase-able total of 175.
Opening the batting was Jonah Anderson (22) and Edmund Hole (8) who soon realised that the swing and nip of the opening bowlers needed to be seen off. After Ned was given out LBW, Oliver (oi) Davies (102*) arrived at the crease.
From ball one Ollie looked like he was staying at the crease for the long haul. Soon after Jonah and Isaiah departed and the winning partnership of the game began.
Nick Osborne (27*) played the perfect supportive role as he ticked over the singles and basically just watched the magic happen at the other end. Described by Gainsy as "the best hundred he has seen in a long time" Ollie's master class completely ripped the ND's bowling attack in half, hitting shots all over the park.
For a 15 year old playing an age group above most of his opposition, it's amazing to think where this talent will lead him. Hitting the winning runs with a six over cow, Ollie brought up his hundred and the mighty Manly boys celebrated a memorable win that leads them into the semi-finals against Mosman.
The boys are back.
Jacob O'Sullivan
Manly 3 for 177 off 40.3 overs (Davies 103*, Osborne 27*) Def Northern Districts 175 off 49.5 overs (Anderson 3/25)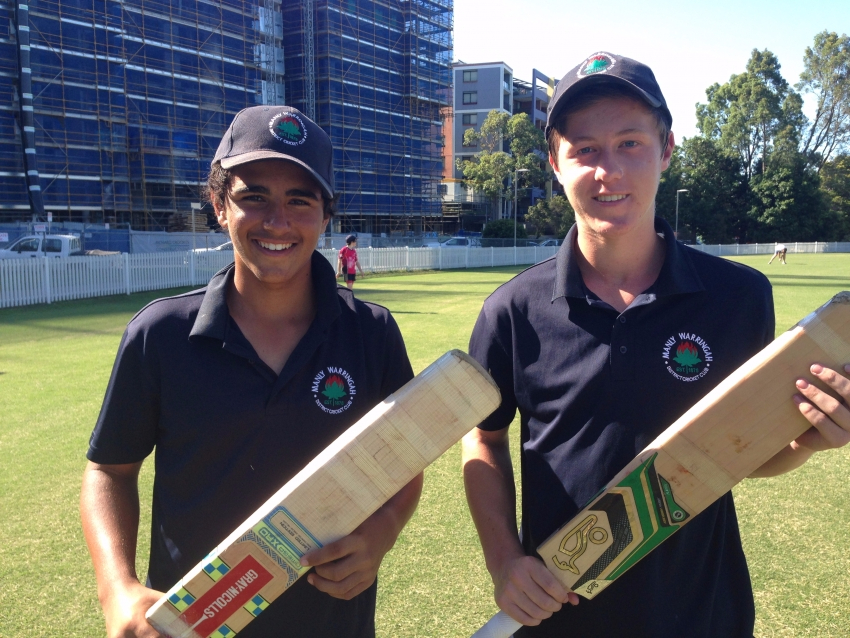 Davies and Osborne after their match winning partnership