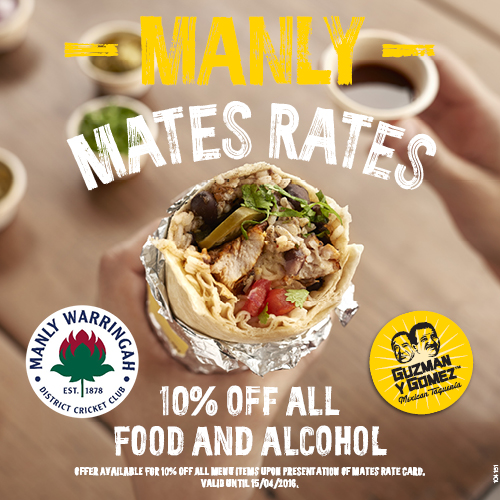 Guzman Y Gomez at Manly Wharf are joining the growing band of Aiden Bariol supporters by becoming his sponsor for the 2015/16 season.
Aiden has had a great start to his career with the Waratahs, not just winning a 3rd grade premiership last season but staring in it.
He is a player of great potential who will hopefully be force at the Waratahs for years to come. So it is great to see him begin to recieve some corporate support so early in his career with Guzman Y Gomez.
Actually, Bariol and Guzman are on the same tragectory….. started from humble beginnings but on the way up. So it's a great relationship. Infact, it's about time that these humble beginnings became a regular in your trips to Manly.
If you haven't tried the food at GYG, you really need to do yourself a favour and get down to Manly Wharf. It is fresh, deliciously authentic, and top value for money.
Think about all of the staple Mexican food and they have it…. Burrito's, Nacho's, Tacho's, Quesadillas, they have it all. We would especially encourage you to try the Fajita's which are absolutely top notch.
It's also a great place to have a beer and relax while in the heart of Manly.
GYG catered for all of our Blue Blood Membership and sponsor events at Manly Oval earlier in the season. They are providing man of the match vouchers to various junior clubs around the Northern Beaches as well as our Junior Rep teams.
More importantly, GYG want to reward you for providing them with your patronage. They are offering a 10% discount and all food and alcohol as part of our Manly Mates Rates program.
Thanks again to Nick Stephens and the team for their support.