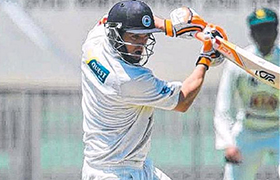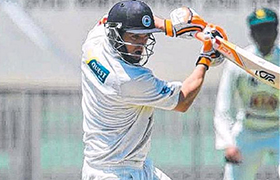 WARATAHS IN TOTAL COMMAND ON HOME SOIL
Sydney Grade Cricket Manly 6-364 v Hawks
SPARKLING centuries from Adam Crosthwaite and Steve O'Keefe have Manly in a great position after day one against Hawkesbury.
Skipper Tim Cruickshank won the toss and chose to bat at Manly Oval.
Openers Cameron Merchant (5) and Justin Cox (15) had left the Waratahs on the back foot at 2-20 before a couple of experienced first-class players took control in the middle.
Ahillen Beadle chipped in with 67 but it was Crosthwaite (125) and O'Keefe (105 not out) who ensured Manly will be hard to beat on day two this Saturday.
"Our aim was to bat all day, so it was pleasing to do that,'' Crosthwaite told the Manly Daily yesterday.
"I was happy to occupy an end and put away the bad balls, it is a role I am familiar with.
"SOK is a class player. Once he got going he was always going to be hard to stop. He also enjoyed scoring a ton against his junior club – he is still mates with a fair few of their boys."
Crosthwaite has been a run machine this season.
Saturday was his second century, and he is averaging a tick over 70, with 616 runs to his name.
"I set myself a goal of 100 runs, so it is nice to be on the way to achieving that,'' he said. "As a squad we set high standards. The way I see it I am simply doing my job.
"Getting 10 wickets won't be easy. Hawkesbury are a quality side – it is another test for the boys."
Crosthwaite is also well aware competitions are won in April – not November.
"In previous years we have been in similar positions and not gone on with it,'' he said.
"We know we have a good squad, but we need to perform week in, week out.
"Consistency wins silverware, so that is what we are working towards."
With O'Keefe turning out for NSW in the Sheffield Shield all week as the Blues take on South Australia, he may have to sit out this weekend.
Leg spinner Luke Diserens will be drafted into the XI as a straight swap.
{loadposition cricket}