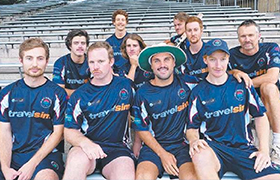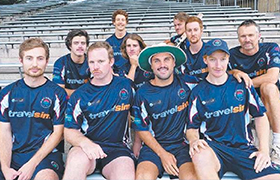 MANLY HAS ITS OWN SPECIAL MEMORY OF PHILLIP HUGHES
IF IT hadn't been for a phone call back in 2006, Phillip Hughes could well have played for Manly.
The talented left-hander was very close to signing with us through his relationship with Waratahs stalwart and former NSW reps coach Dave Patterson, but opted for Western Suburbs after a phone call from Michael Clarke's manager.
Our loss was Wests' gain but there were no hard feelings.
It was just great to see such a rich talent blossom, especially a born and bred New South Welshman.
I knew Phillip's situation wasn't good from the outset but it still rocked me when news of his death filtered through.
Our prayers and thoughts at Manly go out to Phillip's family and his many friends.
We are also keeping Sean Abbott in our thoughts, as well as those who were on the field that fateful day.
There will be no grade cricket this weekend as a mark of respect.
It is the right move.
WELL DONE, JUNIORS
OUR junior reps continue to do us proud, with four of the six teams reaching the playoffs.
The under-11s, 15s and 16s all topped their respective tables after going through the preliminary rounds undefeated, while the 12s also finished first with four wins from five.
Apart from confirmation of our four finalists, last weekend was also memorable for the Davies brothers Joel and Ollie.
Joel picked off another century for the 11s while big brother Ollie also reached triple figures in the 14s.
It was the second ton of the rep season for both boys – a sensational effort given the preliminary rounds only last five matches.
Congratulations also to Aiden Bariol, who made a fine 119 in the under-15s.
FACIAL FOLLIES
WHILE November has been a great month for our club, I'm glad it's ending.
Why? Well, it will mean the end of some of the dodgiest moustaches I've seen.
But it's all been for a worthy cause, with the boys raising around $4000 for the Movember campaign.
CLUB PAUSES IN REMEMBERANCE
MANLY'S first XI will spend today simply enjoying the company of one another.
It won't be in their whites hunting down first innings points on home soil against Hawkesbury – it will be over a few beers at a local watering hole.
Waratahs captain Tim Cruickshank, who played alongside Phillip Hughes with NSW, is struggling to come to terms with the tragic death of the Test batsman.
"This week shows just how fragile life can be,'' he said.
"We completely respect the decision of the Sydney Cricket Association to cancel this round of games.
"It has really hit home for all the boys, we all play cricket for the love of the game.
"To lose someone of Phillip's stature in these circumstances is just beyond tragic.
"All the boys will be together this afternoon, it is important to appreciate each day for what it is and to value life."
Warringah Shires are at home at Weldon Oval versus Burwood from 12.30pm.
Junior and park cricket will also be played across the peninsula.

To View Our Other Media Articles Click Here
{loadposition cricket}