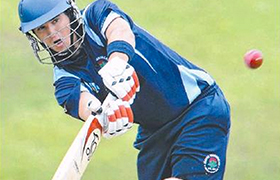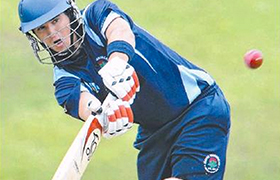 CLUB DEPTH CLEARLY ON DISPLAY THIS WEEK
SIX of our biggest name players have been absent from training this week – and I couldn't be happier.
It's meant they've been away on representative duty enhancing their careers and flying the Manly flag.
Stephen O'Keefe has been up at the Gabba toiling away for NSW in the Sheffield Shield.
Meanwhile, Adam Crosthwaite, Mickey Edwards and Nic Bills (Sydney Sixers Academy) and Ahillen Beadle (Sydney Thunder) were in action on the local T20 circuit.
And our keeper-batsman Jay Lenton was doing his stuff for the NSW second XI side in the Futures League.
I was particularly pleased with Beadle being named skipper of the Thunder Academy for their match on Thursday. The side included former Australian Test batsman Mike Hussey.
Crossy also captained the Sixers Academy, proving our first grade side has plenty of leadership and experience in place, and Mickey snared an impressive 4-27.
TWO TO WATCH
THEY will never be mistaken for identical twins but Josh Wigney and Jarrod Rawlings are making plenty of noise in our lower grades.
Josh is a lightweight quick who is probably the fittest guy in the club, while Jarrod is cut more from your Mark Taylor mould and, like Tubby, is an opening batsman.
Last weekend in seconds, Rawlings peeled off his second century of the season to almost get us home against Easts.
What impressed me most was his application and concentration in staying out there for almost the entire day, facing 322 balls in all.
In fourth grade, Wigney took 5-25 to spearhead our 50run win over the Dolphins.
JUNIORS SOAR
I WAS blown away when I heard our junior representative results from last Sunday.
The young Tahs won five age groups and tied the other to go undefeated across all six grades – the finest performance in our junior rep history.
Former first grader and under-11s coach Nick Johnson watched his under-11s tie their game against Central Coast.
Manly compiled 160 and it looked to be plenty when the Coasties slumped to 7-68. But Central Coast rallied to take the game to the very last ball.
The highlight of the weekend was Ollie Davies' 136 not out in the win over Canterbury-Wests in the under-14s.
Already in our Green Shield squad (under-16) and is clearly one for the future.
{loadposition cricket}