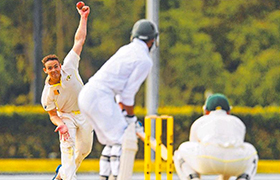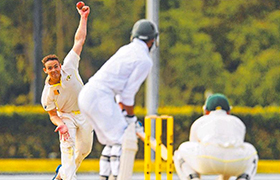 STAR'S RETURN GREAT NEWS FOR WARATAHS IN CUP QUEST
The left-arm off-spinner turned out for NSW this week against Queensland at the Gabba and last month made his long-awaited Test debut.
MANLY will be significantly bolstered by the inclusion of Steve O'Keefe for today's home tussle versus Hawkesbury.
His time in the baggy green in the United Arab Emirates was brutal, with Pakistan excelling in the neutral conditions.
But it goes without saying Tim Cruickshank's Waratahs will welcome him with open arms as they seek to build on their lead in the Belvidere Cup.
"We are absolutely stoked to have him back, he offers so much,'' Cruickshank said.
"SOK has many dimensions as a player – he is a quality spinner, great batsman and a fantastic fielder.
"No doubt he will enjoy playing Hawkesbury – it is where it all began for him."
Quick Jimmy Munting won't be playing at Manly Oval this game, with the coaching staff electing to rest him so he can adequately recover from a nagging pectoral injury.
Shawn Bradstreet has picked an XI which bat as low as eight, with Aidan Baker coming in after Cruickshank at seven.
For the Hawks, Shane Mott is always a handful with the new ball, while Jay Dyball looms as the danger should the visitors bat on day one.
"They are a quality side, and no doubt will provide a stern test,'' Cruickshank added.
"Jay (Dyball) hit a century against us last season, so we know what he can do if he gets going.
"Confidence is growing each week, we know what we are capable of."
Play today and next Saturday begins at 10.30am.
{loadposition cricket}