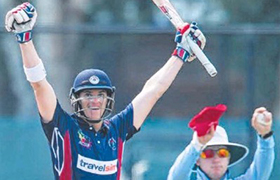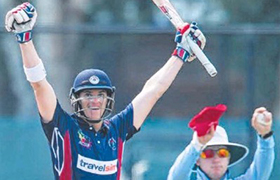 AY Lenton has experienced the highs and lows of representative cricket this season.
Our keeper-batsman received a well-deserved call-up to the NSW Sheffield Shield side earlier this summer but it wasn't exactly a dream debut.
The match was abandoned after two days due to the state of the SCG, with Lenton confined to the dressing-room after the Blues batted first.
He finally made it out on the field against Tasmania in NSW's next match and donned the gloves a week later against Queensland before being axed from the side despite a reasonably strong display.
Lenton could have returned to Manly with his tail between his legs, looking to punch walls.
But he instead copped the setback on the chin and vowed to work even harder at his game.
Last weekend he produced his finest innings for Manly to almost guide us to an important win over Randwick-Petersham.
He belted 126 before falling about 30 runs short of our victory target.
I'm sure Blues selectors haven't forgotten him and this innings will only enhance his chances of a recall down the track.
TIME TO ACCELERATE
LENTON'S fine innings didn't camouflage a pretty ordinary team effort against the Randy Petes on home soil.
We bled too many runs after a rain break late on day one and were always behind the eight-ball in the run chase on day two.
If Lenton or one of our top six had of remained until the end of the innings I believe we still would have won the game.
The loss saw us slide four spots down the table to eighth ahead of our meeting with equal competition leaders Sydney Cricket Club today at Drummoyne Oval.
There are only four rounds to go and six spots available in the finals, so it's time to hit the go button.
I believe if we play well over the remaining games we will be in a very good place to have another good crack at the tittle.
I still believe we have the ability and the hunger to go back-to-back but we must get back to winning ways quickly or the sun will set on our season.
UNDER-14S SHINE
CONGRATULATIONS are in order for our two under-14 rep sides.
The DCA boys took out this month's prestigious Newcastle carnival, knocking over local rivals North Shore in the final.
That made it a double after the Presidents Cup side travelled all the way to the state's north-west to win the Tamworth carnival.
Once again it shows Mike Pawley's determination to focus on youth and a winning culture back in the day continues to bear fruit for the Waratahs.
Well done to all involved.
{loadposition cricket}