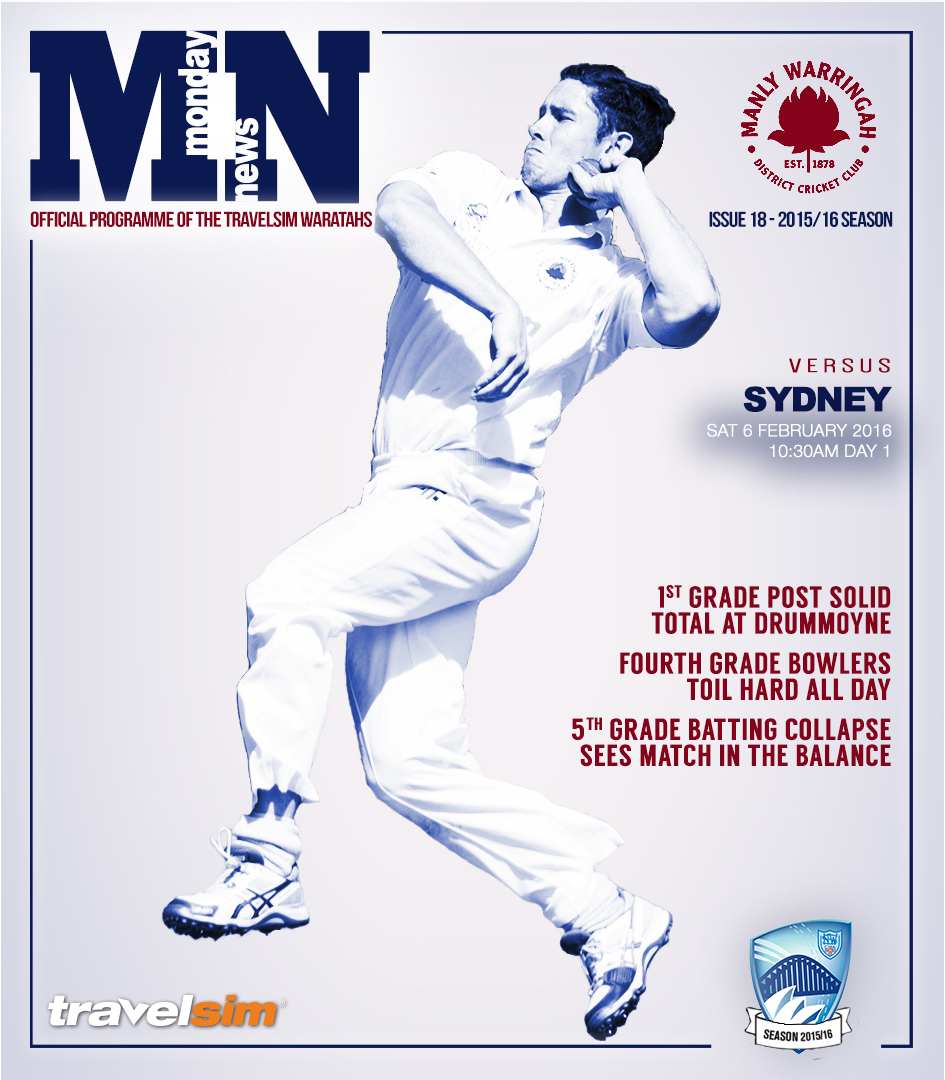 The TravelSim Waratahs entered the weekend's fixture against one of the stronger clubs this season (Sydney), with the hopes of keeping our Club Championship defense alive. With most grade also toiling away for a finals spot, it was imperitive that the Manly boys got off to a great start on Day 1. Mixed results has seen 1st Grade post a solid total of 9/290 with Adam Crosthwaite and Ahillen Beadle leading the way with well played 80's. 2nd Grade had a slightly disappointing day with numerous batsmen getting starts on a bowler friendly wicket, and unfortunately not going on with it. This saw Rowan's men bundled out for a par score of 196. Sydney were left with 13 overs to see out the day, and the boys jagged 2 vital wckets, that keep the game well in the balance for next weekend. 3rd Grade had a disappointing day posting only 134 on a "reasonably flat wicket" (Warren Evans). Positive signs came out of the innings however with the rarest unit Joseph Graham returning to form, posting a well fought 41, along with Dylan Marshall and the skipper chipping in with 20's. 3's also had a quick crack at Sydneys batsmen and managed just the one wicket. 4th grade had a long toil down at Mike Pawley Oval, with Sydney scoring a very slow 8/203 from their 80 overs. Wickets were shared and hopefully with the strong batting line up in 4th Grade, they can get the job done next week. 5th Grade had another bad day at the office with the bat, bundled out for 81, and Sydney passing the Tah's sitting at 3/84 at stumps.
Overall a very mixed week for the Manly men however most matches still remain in the balance.
Go Manly!!
4 Pines Player of the Week – Ahillen Beadle

This week's 4 Pines Player of the week is First Grade's Ahillen Beadle. Coming up against one the best outfits in the comp this season (Sydney), it was important for the batsmen to stand up and set the tone for the match. AB was exceptional on Saturday hitting 88 off 162 deliveries, including 7 fours and 2 sixes, in a great partnership with skipper Adam Crosthwaite (81). Ahillen has been due for quite some time now, and its great to see him amongst the runs. We are all sure a big hundred is just around the corner.

Well Done AB!!!



1st Grade Manly 9/290 (A. Beadle 88, A. Crosthwaite 81, C. Merchant 49*)
1st grade report has not been provided
2nd Grade Manly 194 (S. Gainsford 41*, R. Hamman 38, A. Baker 36, N.Hill 33) vs. Sydney 2/34
2s were at the mighty Graham's Reserve for the first time this year with Manly Oval under construction. It has a beautiful new outfield with a prison like fence. A glorious day was ahead.
We won the toss and decided to bat first. Throughout the entire day the Sydney boys bowled really well keeping it straight for most of the day.
After losing Tom Kaye early, it was awesome to see Aidan Baker and skipper Rowan Hamman dig deep in the first season working their butts off for it and getting a good 30 each. Rowan fell the ball before lunch and Aidan and Sam Webber fell soon after. So from 1 for 72 we were 4 for 90 just after lunch.
From there we scratch our way to our total. Nat Hill was back in action and looked as though he never left the game and with help of Sam Gainsford with 41* got us to the final total of 194. Considering the good deck and outfield it was probably 50+ short of what we should have got.
So we know we have fallen short of what we needed and we know it's a big job ahead. But we were up for the challenge and desperate to get the win.
The boys were fired up and the bowling was gold from the very start. Gainsey was on fire after his good innings with a run out to start the innings. A caught behind from myself meant we had them 2 for 6, but they held on for the rest of the day to finish on 2-35 at stumps with a big day ahead next Saturday.
Big shout out as well the the state of Grahams Reserve. It's now a far cry from the Oval everyone talks about, definitely a top class ground.
Matt White
Watch Sam Gainsford's crucial run-out at the end of play on Day 1:
3rd Grade Manly 134 (J. Graham 41, J. Edwards 25) vs. Sydney 1/13
Birchgrove was fairly flat with a big boundary and lush outfield. Anthing close to 200 was going to be a very good score. We won the toss and had a bat. Edwards (25) and Darcy (9) struggled against a disciplined attack and good fielding. They batted carefully and got through the hard part before Bill slashed at one and was well caught at 2nd slip. Bariol (0) was unluckily given out LBW and when Daly had his stumps uprooted also for (0) we were in trouble. It didn't stop as soon after Jack cut and edged to 2nd slip, Zac (1) was caught in front.
It soon became a crash when in a flash Ash made a hash of his rash slash and went first ball. This meant we lost 6/15 to make it 6/42.
Evans (21) and Graham (41) went about rebuilding things. Both were looking increasingly comfortable and were getting into a rhythm before Evans was caught about 4 metres short of his crease via a fairly bad call for a run via a shot straight to cover. He had all 3 to aim for and about 5 seconds to do it in – too easy and we were 7/87. Marshall (24no) finally lived up to his words and batted very well, playing some excellent shots. One particular flick off the waist raced to the long boundary. Joe was going along nicely, not allowing the BBQ to disrupt him but he fell to the part timer having a quick over before drinks to make it 8/119. Falconer (0) played an overly aggressive shot for the situation and was caught behind and Wigs (4) also got ahead of himself, playing a big cover drive, only to be caught in the covers. Let's get more out of our tail enders than this in the future.
All out for 135, probably 180 at Grahames. We had 16 overs at them and Wigney dropped short early and was pulled to Joe at mid wicket who took a good catch. Our spinners had both bats in all sorts but their lack of intent allowed them to survive to stumps at 1/13.
We will have our chance to win the game next week without a doubt. Let's be prepared with a good training including 100's of catches.
Warren Evans
4th Grade Sydney 9/203 (J. Graham 2/9, L.Edgell 2/13, W. Outred 2/42)
Due to the construction work at Manly Oval, fourth grade travelled to Mike Pawley Oval for day one of round 12 against Sydney. Some of the guys were surprised to learn that round 12 was designed as 'rivalry round'. This caused some of the guys to reflect with enthusiasm on previous torrid on-field battles.
The guys arrived at the ground expecting Sydney to come hard at us given their seventh place position in the ladder just under one win outside the top six. Evidently Sydney would be pushing hard for a finals berth.
MPO was looking in great shape. Fours will need to quickly adjust to MPO as will be at home for five of the next six weeks before the finals series. The pitch promised an even contest as it was covered with a thin layer at grass towards both ends but was reasonably firm underneath. There was little evidence of the rain that fell across the peninsula late in the week as the majority of the outfield was hard and dry. Max Burgess won the toss and elected to bowl as he judged that our bowling attack had a good chance of obtaining some movement through the air and off the pitch. Furthermore, with a forecast of a temperature in the mid-20's, low humidity and a moderate south-easterly breeze, the boys were in no doubt that fielding would be far less oppressive than the previous week.
Dan McKenna and Ryan Bishop Perrett were given the honours of opening up. They bowled a nice line outside off which saw Sydney travel at two an over but were unable to find the outside edge. After eight overs James Crombie and Luke Edgell were introduced into attack. James was playing his first match in fours this season despite being named in fours on numerous occasions in the season only to receive a last minute promotion to three. James took the first wicket early in his spell when the opener nicked one behind after looking to drive forcefully through mid-off. After taking this wicket, James observed that this was his first wicket in grade cricket. This statement was initially met with a fair amount of scepticism given the quality of James' bowling in the nets this season. At the other end Luke was bowling a probing spell with his left-armers nipping and leaping away from the right handed batsman. Luke's spell to the number three batsman was impressive as he beat the outside edge repeatedly straight away. The pressure that was built up soon paid off with Luke taking the second wicket via a low full toss that was comfortably taken hip high. Shortly after Luke took his second as the new batsman's defensive stroke found Toby Poole took at second slip. Sydney went into drinks 3/38.
Unfortunately the boys were unable to further strengthen its position in the session leading into tea as Sydney adopted a far more enterprising approach. Spin was introduced in the first over after tea through Matt Morris which almost provided an immediate dividend. The number five bat was not in the mood for any sighters and crisply drove a regulation leg break knee-high to short cover that was unable to be taken. After managing to only just survive the next few deliveries, the batsman slapped a long hop over mid-off. While Jacob Graham kept things tight at the other end, Manly were unable to contain the Sydney batsman who were able to find or clear the straight boundary off every one of the next four overs. Consequently, Matt was replaced at the bowling crease by Max's finger spin. Sydney continued to attack the spin and registered a number of boundaries through the leg-side. Just as Sydney threatened to take control Max took the wicket of the number five just short of his half-century. A flat thigh-high full toss was swatted out to deep mid-wicket where RBP coolly took the catch only feet from the boundary. Although the opener started to play a few more expansive strokes, the boys were able to slow the run rate and Sydney made their way to tea at 4/126.
The first hour after tea was totally dominated by Manly. Will Outred took a wicket a few minutes after play had commenced. A waist-high full toss was again dispatched out to deep mid-wicket where RBP took a neat catch took the catch ten metres from the boundary. The sixth wicket fell next over as Jacob had the new batsman caught behind by Josh Petersen. The next handful of overs from Will and Jacob were tight and in particular made scoring difficult for the well-set opener. This pressure subsequently accounted for the opener as a back-of-a-length delivery from Jacob was edged behind where Josh moved forward swiftly to collect the rapidly dropping ball. Sydney were now 7/139. At this point runs became scarce and were almost declared an endangered species. Will continually hit a length that forced the batsmen to defend and drive with an element of uncertainty. Luke soon replaced Jacob to commence his second spell. Luke delivered the ball unwaveringly on a good length which resulted in four consecutive maidens. A couple of overs before drinks Will claimed his second wicket via a caught and bowled that was only awarded after the umpires conferred for half a minute. While the boys appealed uniformly for the catch, the umpires discussed if it was a bump ball. Sydney went into drinks with the score at 8/160.
The final hour of play proved to be somewhat of a stalemate as Sydney did not lose any wickets but scored at two per over. The two lower-order batsman batted conservatively in the face of a steady bowling display, with runs primarily coming in the form of singles through the leg side due to the reluctance to play a stroke at anything outside off stump. Dan, James and Jacob all bowled short spells from one end while Will continued to bowl his leggies in a controlled manner. Adam Gummer was given the chance to turn the arm over for the last few overs of the day. Gumms bowled with plenty of air which drew a handful of mistimed strokes as well as a couple of boundaries. Sydney finished the day at 8/203 off 80 overs.
After covers duties were finished, the boys debriefed, which turned out to be fruitful for the team coffers. Overall, the boys were content with the efforts of the bowling group who executed its plans for the majority of the day. Wickets were shared around, with Luke, Will and Jacob each snaring two. We are well placed going into day two. There appears to be plenty of runs to be taken given some sensible stroke play as was evident during the final hour of the day.
Matt Morris
5th Grade Manly 81 vs Sydney 3/84
5th grade turned up to an unbelievably pristine Ryde Oval, facing off to last place Sydney CC. The Manly boys chose to bat first on what seemed to be a reasonably flat deck. Openers Will Wolter and Jonah Anderson were dismissed early with Jack Pickering brought to the crease who fell early, but looked good. Isaiah Vumbaca got a start however was dismissed not long after for 20. The Manly the boys were in trouble 6 down for not many. Alex Bain stood up for the boys at the end batting well but similarly was dismissed like the rest of the boys not long after. From all batsmen it was not good enough and this is now two weeks in a row in which no one has stood up and scored runs. Manly were now set to defend a dismal 81. Credit to our bowling and fielding, the boys all bowled very tight with a superb opening spell from Ben Kittlety and Alex Bain, Ben picking up two vital wickets. Ned Hole and Simon Waddington followed them, both bowling good areas, Neddy picking up a valuable wicket. Spinners Sam Alexander and Isaiah Vumbaca came on both bowling tight however couldn't snare a wicket before the end of days play. Sydney finished the day at 3-84, looking to progress that to a larger total next week.
Isaiah Vumbaca