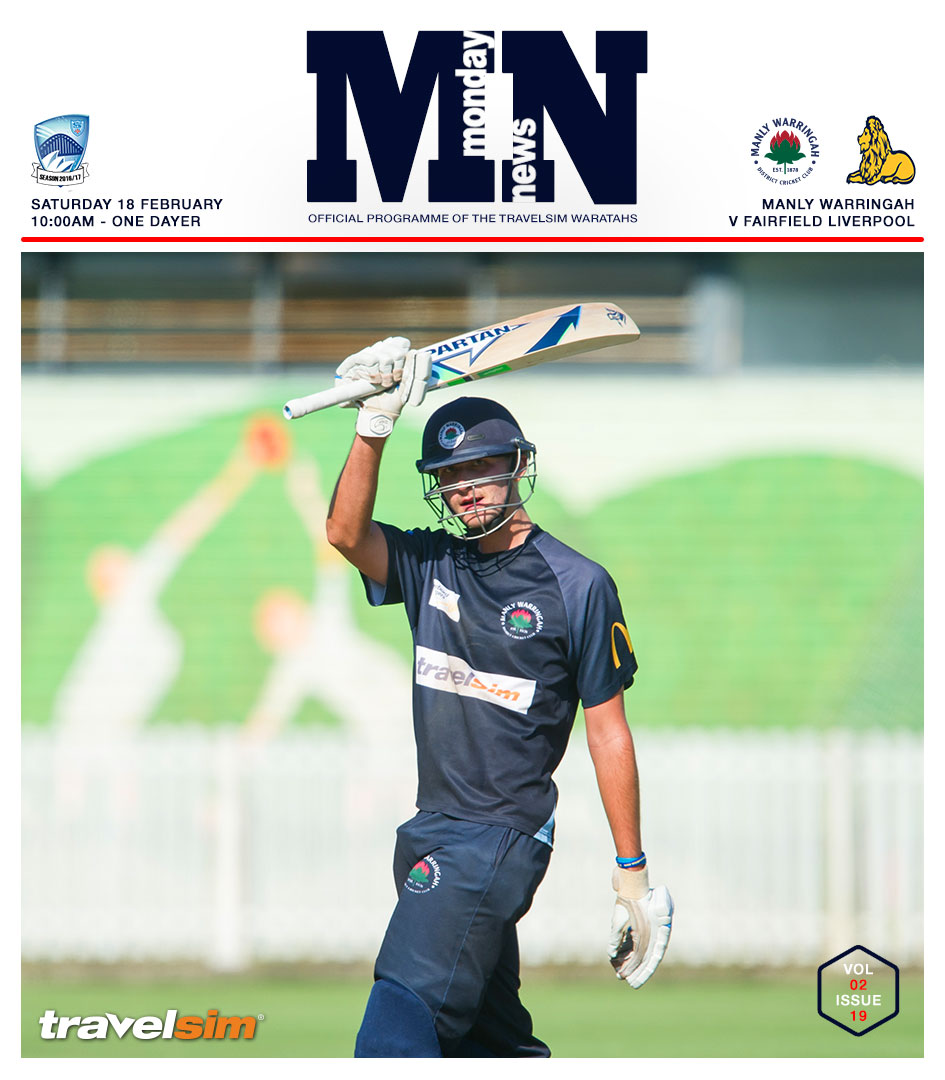 Terrific round for the Tahs in this rain affected round in Saturday cricket with 4 wins and a draw from the five grades against Fairfield-Liverpool, as well as a tough loss for our PG's boys in a reduced 15 a side game against Hawkesbury in the QF. Michael Visser tore apart the Fairfield top order in 1s, taking a splendid 5/31 from his 10 overs as they dismantled Fairfield for 137, Duckworth-Lewis came into effect for the second innings and we won by a handful of runs as we ended at 7/118 from 34 overs with Cameron Merchant the standout with 39 from 66. 2nd grade had a great win, rolling Fairfield for 117, Tom Kaye showing his all-round skills with 4/24 off his 10 and Andrew Jamieson bowling an unbelievable 7 maidens out of his 10 overs to finish with the figures of 2/6, Sam Gainsford (39*) took control of the chase before rain halted play as we finished at 3/73 from 18.3 overs. 3rd grade are back in the winners circle after their 5 wicket win, Warren Evans the picks of the bowlers taking 3/20 off his 10 as Fairfield finished at 9/151 from their 50. We ended up 5/97 from 28.4 overs with rain and hail stopping play for the day as we won on run rate. 4th grade had a great win, they made 142 and rolled Fairfield for 86 from 32.3 overs with all bowlers chipping in. Fifth grade were washed out after compiling 7/149 from 40 overs, they could only manage 1 ball before the rain came. A very unfortunate loss for our PG's boys as they went down in a 15-a-side fixture at Manly Oval. Hawkesbury managed 7/104 from their 15 while we could only manage 9/97, falling agonisingly short which ends our campaign.
4 Pines Players of the Week – Michael Visser 5/31

What a player! Michael Visser ripped out the heart of the Lion's top order taking the first 5 wickets, which set the tone for the day ahead, pure class from the big fella. It is his third 5 wicket haul for the season. It's turning out to be another quality season for Viss who has become a mainstay in First Grade over the past couple of seasons.
A great effort from Viss, if he keeps up this cracking work in leading the 1st grade attack, they could go very deep into the finals.
Awesome work mate!
1st Grade – Manly-Warringah 7/118 (C Merchant 39) def Fairfield-Liverpool 10/137 (M Visser 5/31
1st Grade rocked up to a damp Manly oval knowing that a win is a must if they want to stay in this year's competition.
The Step in Captain Cam Merchant won the toss and sent Fairfield into bat. The toss proved to be a good one for the Tahs with opening bowler Michael Visser destroying the oppositions top order in an exceptional spell of bowling. Viss finished his spell with figures of 5/31 off 10. All the other pace bowlers did their job by keeping the runs down with Jack Edwards getting the 6th wicket with an absolute Jaffa of a delivery. Spin was then introduced with Joey and AB bowling well to dismiss Fairfield for 137.
Loges and JC opened up with Australian and NSW cult hero Doug Bollinger steaming in from literally the boundary. But they seemed to have no problems in dealing with the opening attack with the two of them playing aggressive cricket before James Crosthwaite snicked of to the first change quick. This Inspired a mini collapse with AB and Logan fell in quick succession. Cam Merchant and Adam Crossy went about rebuilding the innings. These two put on about 30 odd before Crossy was out caught on the square leg boundary off the bowling of Bollinger.
The Rain Clouds were fast approaching with the Tahs ahead of the D/L, but we kept losing wickets. Merchant, Edwards and Farrell all departed. with the score at 7/118, the Tahs were only about 4 runs ahead of the D/L. The Players left the field for lighting and did not return with a massive downpour of rain hitting manly oval. So We got up just on the Duckworth Lewis method.
So a lucky escape but a well deserved victory for the manly boys keeping them in the hunt for a finals birth!
Jake Carden
2nd Grade – Manly-Warringah 3/73 (S Gainsford 39*) def Fairfield-Liverpool 10/117 (T Kaye 4/24)
Bowling first the Manly boys applied pressure early through consistent bowling and versatile fielding. Jamieson (2-8 off 10) was super effective, putting the ball on a dime, and was ably supported by Matty White (1-31 off 9). Their combination brought about the demise of Fairfield's opening bat and first drop respectively. The introduction of Alexander (1-25 off 9) saw the Fairfield skipper slap the fourth ball of the over to mid-off and from here, they never really recovered. Tom Kaye (4/24 off 10) ripped through the Fairfield middle order and set us up for a very manageable total. Some late hitting allowed Fairfield to get a few extra runs but at the end of the day we were confident we could see off their total.
Despite losing Billy early to a misguided pull shot, and Rawlings to a cracker pull shot plucked at backward square, we were always in the hunt. Sam Gainsford (39*) played an innings of leadership and solidarity as he kept his composure in a tough situation. With Bariol also batting superbly up the other end, the pair got us to a score that was well beyond that of Fairfield's on Duckworth Lewis, as the heavy storms rolled in. Another win to the good guys.
Sam Alexander



3rd Grade – Manly-Warringah 5/97 def Fairfield-Liverpool 9/151 (W Evans 3/20)
The early unveiling presented a fresh, hard pitch that promised to be a good one. We won the toss and had a bowl, the late weather forecast swaying this decision as the pitch looked good to bat on. It provided some early assistance and Bishop-Perret (2/22 from 10) got an early snick. Two balls later an edge into the cordon was dropped but RBP put it to the side (he's getting used to it) and soon after clipped the off bail of same batsman to have them 2/9. Wilson (0/25 from 10) bowled great areas and it was only towards the end of his first spell did he go for a few with the opener going over the top a few times.
Evans (3/20 off 10) and Crombie (0/9 from 5) bowled their usual stuff with Evans rewarded with a bowled via a mad heave to the leg side. Fairfield then rebuilt for a little while taking the score to 49 before Evans found the edge to Ash at first slip and an LBW a few balls later. Ned Hole (2/15 off 4) bowled a mixed bag resulting in a clean bowled and a catch to Virdi at first slip. This put them 7/52 but as has been the case for us at times this year, the tail hung around and put on 77 before we got the 8th wicket via a very smart catch from Gummer's bowling (2/32 from 6) by Webber. Via a mix, of good batting, misjudged boundary catches and slogs Fairfield ended up with 9/151 from their 50.
A solid start was provided by Wolter (21) and Gummer (11) before Gummer was unluckily given out LBW to the offie with the score at 34. Wolter followed soon after, bowled and when Webber (13) was caught in close at 3/59 it was getting interesting. Weather was looming and it became a race to keep ahead of run rate and get 25 overs bowled. Mickey Edwards (14) slapped the ball around nicely, especially square of the wicket to get us in front of the target. Crombie (13no) played a good hand ensuring no collapse in the darkness. Zac (4) was dismissed at 5/97 from 28 overs, putting us 10 ahead of target when it started coming down. Lightning & torrential rain ensured no further play and we got away with a win.
Results from other games were varied and we are still in with a fleeting chance. If we beat NDs we'll join them on points in 6th spot but their quotient, one could expect, will remain superior. One could expect North's and Easts to also be on 49 points so it'll be a dog fight in the last round, especially if Penrith, Wests or St George lose this weekend.
Warren Evans
4th Grade – Manly-Warringah 10/142 def Fairfield-Liverpool 10/86
The Boys arrived at Fairfield knowing that nothing but a win would keep our slim finals hopes alive. With this is in mind we lost the toss and batted first.
Matt and Wilba opened up, looking for a good start Wilba unfortunately found point with a thick outside edge. Sammy Hole arrived at the crease and began to nudge the ball around before Matt was out LBW to a suspect decision. Needing a quick rebuild Dom arrived and grinded hard, before losing Sammy caught behind (13). Max joined Dom for a solid partnership before Dom went for (23) and Max went shortly after. Isaiah then joined forces with Nickos for some quick runs in which the boys looked to push hard to get a competitive score. Will Akhurst, Falcs and Bain all chipped in to get the score to a reasonably competitive 140.
We didn't get off to the best of starts with Fairfield 0-50, but with rain coming and their run rate being quite slow, we had a chance. Fairfield needing to get a move on and were forced to take risks and with our tight bowling we had them under pressure taking constant wickets, with a lengthy rain delay the nerves seemed to get the better of them with excellent bowling from Isaiah, Falcs, Baino, Maxy and Jacob taking it down to the wire. Once we cracked into their tale they struggled the boys were able to capitalise and win to keep our finals hopes alive.
Top game boys although it was ugly the boys fought hard to get the 6 points and leave us in the hunting pack for a finals birth.
Matt Brewster
5th Grade – Manly-Warringah 7/149 drew Fairfield-Liverpool 0/1
The boys turned up to a soggy Mike Pawley Oval with a few changes and fresh faces ready to take on Fairfield for an important one-day fixture to build momentum leading into a few challenging rounds before finals. With the start being delayed until 1pm, we were all keen to finally get stuck in on a flat looking wicket hopefully, and build a large total and put pressure on Fairfield to chase later in the afternoon.
Waddo lost the toss but Fairfield elected to bowl first in the now 40 overs a side match. Jonah and Nick opened up looking to be positive and get the boys off to a good start. Things started well with Nick and Jonah moving the score to 0-37 taking advantage of some loose bowling before Nick was caught for 27. Unfortunately, this triggered a few wickets to fall in quick succession with Picko and Jonah being the men dismissed. O'Sullivan and Kerr met out in the middle and went about consolidating before Kerr was out for 17. This then brought Waddington to the crease and paired with O'Sullivan, the two evaluated the situation and built an important partnership ensuring no further wickets were lost in clumps in the crucial middle overs. Waddo was eventually dismissed for 18 and O'Sullivan soon after for a well made 32. Wickets then fell at regular times as by this stage quick runs were required. Some cameos late in the innings from Glyn and Will Dawes saw Manly reach 149 from our 40 overs.
With the outfield still soaked, 149 was in our opinion more than enough to defend and was worth a lot more given the conditions. The boys came out ready to attack from the start but were unfortunately forced off for rain as only two balls could be bowled. This would prove to be the end of the game as the deluge set in leading to a disappointing draw. The result is especially disappointing for us as most other matches were completed and as a result the Tahs drop out of the top 6 into 9th position. Some positives were taken out of the clinical batting display however and the boys are going to be extra motivated to take it to ND's next weekend.
Nick Cohen
Poidevin Gray – Manly-Warringah 9/97 def by Hawkesbury 7/104
After the rain, lightning and hail from the Saturday, it didn't look like there was going to be a game on Sunday, but, as it was a final and a knockout game, there was a feeling that there would be some form of cricket being played. Time ticked away as we tried to amuse ourselves with several walks to the Corso, plenty of change room cricket and other general horseplay. The pitch was very wet, especially around the crease and didn't really change all day due to the lack of sun and wind.
Fast forward to around 4pm and we were getting ready to warm up, the game was reduced to a 15 overs per side, it was anyone's game. We bowled first and started off terrifically, having them 3/6, all bowlers bowled very well to the conditions. Wigney, Carden and Falconer picked up 2 wickets each as we reduced Hawkesbury to 7/104 from the allotted 15 overs.
We set out requiring about 7 runs per over for the win, however we lost 4 quick wickets and were reduced to 4/24, Davies and Carden offered some resistance notching 20s but we fell away and could only manage 9/97 from 15 overs.
An unfortunate end to a terrific season for the lads who ended up Minor Premiers. No doubt they will carve up for the next few years as only Crombie, Wigney and Falconer and unable to play next year as they are too old.
Jimmy Crombie