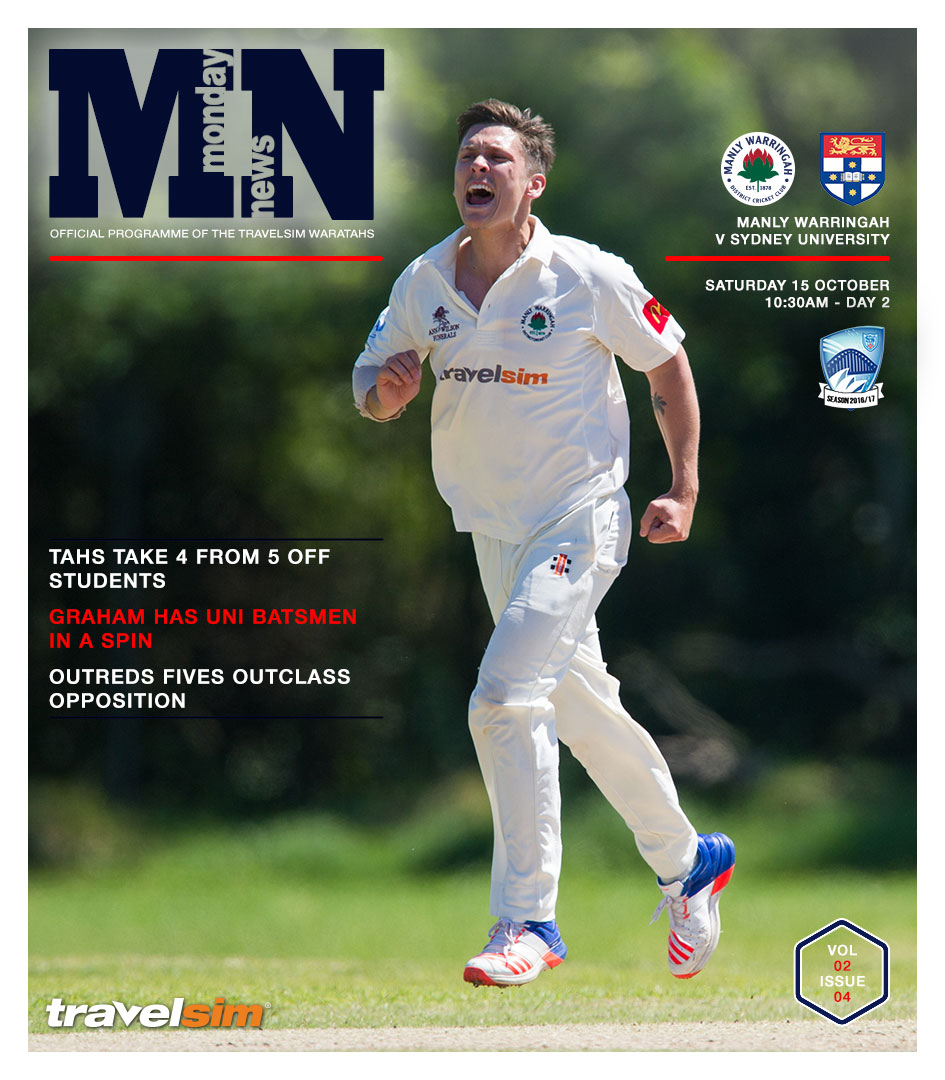 The TravelSim Waratah's entered the Second day of their Round 3 fixture vs. Sydney University, with most games in the balance. First Grade were comprehensively beaten after Sydney Uni amassed an enormous total of 1/424 on day one, with the Tah's 1-4 in response at the end of the first day's play. After a steady start to day two (2-80 at Lunch), the Waratahs fell into a heap in the middle session losing their final 8 wickets for just 58 runs. Jay Lenton was the only bright light coming out of the days play with a well made 56. Second Grade enjoyed their first win of the season, with Joey Graham causing havoc for the Students, finishing the day's play with a well deserved 6-84 off 23 overs. A clinical performance from Cubby's men saw the Tah's winning by 92 runs. Third Grade entered the second day's play needing only 61 runs to pass Sydney University on first innings. Aiden Bariol (49) departed in the first over of the day, which left Ollie Davies (58) and Bill Darcy (52*) the job of chasing down the remaining runs. Both Manly men posted half centuries to ensure 6 points for the main grade. Fourth Grade had an impressive victory after chasing down 284 at Grahams Reserve. It's not often that a team chases down a score of that size, without anyone making a half century. A really strong team performance in what was a clinical run chase. Fifth Grade were led well by stand-in skipper Will Outred, after he posted an impressive 72 to set up a well deserved 5 wicket victory. Contributions from Jack Pickering (53), Will Akhurst (33) and Ned Hole (35) ensured the boys reached the total with plenty of men left in the shed.
Overall a very impressive week for the TravelSim Waratah's. Winning 4 of 5 matches against a club like Sydney University is a credit to the hard work all the boys are putting in at training. Another tough round ahead for the Manly boys, with defending Club Champions Penrith our next opponents.
Go Manly!
4 Pines Player of the Week – Joseph Graham
This week's 4 Pines Brewery Player of the Week is none other than possibly the rarest unit the club has ever produced, Joey Graham. Joey got the day started with a questionable match-winning try in the pre-game touch footy spectacle, which further led to a match-winning spell against the students.

Joey led 2nd Grade's side to a much needed victory on Saturday with a very mature, poised and disciplined spell of off spin bowling. Joe kept his head the entire day and worked over the Sydney University batting line-up, taking crucial wickets throughout the entire day. The spell of bowling Joey displayed on Saturday is a credit to all the hard work he has put in at training this season and is his first of many 5 wicket hauls in Second Grade for the mighty Waratah's.

Well done Joey!

1st Grade – Manly 147 (J. Lenton 56, R. Farrell 33, A. Beadle 29) vs. Sydney University 1-424
1st grade had another tough day at the office Saturday. Starting the day 1-4 we were looking to dig deep and take the game to the final session. Unfortunately things didn't start as planned with Adam being adjudged caught behind second ball of the day off his back hip. The next two hours were comfortably our best cricket of the day, with Ryan and Jay digging in and punishing anything loose taking us into lunch at 2-80. Ryan was particularly impressive with a forward defensive reminiscent of a young Rahul Dravid. After lunch we were aiming to tick the scoreboard along to put us in with a shout in the final session.
Unfortunately in the second over of the session Ryan's forward defensive became reminiscent of a near retirement Dravid, as his off pole rolled back a number of meters. In all seriousness it was a terrific effort from Fazz opening up away from his usual position in the middle order, and looking like he was a seasoned first grade opener making 33 from 150 rocks. Jay played superbly making a classy 56, but when he was dismissed things began to unravel quickly for the Tah's.
James became the first victim of the leggies well disguised wrong-un for 9, and the boys had their backs to the wall. Logan was caught at cover for 9 and Matt was adjudged LBW for 0 in quick succession. AB recovered well from a bout of dysentery last week to make a breezy 29 including a number of irresistible cover drives, before being castled by one that spun sharply from the rough.
If the top order struggled to decipher which way the leggie was turning it the lower order had even less of a chance. Unfortunately this was the case as Viss and Whitey were both bowled by the wrong-un without troubling the scorers. It was a demoralising loss for the boys but we will come back better and stronger in the next few weeks.
A big shout out to Matt Alexander who spent the day on death's doorstep but still made the effort to get around the boys. After stopping in at the doctors on the way home he's been diagnosed with chronic fatigue syndrome from carrying Bradstreet Building Services on his back all week.
Logan Weston

2nd Grade – Manly 5-324 (T. Kaye 76, J. Ritchie 63, S. Webber 62*, S. Gainsford 54, B. Darcy 39) vs. Sydney University 232 (J. Graham 6-84)
Second grade arrived to a much sunnier day at Mike Pawley Oval than the previous week, with the task of taking 10 wickets on a deck that had previously yielded 324 runs for the loss of only 6 wickets.
We knew that building pressure was going to be the order of the day and we would have to grind our way to victory if we were to get the 6 points. Opening spells from Nick McLachlan and Andrew Jamieson were typically frugal and the Students struggled to get any momentum, eventually culminating in the first two wickets – a regulation snick off another of Jamo's searching length balls, well caught behind by Sam Webber; the other coming through Nicko's off a hesitant-looking cut straight to Jake Carden in gully. The perfect finish to the session was executed by a vintage Taylor Beatty run out right on drinks. In hindsight this was one of the biggest moment of the innings as the other opener was looking relatively comfortable and having that 3rd wicket down was a massive advantage with the deck was as flat as we all knew it was.
Despite great first spells from Jake Carden, Tay and Sam Gainsford, their next five batsmen all batted relatively well, making use of the excellent batting conditions. This took them through to well after lunch and it was only a brain snap of a sweep shot off Joe Graham that broke the 4th wicket partnership. From there it was our continual pressure with the ball backed up by good fielding that ensured we built steady pressure and took a middle-order wicket every 30-40 mins… Which was basically all we needed. A special mention should be made of two of the youngsters of the side in Joe Graham and Jake Carden who bowled brilliantly in partnership to lay the groundwork for the crucial 4th and 5th wickets, without which the game could have ended very differently. Jake's crucial maidens were backed up by Joe's excellent use of flight and subtle variation to draw the mistake that they felt compelled to risk as a result of the dots coming from the other end.
This was the general formula applied excellently by all who supported Joe from the other end and despite some lusty hitting from numbers 7 and 8, Joe maintained his composure well to have the last say. All up, Joe finished with 6-84 [23.1 overs] in an excellent display of spin bowling on a flat deck. It was also very deserving that Taylor took the only other wicket, as his excellent first spell had gone unrewarded, while his vocal presence in the field all day was simply exceptional. Credit should also go to skipper Jack Ritchie whose intelligent fields all day were a vital component in building the appropriate pressure.
All up Sydney Uni were all out for 232 in 80 overs – a truly excellent all-round performance against undoubtedly one of the strongest teams we will face this year. It was great to see both the batsmen and the bowlers stand up and show such maturity in how to win a game of two-day cricket. What should also not be underestimated is how clinical we were with taking our chances and the excellent fielding standards that were upheld all day – from Tay's crucial run out to Jake and Jordan's catches, only two other opportunities were missed – both extremely difficult chances that if taken would have been exceptional catches. Special thanks also to the Adam Gummer for fielding for us when Nick McLachlan's elbow injury made it impossible for him to continue fielding.
With the first win of the season finally under our belt, there's a really great feel to this 2nd grade side… And with the training ethic, leadership and camaraderie in this group you can't help but feel that there are some exciting things in store… Bring on riff riff!!
Jordan Daly
Click on the images below for a larger view
"Skipper Jack Ritchie concentrating firmly on the job at hand"
"Taylor Beatty, a picture of perfection as he strides towards the crease"

| | |
| --- | --- |
| | |
| "Nick McLachlan firing one down as he battled through injury on Saturday" | "Sam Webber getting his leap on off an incoming throw" |
3rd Grade – Manly 7-231 (O. Davies 58, B. Darcy 52*, A. Bariol 49, D. Marshall 25*) vs. Sydney University 166 (R. Bishop-Perrett 3/37, J. Wigney 3/37, D. Marshall 3/69)
Resuming at 2/106 chasing 167 on an absolute belter we did not expect too many difficulties. Bariol (49) clipped one off his pads to forward square leg in the first over to give Uni hope but Davies (58) and D'Arcy (52no) ensured no joy for them with a controlled partnership to ensure a comfortable win.
Davies played shots all over the wagon wheel and enjoyed the challenge. To Uni's credit, as we approached the target they were still putting in and one of the better spells we'll see this year was produced by their quick, Holloway, who hit the top of off when Ollie shouldered arms. Zac (4) was bowled and then Verdi (0) and Evans (0) were cleaned up in the same over, Evans, leaving with a sore toe care of a yorker first ball. Thankfully we had passed the total. Ollie falling at 164 and the other three at 174.
To cap off a solid win Marshall (25no) batted very well, making further claims to go up the order and he and Bill batted with control to see us finish at 7/231 at tea. Bill did his usual thing, picking off the singles quietly in the first 10 overs then hit a number of boundaries. He is in great form. 3, 2, 1 for this week is tough with equal claims coming from Bariol, Marshall, Wigney, RBP, Davies, D'Arcy. I'll go with…
3 Wigney (took out top 3 on a belter)
2 Bariol (stamped authority at the end of day one and took 5 catches)
1 Davies (batted with maturity to ensure no collapse)
Next week we have co-leaders Penrith which will be a good test for our side.
Wazza
4th Grade – Manly 6-286 (I. Vumbaca 48*, J. Boyer 47, A. Gummer 41, T. Poole 41, N. Cohen 30) vs. Sydney University 284
The Manly 4th grade boys had the challenge of chasing down a modest total of 284 set by Sydney Uni.
After the hard work the bowlers put in the previous week, on a flat grahams deck, it was time for the batsman to step up. We knew it was going to be a real battle to chase down the runs but the manly boys were always up for the fight.
The start of the innings Nick "slothy" Cohen and Adam Gummer set the tone for the entire run chase, dispersing any loose deliveries to the boundary. We were cruising at 0 for 70. Unfortunately Slothy was run out for a well made 30 and Gums followed shortly after for 41. This brought the two Jimmy's to the crease. Butch continued to attack and Jimmy Crombie played the supporting roll, cashing in on any loose deliveries.
The spin attack then came into play, and we lost butch for 47. This brought Toby to the crease. As the spinners continued the runs started to dry up. Patience was the key and after the tea break the rans began to flow once more. As we continued to pile on the runs, Jimmy was caught by a good catch at backward square. Captain Burgess joined Toby at the crease. Shortly after Toby was the next man to go for another 40 for the team sheet and the captain followed and we found ourselves at 6/210 at drinks in the final session.
At this point the nerves started to creep in. Jacob Graham and Izzy Vumbaca were given the tough task to chase down 75 runs for the win. And didn't they turn it on. Izzy showed his class and played every shot in the book whilst Jacob played a great supporting roll and latched onto any loose deliveries. The boys guided us home for a great victory, even better that it was Sydney uni. Izzy top scored with 48*.
It was always going to be a tough run chase but the Manly boys never gave up, the support and mate-ship shown on the day shows what a tight group we are. With a great win under our belt, we take on Penrith next week full of confidence.
Yeah the boys!
Toby Poole
Click on the images below for a larger view
"Adam Gummer majestically sending one to the boundary"
"Both the Jimmy's just cruising at drinks"
"Max Burgess leading the team talk after a great win"
"3rd/4th Grade Manager Alan Wright making the day run smoothly"
5th Grade – Manly 5-233 (W. Outred 72, J. Pickering 53*, E. Hole 35, W. Akhurst 33) vs. Sydney University 213 (A. Bain 4/15, H. Brown 3/15)
5th grade returned to Camperdown Oval on day two with another 185 runs required and all 10 wickets still in hand. Given the strength of our batting line up and the fact that the pitch looked more like the M2 we were quietly confident of coming away with the points. After a relaxed warm up & a game of touch with a number of questionable calls, the boys returned to the sheds/park benches and switched on to the task at hand.
Will Outred & Jonah Anderson picked up where they left off last week, picking the gaps with ease & finding the boundary regularly as we raced along to 50 off just 10 overs. Jonah unfortunately nicked one off their young leggie for 22 which brought Ned Hole to the crease who just continued the onslaught, pulling & sweeping the spinners with ease. Will passed his 50 just before drinks & we were sitting pretty at about 1/110.
Sydney Uni seemed to be out of ideas, so they brought on a part time 'mystery spin' bowler to try to buy a wicket & Will had a bit of a rush of blood & fell to a one handed grab at mid on for 72. Will batted extremely well all day & deserved three figures, but unfortunately that's cricket. Ned also played a bit of a rash shot & got castled by the leggie for 35, and then when yours truly missed a sweep shot the very next ball we were suddenly 4/150.
Jack Pickering & Will Akhurst then steadied the ship but kept the runs flowing with some brutal blows over the short boundary & some positive running to quickly reel in the target before tea. Jack brought up his 50 with a massive 6, but Will unluckily fell for a well compiled 33 just before tea, which prompted a declaration from skipper Outred to give the bowlers another crack.
. We only managed to pick up 1 wicket though on an absolute road, so we agreed to call it a day at drinks & take home the 6 points, since half the team had to go home & study for their HSC. The boys are now 3 from 3 & playing some really good cricket, but face a tough test against Penrith next round who are also undefeated. Let's keep up that winning feeling!
Dom Wheeler
Hardboard Diggers Team of the Round