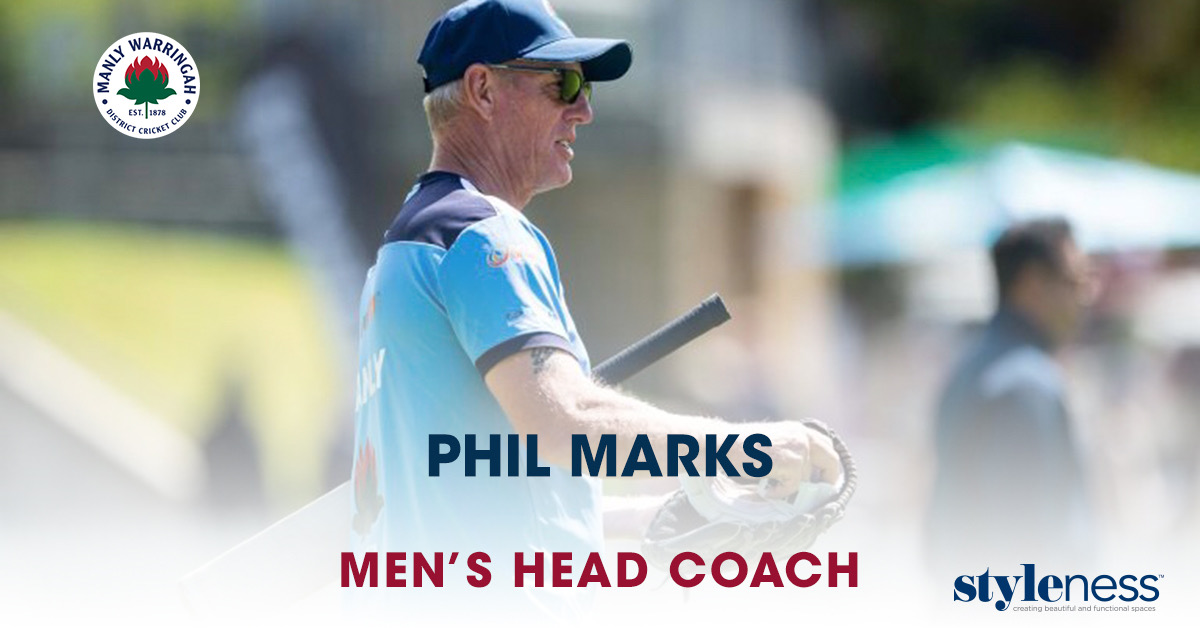 Phil Marks will once again lead our mens coaching team for 2020/21 with his re-appointment as Head Coach.
Marks has worked closely with Director of Cricket David Gainsford to put together our coaching program for the coming season
This will be Mark's 8th year as part of our coaching team and 2nd as Head Coach.
He will be supported once again by his incredibly capable assistant coach Roy Vumbaca. Vumbaca and Marks will once again work very closely and oversee our entire men's coaching structure day to day.
It is fantastic to see Tim Cruickshank back on-board in a slightly different role to previous seasons. Tim has been appointed 1st Grade coach in order to give our top team as much focus as possible. We are looking forward to Tim working closely with Marks as well as our first grade captain Jay Lenton in our drive back up the 1st grade table.
Our bowling coaching staff has been strengthened by the appointment of Steve O'Keefe as our spin bowling coach. This is something that we have been lacking over the last few seasons but 'SOK' is a fantastic mentor and will have our spinner back firing.
Life Member Gavin Fletcher will once again take care of our fast bowlers. 'Fletch' has been a maint stay in our bowling team over the last decade or so, and it's great to have the former Australian U19 fast bowler on board again.
Our bowling will be assisted by former test fast bowler Morne Morkel who will attend training on an adhoc and informal basis.
Our batting will once again be looked after by Sam Mesite. Mesite, a fellow Life Member, came on-board as a batting coach last year and will be an important part of our training.
Mesite will be supported by Ross Trewartha. A man with a huge amount of first grade and lower grade cricket experience, Ross will take the position of batting mentor, helping our 3rd to 5th grade batsmen throughout the season with their plans, preparation and post mortem's.
David "Loz" Gardiner will be looking after our fielding again as well as being our pathway coach to help our young stars transition into the grade set-up. Loz will once again be an instrumental part of this years men's coaching team.
Our fielding team will be finished off nicely by the re-appointment of fotmer NSW baseballer Mike O'Neill as our throwing Coach.
We are also very lucky to have Gary Holmes and Frank Turner, who is also a Life Member, return as our Net Managers.
Graham Price will again take care of our PG's side as co-coach, with Phil Marks coming on-board also as co-coach of the team this season.
David Gainsford will once again take care of our Green Shield side.
Our Women's Coaching structure will be announced shortly.
Our full men's coaching structure is as follows:
David Gainsford – Director of Cricket
Phil Marks – Head Coach
Roy Vumbaca – Assistant Coach
Tim Cruickshank – 1st Grade Coach
Sam Mesite – Batting Coach
Ross Trewartha – Batting Mentor
Gavin Fletcher – Fast Bowling Coach
Steve O'Keefe – Spinning Coach
David Gardiner – Fielding and Pathway Coach
Mike O'Neil – Throwing Coach
Frank Turner – Net Manager
Gary Holmes – Net Manager
Graham Price – PG's Co-Coach
Phil Marks – PG's Co-Coach
David Gainsford – Green Shield Coach