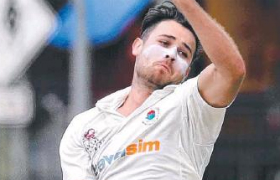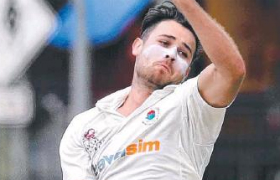 AFTER toiling in the field all day as well as bowling 27 overs in the heat, Nick McLachlan could have been forgiven for not reaching a ball making a beeline for the boundary.
The athletic left-arm quick ended up being Manly's saviour, with his brilliant dive and throw on the last ball of play resulting in the Waratahs escaping with a draw at Village Green late on Saturday afternoon.
Putting it simply, if middle order batsman Jimmy Henry had made his ground, the away side would have lost the unlosable two-day game.
While disappointed not to collect first innings points, Manly skipper Adam Crosthwaite praised his team's fighting mentality.
"If I had my time again I would have done a few things differently,'' he said.
"You would think with a score of 420-plus you are likely to get a result.
"I set very attacking fields as I was confident we would win.
"Credit to our boys, UNSW chased hard and we held our nerve. Nick (McLachlan) was outstanding."
The home side were on course to reel in the massive target, thanks to a 253-run third-wicket stand from the brilliant David Dawson (169) and Charles Wakim (126).
Crosthwaite felt his lead quicks and spinner Ryan Farrell did not bowl poorly, it was more the state of the pitch.
"Put it this way, it was tailor made for batting,'' he said.
"UNSW used our batting blueprint, and to be honest, they were great.
"I was happy for Bucky (Nathan Buck). It was a massive effort to finish with three wickets in his first game back for us."
Remarkably, Manly also drew another two-day game where runs were plentiful last season.
They shared the points with Gordon at Chatswood Oval in round three after both sides belted 387 runs.
Ahillen Beadle (157) and Jay Lenton (104 not out) were the standouts in that game with the bat.
{loadposition cricket}