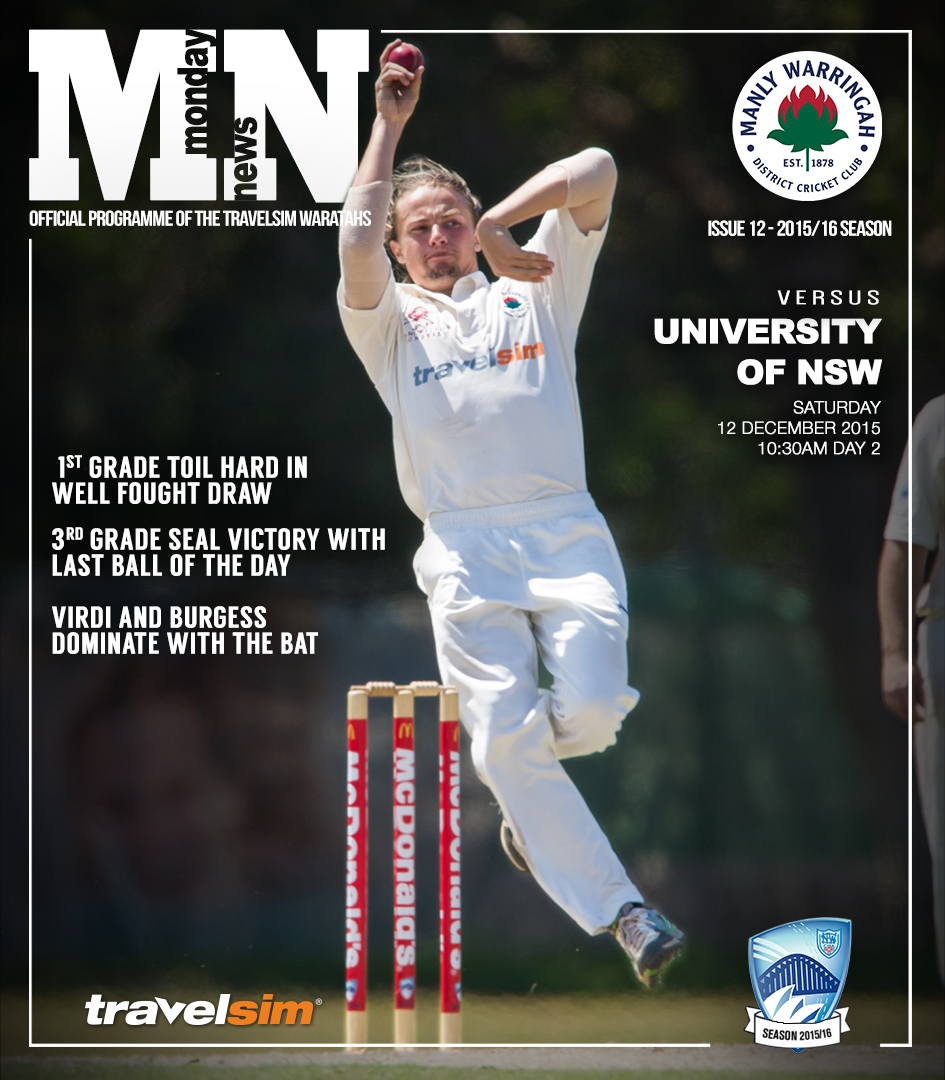 The TravelSim Wartahs had a mixed weekend of results against UNSW after a few tight encounters across the grades. Coming into week two of the round, The Tahs were well placed to take the points in the top 4 grades, however some determined batting from UNSW prevented any points from being gained in 1st and 2nd grade.
1's unbelievably finished as a draw with both teams on a monumental 422. Adam Crosthwaite's men pushed hard all day and with 3 runs to win off the final ball, a run out coming back for the 3rd meant neither team would be taking any points home at all. 2nd grade also couldn't quite get the job done on a flat Manly Oval track. UNSW batted patiently all day to chase 277 for the loss of 8 wickets.
3rd grade won on the final ball of the match with Josh Wigney picking up the winning wicket. UNSW had bunkered down in order to prevent a Manly victory, but a late gem from Wigney stole the points for Warren Evan's men. 4's chased down 221 with relative ease against a negative UNSW side. Burgess, Edgell and Boyer all supported Virdi to comfortably chase the score and take the points for the loss of 5 wickets. FInally, 5's prevented any sort of outright victory, batting UNSW out of the game. Stand-in captain Tom Sheedy got back amongst the runs with a well made 74*.
Sunday also saw our PG's side pick up a victory in a clinical performace against Penrith. The Tahs restricted Penrith to 170 with Josh Wigney the star on debut taking 5/30. Then after losing Jack Edwards early, captain Farrell and Billy D'Arcy smashed the Panthers attack to all parts and chase the score comfortably in 36 overs.
With one final round before Christmas, the Waratahs will look to maintain what has been a reasonable start to the season. However, we all know there is plenty of room for improvement leading into the break and the business end of the season. Until next week, Go Manly!
4 Pines Player of the Week – Josh Wigney


This week's 4 Pines Player of the Week Award goes to Josh Wigney for his 5 wickets on debut in PG's and his last-ball wicket in 3rd grade. Saturday saw 'WIggers' knock over the UNSW number 11 on the final ball of the day to take the points for Manly, followed by a tremendous spell to knock over Penrith's top-order on sunday.

Josh has bowled with great pace and energy all season without getting the rewards he probably deserves. This weekend however, the stars aligned for Josh and he capitalised big-time, despite playing on a couple of very flat wickets. Wiggers improvement over the past 18 months with the Tahs has been outstanding and we can't wait to see him keep hitting the deck hard and taking wickets for us in the future.

Well done Josh!



"Wiggers after his 5-wicket haul"
1st Grade: UNSW 8/422 (N. Buck 3/75, J. Munting 2/76) drew Manly 5/422 (A. Crosthwaite 127, J. Ritchie 125, J. Crosthwaite 50, J. Lenton 43)
13 wickets, 844 runs, 192 overs
0 points for either side
The Manly boys arrived to Village Green in great spirits wth a big score of 422 to defend.
A great first session, well stuck out by all the Manly bowlers saw UNSW head across the road to maccas 2 down for 90 odd, with stalwart James Munting claiming and early pole and "not quite back page of the daily" Ryan Farrell claiming a big wicket of the bumblebees Pom (buckys mate) just on the cusp of lunch.
Enter the experienced David Dawson and Charlie "I do" Wakim. Both batted well during the middle session, with our bowlers giving everything on what turned out to be a very ff…. Fff I won't swear a very Aiden Baker wicket. Even the funky fields from the skip (8 catching covers and a floating catching point) couldn't quite break the partnership.
Returning from somewhat satisfying tea (nothing compares to a merchant tea interval in the RATT) the Bumblebees required 207 from 38 for victory , the tahs 8 wickets for points!
Again the efforts of our bowlers was phenomenal with each bowler churning out the overs and bowling as a unit. 65 first class games Buck was the pick with 3fa a few (mycricket.com.au for the stats). Buckys spell combined with Nickos at the other end, saw a break in the partnership and a sniff for the tahs to take the 6 points.
6:24pm and the situation required saw the tahs needing 4 wickets and the bees half a dozen runs for victory, the new ball was taken and worked a treat straight away with James Crossy holding onto a skier in the deep!
James Munting was given the bright red cherry bowling the 96th over and a brilliant over it was! Unfortunately for the tahs the game was out of reach however losing was not an option. Skip sent everyone to the fence for the last 2 balls.
6:28pm the last ball of the day UNSW 7/420 requiring 3 for victory. A little field change of Nickos at 3rd man and Munting was on his way in. Bees batsman backs away, Knicks it fine, but wait here comes McLachlan, diving (rolling?) stop, James Henry turns for the third, but hang on McLachlan has ripped it in from the fence, one bounce into Lenton's gloves
bails whipped off,
umpires finger up,
batsman on the ground,
crowd silent,
tahs cheers………..
422 plays 422
0 points……
Jay Lenton
2nd Grade: UNSW 8/280 (M. White 3/69, T. Beatty 2/51, D. Marshall 2/68) def. Manly 8/277 (T.Kaye 68, J. Carden 50, M. Alexander 46*)
If you want to hear a heartbreaking story about a second grade cricket side then read on. The manly boys were at home on a new strip against a UNSW team which had been touted as a batting side. We won the toss and elected to bat.
Jack Edwards and Joey Graham opened up and did a great job for the boys with an opening stand of about 50 before Jack received a good rock and snicked off. Tommy Kaye then came to the crease and started whacking them around. Joey and Tom put together another 50 before Joe got deceived by a cunning piece of leg spin bowling to hole out to mid-on. Aidan 'Flat' Baker then came to the crease and went from the crease, once again running himself out. Sammy webber was unlucky to have been caught down the leg side and before we knew it. After trying to survive the middle session Tommy was then removed for a well-compiled 67. The Manly boys were in a spot of bother at 6/150 at tea but Matty Alexander and Sam Gainsford were at the crease. Both players struck the ball beautifully scoring freely all around the ground. A real pleasure to watch. Gains was dismissed for 34 but gave the team much needed momentum. Jake Carden coming in at number 9 was the revelation of the day. It took him a little while to start scoring but once he got going he was on fire. Hitting four fours and four sixes on his way to 50 off 50, it was power hitting like we had never seen from the young man. Excellent knock. The waratahs were 8/277 and declared over night.
Matty Alexander and Matty White opened the bowling in the most threatening opening bowling pairing second grade had seen for a while. Both bowled very fast without luck with catches going down early. The waratahs then had a bit of trouble finding a third wicket in the middle session. An excellent runout from Tom Kaye who chased down to third man with a throw over the bails to remove an established batter was the breakthrough the waratahs needed. Once again though, we struggled to go 'bang bang' but that was not for a lack of effort. Shortly after, their opening bat raised his bat for a hundred; capitalising on several missed opportunities. He was then dismissed shortly after by Matty White. This gave the waratahs a touch of impetus and we were able to take a couple of quick ones to get the ball rolling. Matty White was excellent and hit the deck hard all day deserving more than the 3 he ended up with. Dylan Marshall struggled early but then showed his class almost taking the Manly boys to victory by removing the established batsman and another to go 'bang bang'. The manly boys were in the hunt. We had the visitors 8/250 chasing 277 but couldn't shut the gate and the UNSW team chased it 8 down. Special mention to Matty Alexander who looked threatening all day and was very unlucky not to end up with a bag full of wickets with several chances going down off his bowling.
Character building loss for the Manly Men of Second grade.
#waratahmatchday #bleedblue
Taylor Beatty
3rd Grade: UNSW 268 (J. Wigney 3/51, A. Gummer 3/72) def. by Manly 7/341 (B. D'arcy 111, Z. Trewartha 85, W. Evans 66, J. Daly 49)
Wow, what a finish. The pitch was hard & flat with a good bit of last week's grass stripped from it. It was full of runs. It was going to be tough to get 10 wickets on this pitch. Wiggers (3/51 from 18) bowled a great 1st spell and deservedly got two wickets in it, the first one LBW and then we set up the #3 with a short ball that he duly hit hard but without control to Gummer at point. 2/30. Falconer (0/37 from 12) was unlucky not to get a wicket due to an easy catch at mid on put down and he created good pressure early as well. McKenna (1/40 from 12) got one straight away to make it 3/50. A partnership then built and just before tea the number 5 top edged to square leg where Evans was mightily relieved to actually take one to make it 4/125 in the 37th.
Adam Gummer was our # 1 spinner for the day. Matt Morris rolled his ankle badly to continue his wretched return to grade cricket and he was off the field from about over 20 onwards. Matt fielded with great energy and always has the right words to say. Shawn Bradstreet was filling in for James Crombie who spilt his webbing during the week. Shawn went off at this time as well and with these two missing there was a drop in energy somewhat.
Gumms reminded us that he is actually a pretty good bowler. He bowled 24 overs straight and he used great flight and variation to finish with 3/72. He had very attacking fields in place and each of the three wickets came just when UNSW were getting on top. He also bowled some great chinamen that took everybody by surprise.
We managed to get two run outs during the time. Zac with a great chase and throw and Jordan as well to get rid of their captain who had a strange outlook on proceedings. Clearly looking to draw the game from about the 60 over mark, he went about tapping the ball gently around despite men all around him. But the running between wickets bemused everyone. A , big turning googly from Gummer beat everyone and he attempted a suicide 2nd bye – run out by 2 metres.
Evans (1/40 from 14) was bowling full and straight and got a crucial LBW to make it 9/255. We had 27 mins to get the last wicket but numbers 10 & 11 hung in. To our credit we moved briskly in this time and bowled 10 overs.
Due to our constant energy with regards to over rates we managed to get 4 overs in with the new ball. Also the efforts of Peter Garlick, our scorer, in bringing along a gazebo allowed the batsmen to sit 50m closer to the action thus get to the pitch quicker thus allowing us an extra couple of overs.
Wiggers bowled beautifully, 6 to 10 inches outside off stump taking it away nicely and in normal circumstances would have picked up all sorts of better players. Just what we didn't want though as they offered nothing to anything that was not on the stumps. They actually batted well in this respect. In the last over Wiggers had 5 balls all let go except for one cracker that pitched on off and missed everything. By the last ball we all shrugged our shoulders in resignation, said a few aimless words of encouragement to Wiggers who was charging in from 30 metres away so didn't hear us anyway. He then produced a cracker clipping off stump and our celebration was …enthusiastic to say the least.
It was a fantastic end to a grinding day of cricket where we hung in there all day. Our ground fielding was superb all day, our catching not so, numerous chances from the bloke who scored 76 so something to work on.
Our back up fieldsmen, Lachie Kerr and Sam Kelly were great. Sam chased a ball to the boundary, 60m from the stumps. I was waiting for the keeper's arm to show but instead got a 60m rocket over the bails.
Ross Trewartha also did 44 overs for us and he showed us that his fielding is still top shelf. He was a excited as anybody at the last wicket. Great stuff Ross, you should play much more often.
Well done on a deserved win. Our main spinner down along with a decent medium pacer we toiled very well and everybody offered up something that could well be a turning point for the season.
WE
4th Grade: Manly 5/223 (A. Virdi 72*, M. Burgess 56, L. Edgell 42, J. Boyer 33) def. UNSW 221 (B. Kittlety 2/34, J. Graham 2/8, S. Hole 2/25)
4's returned to Grahames reserve feeling confident we could finish UNSW's innings cheaply and chase it down fairly comfortably on a pitch not offering much for the bowlers.
As it expected UNSW decided to bat on after only posting 166 of 80 overs the weeks before. Ben Kittlety was given one over with the old ball to warm up but still managed to grab a wicket with the 5th ball trapping the batsman plum in front.
The new ball was then taken and Ben was bowling with great pace and a good line and length. He managed to pick up another wicket caught behind. Ryan Bishop-Perrett at the other end struggled a bit with his length but managed to pick up the wicket of the number 3 who batted through last week, out LBW. The number 10 and 11 put on a decent last wicket partnership swinging through the line. Sam Alexander eventually dismissed the number 11 with a good piece of glove work to stump him. UNSW all out 221.
Our innings started with Captain Max Burgess and Luke Edgell. The flatness off the pitch was highlighted in the very first over of the innings with Luke smashing 3 boundaries straight and through cover. The boys looked in fine touch and were scoring just under six an over with Maxy looking the best he has this season. Some beautiful shots were played down the ground and the boys were showing UNSW how to bat with intent. The 100 run stand was brought up but unfortunately both batsmen were dismissed just before tea. Max (56) and Luke (42).
The wickets brought in Sam Hole and Jimmy Boyer. The boys were looking good but Sam was unlucky to under edge one and was caught behind for 7. Another quick wicket with the run out of Jack Pickering caused a bit of a stir back in the sheds but we were still fairly confident when ash strode out to the crease. And rightly so , Ash looked in excellent form smashing boundaries to all parts of the fields with some delicate late cuts and a massive bomb down the ground. The boys were turning over the strike really well and never looked in danger of losing a wicket. Ash bringing up his fifty of not too many balls.
Jimmy unluckily lost his wicket to a part timer for a well made 30 odd, which allowed Will Outred to have a crack at scoring the winning runs. Will smashed a boundary and got a single which then allowed Ash to score the winner finishing with a really well made 70 not out.
The boys performed really well and are keen to have a crack at Gordon in the one dayer next week.
Ryan Bishop-Perrett
5th Grade: UNSW 9/247 (J. Anderson 2/57, I. Vumbaca 2/74) def. Manly 124 (W. Wolter 42, I. Vumbacca 33) and 3/137 (T. Sheedy 74*)
After losing in the first day, 5th Grade were ready to halt and outright win. After 2 overs of pace Tom decided to let Jonah work his magic. During his 3rd over of the day he picked up their number 4 bat who was whacking us around the ground. Not long after Jonah picked up, who Sam Kelly called 'the passenger', with a chopped on dismissal. Isaiah during the spin twins spell picked up two leg before wickets with a quicker delivery and a wrong un.

All we needed now was 2 more wickets to finish off the innings and we might be in with a chance of winning 2nd innings. That was taken out of the picture pretty quickly when their number 10 bat decided to tee off. He hit a quick half century to get the lead up to 120, which meant that the possibility of a 2nd innings win was gone. Ollie picked up one of their bats with the help of quick hands by Sam Kelly behind the stumps to lead them to a declaration.

Tom Sheedy and Will Wolter opened up the bating with the simple plan 'shut up shop'. Will was looking good with an elegant cover drive until a short one kept low and cleaned him up. Ned Hole then entered the crease and followed the plan well. He hung around at the crease and worked some ones and two's until he tried to work one onto the leg side and got a top edge to short cover. During the mean time Tom played some stylish leg glances and cover drives to the boundary, he quickly moved to his half century.

Earlier during the tea break Tom reinforced the plans to hang around. But I'm not sure if he even listened to the plans. A couple overs after tea Tom hit some lofted cover drives and some lofted on drives. Isaiah who was at the crease with Tom didn't like the plan either. He hit 3 consecutive fours. Isaiah continued with his aggressive batting which lead to him hitting one to mid-off. Ollie who came in at five was only in for a few overs before the two captains decided to call it a day. Tom Sheedy was definitely man of the day for 5th grade ending on a solid 74 with an asterisk next to his name.

Ollie Davies


PG's: Manly 1/171 (R. Farrell 89*, B. D'Arcy 70*) def. Penrith 170 (J. Wigney 5/30, B. Falconer 2/20, J. Graham 2/26)
The PG's boys entered the weekend's match in do or die circumstances. With our finals hopes on the line and coming off the back of a disappointing performance against Sutherland, everyone was hungry to show the competition what we are made of. And that we did.
A dominant bowling display, led by Poidevan Gray debutant Josh Wigney (5/30 off 10) kept the Panthers to a well below par 170. Josh was the pick of the bowlers and it is a credit to the hard work he has put in all season. It was a disciplined spell, which was almost faultless. I feel i should also mention how crucial the opening spell of Ben Falconer was as well. Falcs also bowled with great discipline and made minced meat of one of the opening batters. Wigney and Falconer were also well supported by the rest of our bowlers, and some KFC worthy catches from the fielding group.
Keeping the opposition to below par totals hasn't been a weakness of this side this season, however the consistency with the bat and the ability to chase totals, has been. Billy Darcy and Jack Edwards opened up proceedings with both batsmen looking positive and ticking over singles in the early stages. Jack unfortunately pushed at one and was caught in the cordon. From there we didnt look back. Despite both batsmen (Darcy and Farrell) giving a chance each, they capitalised on their early luck and made the opposition pay. The pair ticked the score over beautifully with some crisp, clean hitting and well judged singles. 36 overs was all we needed to chase down the Panthers total of 170, largely thanks to a huge last over of the match. Farrell went ballistic hitting 22 runs in 4 balls, including some massive sixes. Some would think he was in a rush to get a cold frothy at Wharfy.
It was a clinical display from the side with Wigney (5/30), Darcy (70*) and Farrell (90*) being the heavy contributers to an incredible victory. Many thanks go to Todd Harper, Peter Garlick and Alan Wright for their great help on the day, and all the other boys who came to watch.
The side have their final match before Chrissy against UNSW at Village (highway) Green this Sunday.
Go Manly
Special K