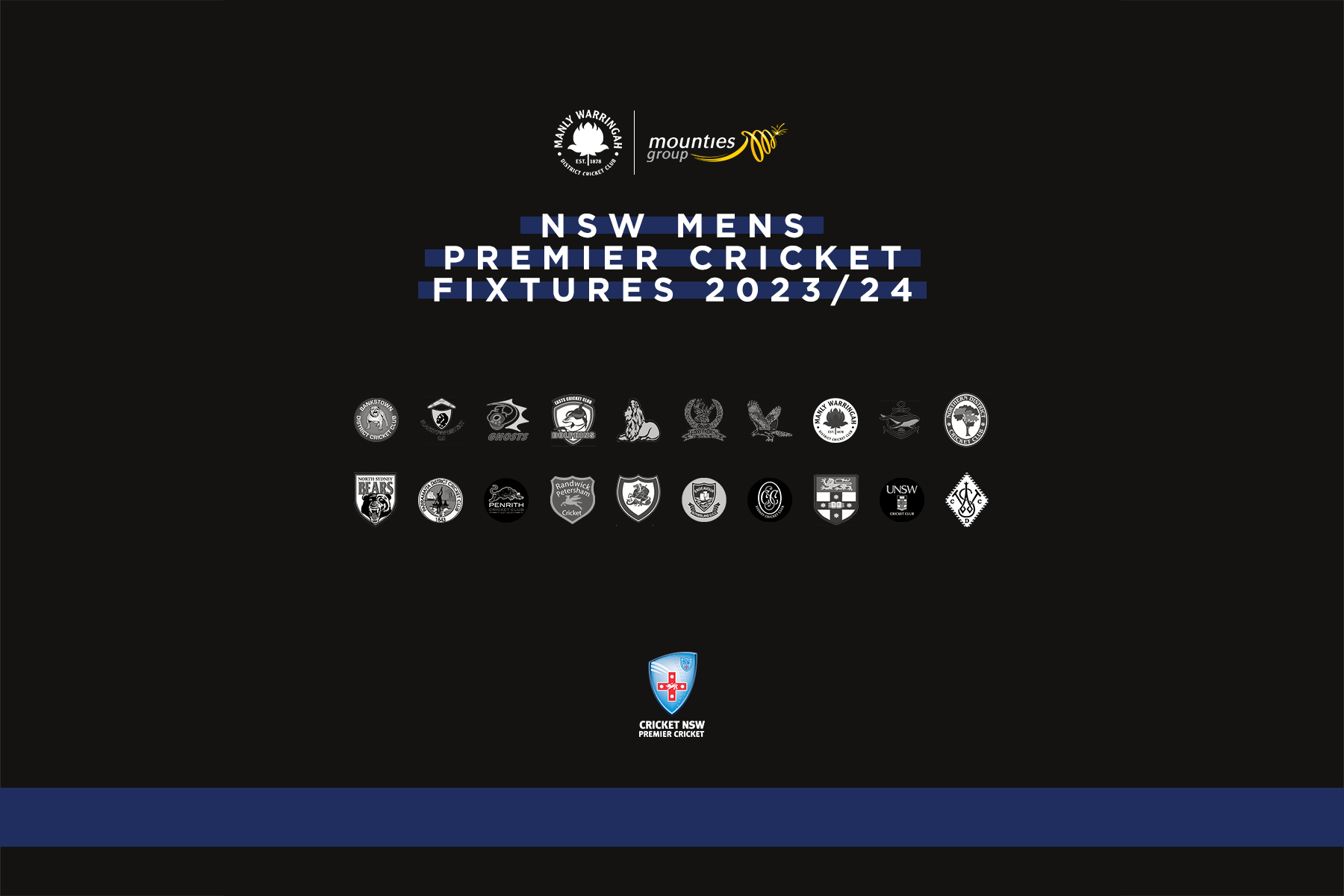 The Sydney Cricket Association has released the regular season draw for the 2023/24 Mens Premier Cricket Season.
With the Mounties Group Manly Warringah Waraths 1st Grade side starting their season with the Kingsgrove T20 Cup on 23 September, the lower grades will begin their season on Saturday 30 September in a One-Day game against Sutherland.
The Tahs will the have two more limited overs games against local rivals North Sydney on 7 October, and UNSW on 14 October, before the first 2-day match against Gordon.
The Tahs will play a mix of 2 day and limited overs matches, which will include 4 Saturday/Sunday fixtures for the 1st Grade side.
1st Grade will also take their home game against Western Suburbs to Orange, for a Day-Night match on Saturday 16 December, in what is sure to be a great event.
Manly will finish their season in a 2-day match against Penrith on 2 & 9 March 2024, before hopefully going into the finals.
Following a stellar 2022/23 season, which saw the club take home the club championship, 2nd Grade and 4th Grade titles, the Tahs are keen to go again, with hopefully more silverware on the horizon, and redemption for the sides that fell short in last years finals.
For the full 2023/24 draw, see below.
1st Grade T20 Draw
Date
Round 1
Round 2
Round 3
Round 4
1st Grade T20
23 Sep 2023
30 Sep 2023
Away v Bankstown
Bankstown Oval
9:30am
Away v Mosman
Graheme Thomas Oval
1:30pm
Home v Parramatta
Manly Oval
9:30am
Home v Northern Districts
Manly Oval
1:30pm
Regular Season Draw
Round
Date
Opponent
Home
Away
Format
1
30 Sep 2023
Sutherland
2nd, 4th Grade
3rd, 5th Grade
Limited Overs
1st Grade T20 Round 2
2
7 Oct 2023
UTS North Sydney
1st, 3rd, 5th Grade
2nd, 4th Grade
Limited Overs
3
14 Oct 2023
UNSW
1st, 3rd, 5th Grade
2nd, 4th Grade
Limited Overs
4
21 Oct 2023
28 Oct 2023
Gordon
2nd, 4th Grade
1st, 3rd, 5th Grade
Two Day
5
4 Nov 2023
11 Nov 2023
Hawkesbury
1st, 3rd, 5th Grade
2nd, 4th Grade
Two Day
6
18 Nov 2023
25 Nov 2023
St George
2nd, 4th Grade
1st, 3rd, 5th Grade
Two Day
7
2 Dec 2023
3 Dec 2023
Fairfield – Liverpool
1st, 3rd, 5th Grade
2nd, 4th Grade
1st Grade Saturday/Sunday Two Day
2nd – 5th Grade Limited Overs (2 Dec Only)
8
9 Dec 2023
Sydney
2nd, 4th Grade
1st, 3rd, 5th Grade
Limited Overs
9
16 Dec 2023
Western Suburbs
1st, 3rd, 5th Grade
2nd, 4th Grade
Limited Overs
1st Grade Day-Night in Orange
10
23 Dec 2023
Campbelltown-Camden
2nd, 4th Grade
1st, 3rd, 5th Grade
Limited Overs
11
13 Jan 2024
Bankstown
2nd, 4th Grade
1st, 3rd, 5th Grade
Limited Overs
12
20 Jan 2024
27 Jan 2024
Randwick-Petersham
1st, 3rd, 5th Grade
2nd, 4th Grade
Two Day
13
3 Feb 2024
4 Feb 2024
Sydney University
2nd, 4th Grade
1st, 3rd, 5th Grade
1st Grade Saturday/Sunday Two Day
2nd – 5th Grade Limited Overs (4 Feb Only)
14
10 Feb 2024
17 Feb 2024
Parramatta
1st, 3rd, 5th Grade
2nd, 4th Grade
Two Day
15
24 Feb 2024
25 Feb 2024
Mosman
2nd, 4th Grade
1st, 3rd, 5th Grade
1st Grade Saturday/Sunday Two Day
2nd – 5th Grade Limited Overs (25 Feb Only)
16
2 Mar 2024
9 Mar 2024
Penrith
1st, 3rd, 5th Grade
2nd, 4th Grade
Two Day