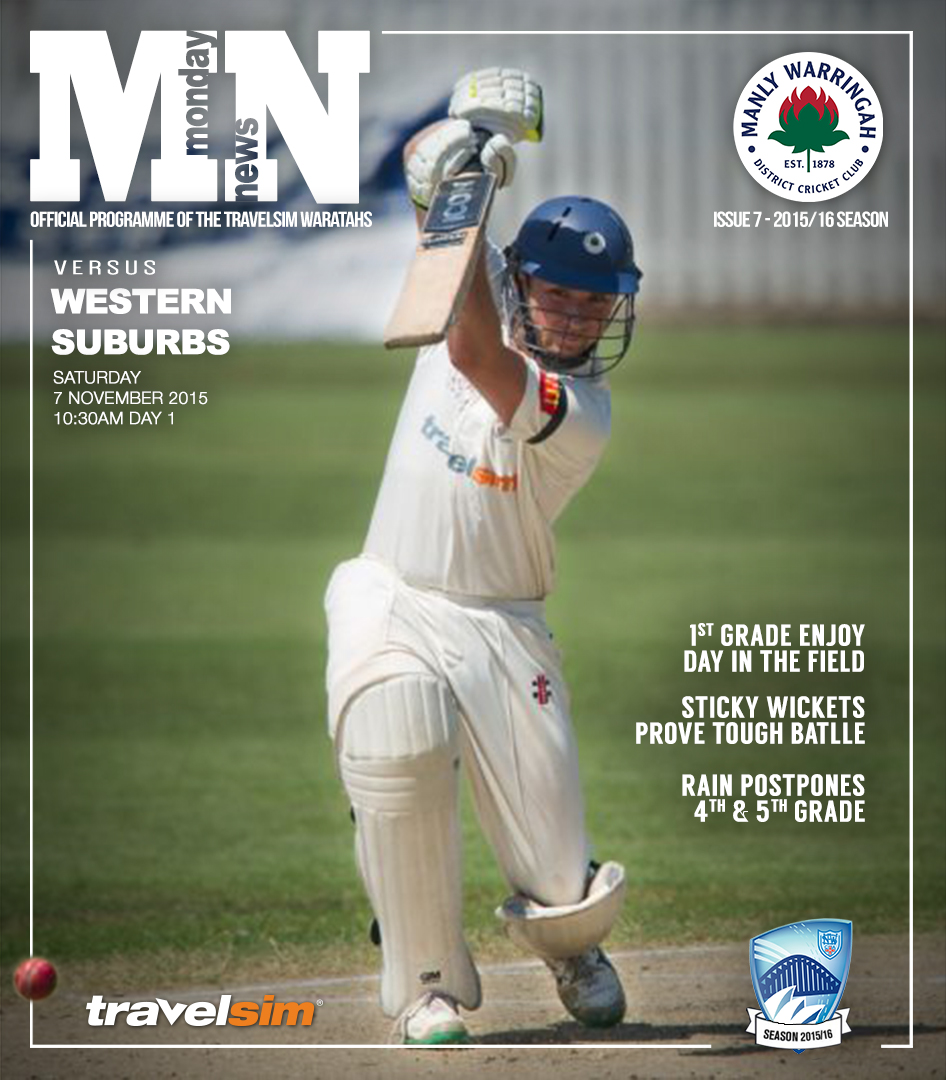 With an unfortunate week of consistent bad weather, only 3 of our 5 teams managed to play on Saturday as 4th grade and 5th grade were cancelled. The Travelsim Waratahs First Grade side, backed up their first 2-day competition win of the season with a dominant display against Wests. Back on their home turf, Crossy's army won the toss and elected to bowl. The boys bowled with great discipline and patience to have Western Suburbs out for a below par 172, with Mickey Visser leading the way with 4 wickets and Ahillen Beadle grabbing 3. James Crosthwaite (the better brother) led the way with an entertaining, unbeaten cameo of 42 to have the boys well positioned at 2-64 at stumps. The Second Grade boys headed out to Ashfield with the hope to keep their winning form going. The boys struggled to stay on top all day with contributions from Kaye (41) Webber (24) and overseas lower order weapon Nathan Buck whacking an entertaining 25* to get the boys to a respectable total of 9-159. With the quality of the 2nd Grade bowling line up, the boys are very well positioned. The mighty Main Grade were sent in on a trying deck and despite starts from a chunk of the top order, nobody put their hand up and went on with it. Rolled for 93, the boys needed to deliver with the ball, and that they did. Despite losing on first innings, having Wests at 8-102 overnight, keeps the boys in good stead to try and claw their way back and win on second innings.
Lastly the Poidevan Gray Shield kicked off their campaign with a roller-coaster like performance. After a top class bowling and fielding display, lead well by skipper Ryan Farrell, the boys unfortunately just fell short. After rolling a strong batting line-up for 136 (Incredible effort) the boys needed 1 or 2 batsmen to step up and get the team over the line. Unfortunately this never happened, some brain dead batting from a large majority of the side, and some questionable decisions, left the boys all out for 125, 11 short of a total that should have been reached. However, despite defeat the team showed they are a force to be reckoned with, as there were plenty of positives to take into the coming rounds. We are confident they will be back better next Sunday and for the rest of their campaign.
Go Manly!
4 Pines Player of the Week – Mickey Visser
Although there were no twin centuries or 5 wicket hauls, this weeks' 4 Pines Player of the week delivered a stirling performance on the weekend, with an impressive 4-42 off 17 overs. Viss has been a consistent bowler in the higher grades for a number of years now and it is great to see one of the hardest trainers in the club, being rewarded for his tough yards by gaining a consistent run in the top grade.

Well done Mickey V!
1st Grade – Wests 176 (M. Visser 4/42, A. Beadle 3/39, J. Munting 2/25) Manly 2-64 (J. Crosthwaite 42*)
Does it get any better than coming back to the treasure chest in Manly Oval for 1st grades first 2 day match of the season.. The air is salty and fresh, the sun is out glistening over a quality wicket, there's always ample parking to roll into, the people around the ground are friendly and always have a smile on their face, greeting the amazing staff we have that help out this great club in the morning.. There's just always something special and festival about coming to manly oval on a Saturday morning..
And the best part.. You get to play cricket and represent this wonderful club especially after first grades first win of the season.. The boys are ready to go and build some momentum and show how good this team is!
Start the morning on ground with a baggy blue presentation and the day is off to a magic start! Welcome James (better Crossy) Crosthwaite to the club for his first 2 day appearance. Touching speech and baggy present to him by his brother and skipper Adam and there's a touch of magic in the air!
Adam to toss the coin in the middle looking ever so dapper in his full whites, sets the standard for grade cricket and this club, especially when he warms up in them when hitting throw downs in pads also.. Can only imagine this is what the Don used to look like when having a few TDs before play..
Lose the toss and we are bowling.. Exactly what we wanted to do originally so that coin toss was a waste of everyone's time.. Zinc goes on the face, everyone is looking immaculate and the manly boys are ready to party!
This summer first grade works on first part of a session to win and last.. Unfortunately needless to say we started off poor but I'm not one for negatives but we have to learn to bring the action, energy and skills to start otherwise we get hurt.. This was evident coming to drinks at 2/70 wasn't good enough but a realisation from Crossy and us all as a group saw us string some quality dots together and showcase our skills for a wonderful bowling partnership between Viss and AB to really tighten the screws, produce pressure and have Wests at lunch at 5/77.. We're back and kicking!
All to be out for 176 in the 64th over with all bowlers working together to finish the job including 4 for Viss, 2 for Munting, 3 for AB.
But there are 2 very special moments that took place and that was firstly a moment Ryan Farrell will never forget in taking his first first grade wicket, in his second ball of his first over to have wonderful control and skill for a caught and bowled.. Very well done Faz, plenty more to come!
But there was something special and very u14s about one of our 3 world class wicket keepers we have in the side.. And that's of the majestic, sharp and class of the 3 stumpings James Crosthwaite took down the leg side off Viss and AB that kept the visitors to 176.. Wonderful to watch James.. And the jury is out which Crosthwaite is the better gloveman.. But all 3 with Jay making his well deserved shield debut, we are lucky to have in our side.
Time to bat with 30 overs remaining in the day and with a bit of rain about the thought to get the runs before close of play was the agenda and certainly on the mind of James, who unfortunately lost Cubby early LBW, but didn't stall his momentum for 42not out with 2 incredible Sixers, one which was a magnificent check drive towards fishos and then a class flick off the pads towards the bowling green only for his brother Adam down the other end to ask him reign it in.. The response… "You can't teach that!" Brilliant!
Adam and James, who surprising to most haven't batted a lot together in their careers but they certainly look class together as a pair and both looking ever so cute together in their new manly vests (image provided) took on the Wests bowling to get the team to 62 off just 13 overs before unfortunately Adam departed and bringing the day to and end due to bad light..All in all not a bad day for the Tahs as we look to bang home an advantage and another win for next Saturday.
Much love
Cameron Merchant
Mickey Visser in some great form with the red ball on Saturday

(Left) The Crosthwaite brothers out in the middle, probably arguing. (Right) AB celebrating yet another wicket for the season.
Jimmy Munting picking up a valuable wicket vs Western Suburbs at Manly Oval
2nd Grade – Manly 9/159 (T. Kaye 41, N. Buck 25*)
On a wet and windy day out at Western Suburbs, the Manly boys were sent in after losing the toss, with captain Rowan Hamman still unsure on how to win a coin flip. With a delayed start of 45 minutes, the opening pair of Hamman and Joey Graham waltzed out with purpose, only to be greeted by a damp green wicket. The pair dug in, digging into China, after conditions proved very very favourable for the new ball. They put on 18 before Joey nicked a wide half volley behind to the keeper( 5 off balls) after playing so sensibly, giving the Tahs a decent platform to build on given the conditions. Skipper Hamman followed next with the score still on 1/18, clipping off his legs straight to square leg (11 off 51 balls). This brought a bought about a fine partnership from Baker and Kaye, putting on 33 before the boys tucked into Subway for lunch. Rumour has it one of the boys had 18 inches of subway..but names are not to be mentioned. That's a lot of bread.
A few overs after lunch saw King of the Arms Aiden Baker miss judge a sweep and get bowled round his legs for 14, brining in wicket keeper Sam Webber. Kaye and Webber each played important roles in the partnership worth 44, before Webber tried to hit one back to the northern beaches and was caught for 24 with the score now 4/96. The Manly boys then struggled to get any more partnerships going as Kaye, after battling hard and producing a valuable innings was next to fall for 41 (119 balls) after he and Sam Gainsford did some Milo cricket running…schoolboy. Score now 5/109.
This brought in 15 year old debutant Jack Edwards, fresh from a few tantalising knocks in the third grade. Some have tipped this boy to do great things and after today's innings we know why, the ball just kept on melting into the middle of his bat with ease. Jeez this boy can play. Gainsford and Edwards looked classy at the crease, however Gainsford was out next (10 off 34) with the score on 6/115 which then saw the score propel to 9/136 after Edwards (15), Carden (3) and Grant (0) all failed to build any meaningful partnerships. However a last wicket stand of 23 between English import Buck (25*) and Marshall (3*) saw the mighty Tahs get to 9/159 before bad light stopped play.
Jack Edwards & Nathan Buck
3rd Grade – Manly 93 (A. Bariol 25, J. Daly 25) Wests 8-102 (L. Diserens 3/31, D. McKenna 2/21, J. Wigney 2/27)
Third grade had a frustrating day. Looking forward to maybe winning a toss for thre 1st time this season and bowling on a soft track we were sent in and straight away we knew it was going to be interesting with a ball popping in the first over and obviously a tough pitch with sideways movement. Darcy (5) was cleaned up and then Gummer (17) and Bariol (25) started to get on top despite the difficult circumstances. The sun was slowly drying things out so we were hopeful of a decent score but Gumms was then given out caught behind. Daly (25) and Bariol started to build a a nice partnership but a few close LBW shouts seemed to force Aiden into a uncharacteristic loose shot that saw him cleaned up. Daly had a ball nip back sharply to also bowl him out. Zac (2) poked one into the covers and at tea we were battling at 5/79. The clouds came over and freshened things up for the bowling side. The middle order and tail provided no resistance and we were all out for 93. 90 odd always sounds a little short of competitive, I reckon 120 was a decent score and 150 a winning score.Wigney (2/26) tried a bit hard early and Evans (1/8) seemed to be hitting the right length and had them in all sorts in the perfect bowling environment. A drying pitch providing heaps of seam and along with the humidity plenty of swing. All of a sudden 93 may be good enough with an early wicket. Just as we were putting heaps of pressure on with plays & misses and near dismissals the rain came along and saturated the ball and outfield and made the landing area slippery. Great. The ball suddenly straightened up with the soft seam and was difficult to grip. Dan McKenna (2/27) in his 3rd grade debut battled on and took two good wickets. Luke Diserens (3/30) bowled with incredible control given the wet ball and took wickets to keep the game interesting. They managed to pass us 7 down but we made them work for it and if we held onto a couple of opportunities towards the end it may have even been a bit more interesting. A couple of excellent catches by James Crombie deserve a mention.Anyway, certainly an interesting second day coming up, hopefully Wests declare so we can open up the game for both teams to push for points.
WE
Aiden Bariol flicking one to fine-leg at Graham's Reserve for our 3rd Grade side.

(Left) Jordan Daly in good touch on his way to 25. (Right) Jimmy Crombie fighting hard on a bowler friendly Graham's Reserve.

Poidevan Gray – Bankstown 136 (J. Carden 3/14, S. Gainsford 3/25) Manly 125 (T. Kaye 26)
Unfortunately our PG's team had a disappointing day. The boys dominated the first half of the game, taking every catch that went to hand and bowled with great discipline. Jake Carden was the pick of the bowlers with an impressive 3/15 off 8 overs. Carden was well backed up by the rest of the bowling unit with everyone contributing. Unfortunately the batting lacked the discipline our bowling and fielding produced. Every time the boys got on top, they let Bankstown back into the game, by throwing their wickets away. Contributions from Kaye, Gainsford and Boyer at the end, were not enough to get the team over the line. The boys play a strong Eastern Suburbs unit next Sunday out at Waverly and will be looking to bouncing back, which we are confident they will.