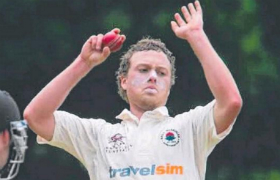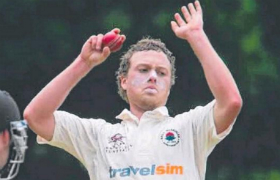 Sydney grade cricket Western Suburbs 176 Manly 2-64 LAST season he was one of the club's quiet achievers, taking wickets for fun in Manly's second XI most weeks.
So when Michael Visser was earmarked to step up to first grade by the Waratahs coaching staff, many were hoping he would make the transition comfortably.
On Saturday at Manly Oval, the quietly spoken right-arm quick let his bowling do the talking, finishing with figures of 4-42 from 17 controlled overs.
Yesterday, the membership ticketing and hospitality manager from the Sydney Sixers told the Manly Daily it was simply a matter of putting the ball in the right areas.
"I was happy with how I bowled, working in tandem with AB (Ahillen Beadle) was great fun,'' Visser said.
"He is such a quality player who keeps the batsman guessing.
"My focus was putting the ball outside the off-stump to get a nibble, or pitching on middle so it would be hard to score quick runs.
"I was stoked to finish with four wickets, but the job isn't done yet."
Beadle was also outstanding when bowling first change, snaring 3-39 from 18 overs.
James Crosthwaite (42 not out) looms as the man who will produce on day two with the willow and behind the stumps he also showcased his talent.
He managed to stump three batsmen from the Magpies and held on to a chance from Brenton Wright, who top scored for the visitors with 43.
"One of his (Crosthwaite) dismissals was amazing. He told me to bowl outside the off-stump on the second or third ball of the over,'' Visser said.
"I did what he said and sure enough, he whipped off the bails before he was back in the crease.
"James is a fantastic keeper. To think we also have Jay (Lenton) and Adam (Crosthwaite) to keep is a little scary."
{loadposition cricket}