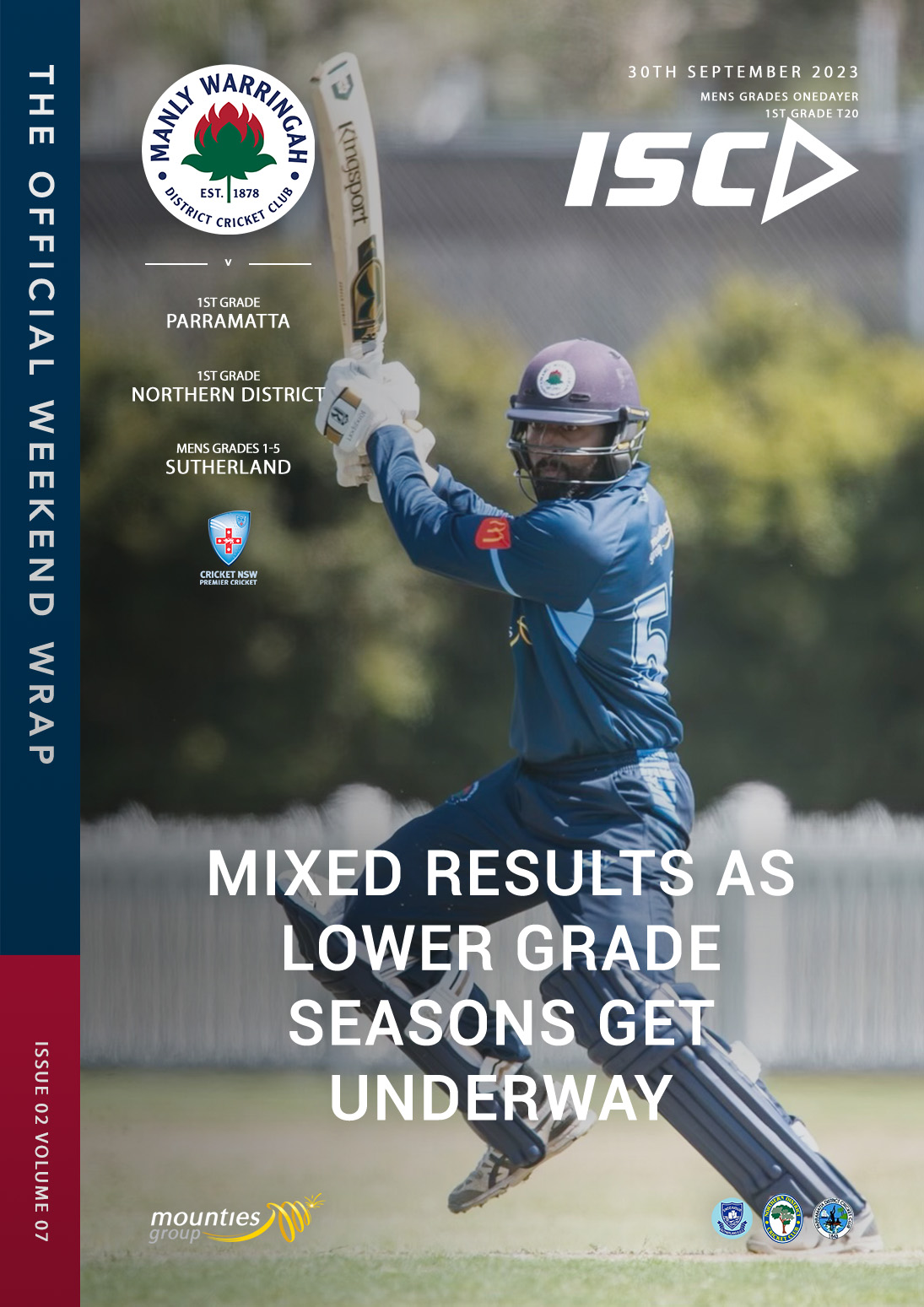 The final Saturday of September saw the Tahs' lower grades get their season underway with one-day fixtures against Sutherland, while our 1s boys continued their Kingsgrove T20 Cup campaign. A weekend of mixed results ensued, M2s, M4s and M5's recording great team victories to kick-start the season, while M1s and M3s had days to forget despite some positive individual performances.
Manly Oval was the venue for a crucial T20 double-header, as we took on Parramatta in the morning fixture. Winning the toss and batting first, a quick fire start from Brewster and Lenton was short-lived, as consistent wickets halted the Tahs' charge, before Jacob O'Sullivan (50* off 25) went berserk with incredible hitting late to give the side some hope with a total of 7/125. An early wicket to Tom Kaye was a positive start, however, the total was ultimately too slim, Parramatta victorious by 8 wickets with 4 overs to spare.
ND's were up next in the afternoon fixture, a win crucial to give us any hope of advancing to the playoff stages of the T20 competition. Batting first again, another positive start from Brewster (18) and Lenton (36) followed, before a crucial partnership between J Davies (30) and Foster (38 off 17) got us to a competitive total of 7/149. A dream opening with the ball as Kaye struck first ball, before some tight bowling left ND's with work to do in the second half of their innings. Unfortunately, an unbeaten 83* from Scott Rodgie proved the decisive factor, as ND's passed our total in the last over.
M2s made Grahams their home for the day, with Manly Oval in use for the T20 double header. Skipper Jamieson lost the toss and on a green wicket was asked to bat first, but Mendel (79) and Coyte (24)  got the Tahs off to a flying start with some fantastic ball striking. Strong contributions from Bryant (27), Beadle (42) and Daly (35*) saw the Tahs post an imposing 6/274 off 50 overs. Two early wickets to Jamo (4/30) had us on the front foot, before a steady flow of wickets to Vumbaca, Counsell, Dhillon and Noack through the middle overs kept us ahead of the game. Some sloppy errors in the field late made the scoreline closer, but ultimately a solid 32 run win to begin the season.
M3s ventured out to Sutherland Oval, under the tutelage of stand-in skipper Lachlan Charles. Fielding first, a phenomenal spell on debut from Sam Tomlinson (5/26), along with important wickets to Josh Coyte, Cumming and Lachie Trewartha, saw the Tahs restrict the home side to be all out for 160 inside 42 overs. Unfortunately, that's where the highlights ceased for the day, as the Tahs' top to middle order struggled to build any substantial partnerships, despite the best efforts of skipper Charles with 32. Bowled out for 104, a tough way to begin the season but onwards to next week.
M4s began their quest to go back-to-back-to-back on Saturday, at Mike Pawley Oval. The 'retirement' of the great Dom Wheeler lasted less than a round, as he and Jack Melchiore began the Tahs batting innings. From there, excellent batting from Wheeler (32), Kennedy (37), Donnan (41), Melville (44), Rochford (53) and a late cameo from Lawson (19*) as the Tahs posted 9/276. An early strike to Lawson with the ball had the Tahs in a good position, before Sutherland batted positively throughout their middle overs. However, regular wickets to Waddington, Lawson, Skinner and Donnan, and a particularly important spell from Mendel (2/30) saw the Tahs restrict Sutherland to 8/242 to record a strong Round 1 win.
M5's welcomed four debutants, for a first-up clash away against Sutherland. Bowling first, the home side were dominant early, reaching 100 for no loss, before consistent wickets through the middle kept the Tahs in the game, Osbourne, Brewster, Tipton, Croft and the skipper Waddington all chiming in. Our run chase started shakily with Evans dismissed early, however, an unbelievable 195* run second wicket stand between opener Luke Watts (57*) and debutant Kai Croft (120*) saw the Tahs victorious by nine wickets, both boys batting with superb composure and skill in a match-winning partnership.
Overall, a winning start to the season for the lower grades, mixed in with a few disappointing results. We now turn our attention to next week's one day fixtures against North Sydney.
Go Manly.