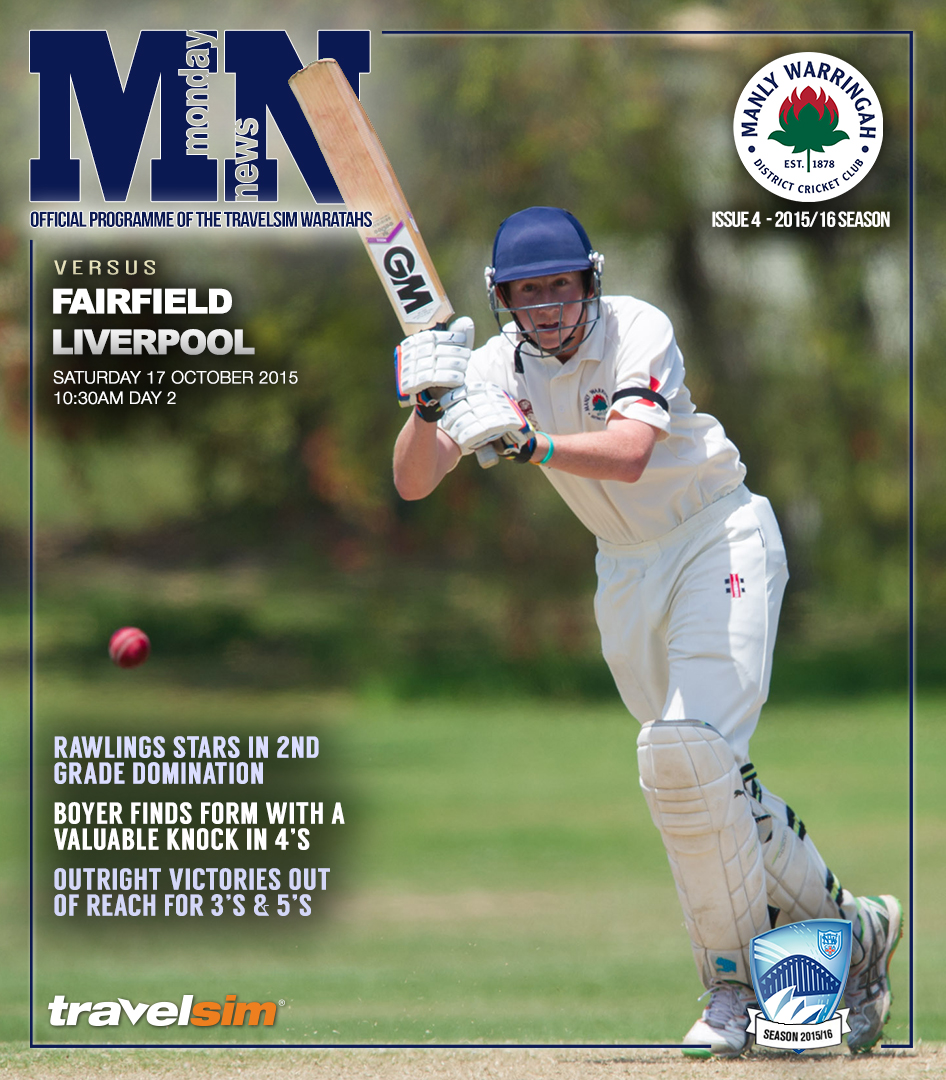 The Travelsim Waratahs bounced back brilliantly against Fairfield-Liverpool this round, taking out the 4 lower grades in emphatic style with 3s and 5s denied any sniff of an outright result by flat wickets and patient (at times, excessively patient) batting. 1st grade came incredibly close to claiming their first win of the season, toiling away all day on an unimaginably hard deck, but it wasn't to be. Despite nabbing 2 wickets with run outs and another 5 with determined bowling, Fairfield scored the winning runs in the final over of the day. 2nd grade led by an incredible century from Jarrod Rawlings (100*) had a great day out with support from Tom Kaye (53) and Sam Webber (51*). 3rd grade were never really in the race for an outright win as the combination of a flat deck, unfortunate decisions and fairly negative batting sucked any hint of life out of the game. Credit to Jake Carden (2-20[15]), Sam Alexander (3-63[20]) and especially Josh Wigney (0-25[16]) who bowled one of the best and unluckiest spells of bowling ever seen. Despite a tough period in the middle of the innings, 4th Grade chased down the target of 181 with ease led by a patient James Boyer (60*) ably assisted by Tom Sheedy (31). At 5th grade it was the Ed Hole (51) and Jack Pickering (46*) show as they chased down the 40 remaining runs for victory before having another crack at them. Despite Abijheet Virdi getting an early breakthrough, Fairfield consolidated nicely and at 3-105 the captains decided to call it.
1st Grade also had a thrilling victory in their Sunday T20 match against Gordon at Chatswood Oval. Batting first, the Tahs could only manage 9/130 off their 20 overs but the boys knew with a strong team bowling and fielding effort it could be enough to get them over the line. Some very economical bowling from Nickos (2-20) and the unstoppable Matt Alexander (1-20) set the tone for the bowlers and after a 6 from the penultimate delivery it came down to the final ball with 1 run required for a tie and 2 for the win. With tensions running high, it was Vele Dukoski who produced a great ball to take a wicket and get the Waratahs the win!!!
1st Grade after an amazing win at Chatswood oval in the Kingsgrove T20 Cup

4 Pines Player of the Week – Jarrod Rawlings
Club favourite Jarrod Rawlings wins the 4 Pines Player of the Week award for an impeccable 100* to steer 2nd grade to a truly commanding win at Manly Oval. After a long day toiling on a flat deck last week, the Manly boys did brilliantly to roll Fairfield-Liverpool for 233 before Jarrod and fellow opener Jo Graham negotiated a tricky few overs at the end of the day to finish at 0/11. The second day of play quickly became a Waratahs run-fest with Jarrod Rawlings the lynchpin of the smart, patient innings as batsmen capitalized on the great batting conditions. It was Jarrod's first ton of the season and his third 2nd grade ton in two seasons. With more innings like these it's only a matter of time before he rejoins the 1st grade outfit. Great work mate!!
1st Grade – Fairfield-Liverpool 7/288 (M. Visser 2/49 [18]) def Manly 7/285 dec (J. Lenton 101*, A. Crosthwaite 48)
The Manly 1st grade side headed out to the massive Rosedale oval having called the innings to a close overnight on 285, with the Skipper believing it was enough for the bowling attack to defend on what is universally acknowledged as the biggest ground in Sydney.
The great James Munting and Nick McLachlan opened the bowling and set a standard that the bowling crew would continue to uphold throughout the day. All the bowlers did an amazing job but the leader of the pack was Nicko who bowled nearly 25 overs, and just kept running in and delivering all day, ending with figures of 1-72 off his 24.
Through the middle overs, Ryan Farrell, Micky Visser and Ahillen Beadle did an outstanding job toiling away on a deck that was as hard and flat as the M7. To be fair, Fairfield batted well despite the best efforts of the boys who kept landing it on the spot all day, doing a great job for the Manly defence of 285.
In all it was a great effort, but to be beaten in the final over over of the day was heartbreaking but all the boys put in a great effort and showed great fight all the way to the end. This was demonstrated no clearer than by the two fantastic runouts (by Matty White and Micky Visser) at crucial points in the game. But at the end of the day the incredibly flat pitch and an excellent batting display meant that despite a determined bowling and fielding effort Fairfield took the 6 points just at the death… It's a shame to be 0 from 3 but let's learn from it, turn the tables and show them the reason why we are the greatest club! Work hard this week boys and show everyone what we are made of.
Matty White
2nd Grade – Manly 2/244 (J. Rawlings 100*, T. Kaye 53, S. Webber 51*) def Fairfield-Liverpool 233 (B. Falconer 3-55 [17.1], M. Alexander 2-34 [21])
Resuming at 0-11 overnight following a day in the field last weekend, very fine weather and a flat deck greeted the Tah's, and the promise of another excellent day of cricket. Following a solid warmup, where the top 6 cleaned up the bottom 5 for the second week running. Jarrod Rawlings and debutant Joey Graham got the boys off to a very good start, with Joey shaking off the nerves with a handful of crisply hit boundaries, peppering the gully/point region in the process. Joey unfortunately fell to the first ball of the change bowler for a well made 30, hitting a mistimed drive straight to cover. This brought Tom Kaye to the crease, where he and Jarrod set to consolidate until lunch, which we reached at 1-87, with Jarrod and Tom both in the 20s.
Following the break, Jarrod and Tom kept their heads down and ensured no loss of wicket following the break, with the toil starting to have an effect on the Fairfield bowlers, Tom in particular taking advantage of some loose bowling. The pair put on 80-odd together before Tom was dismissed LBW shortly after reaching his 50, but his big score is certainly on the way in the coming weeks. Skipper Sam C. Webber joined Jarrod, and together they took the Manly boys safely to tea at 2-170.
After a great tea by the Manly boys, Sam and Jarrod put Fairfield to the sword, with the former compiling a very classy 50*, and Jarrod flying from the 70s into the 90s, before smoking a half tracker to the midwicket boundary to complete a fantastic ton for the club, and the first win for the 2nd grade boys this year.
Great effort in the first week by the bowling group, and support by Joey, Sam and Tom, and amazing effort by Jarrod Rawlings, showing everyone his class, and how an opening batsman should play, by putting a high value on one's wicket. Great work Jarrod!
Matt Cole
Jarrod Rawlings on his way to a classy Hundred
2nd Grade debutant Joe Graham giving it a whack at Manly Oval
Tom Kaye finding the middle of the bat on multiple occasions this weekend
Fairfield-Liverpool 79[38] (W. Evans 4-34[12], J. Carden 3-5[8])
& 9/199 dec (S. Alexander 3-63[20], J. Carden 2-20[15]) def by Manly 3/155[31] (J. Edwards 62, A. Bariol 38, J. Daly 36*)
Well you can't fault 3rd grades attitude and commitment. Fairfield Oval pitch looked a belter and their batsmen had no intent all day, just play out the day. The luck was on their side and a couple of took advanatge of this and occupied the crease for a long time, the 3rd wicket partnership lasting 45 overs and yielding 95 runs. The outfield was a bit slow but our attacking fields allowed some run scoring opportunities. Probably would have been best if we just kept 3 slips in all day against the meds, as on two occasions the ball went through a spot where the fieldsmen had been on the previous ball. The first one was for Jake (2/20 from 15) who we had a 3rd slip in for the hattrick ball then moved him out to short cover only to see a regulation snick go through next ball. James Crombie (0/9 from 5) also had similar misfortune later just before tea.
Also in an excellent passage of play for us Wigney (pick of the bowlers and his figures of 0/25 from 16 are not a close reflection of how he bowled) got the snick only for the umpire to knock it back. It was obvious and had us all shaking our heads. We were stoic though and even the other umpire commented on how well we handled it.
At tea F/L were 2/93 so we did well to work our way through them after tea to have them finish at 9/199 from 85 overs. Sam Alexander worked his way nicely into a long spell and finished with 3/63 from 20 with very attacking fields employed. His flight was key to his spell as the pitch had nothing. Will Outred (1/52 from 15) could also be considered a tad unlucky to get just the one wicket. Both spinners bowled well. Edwards and Evans toiled nicely as well.
With 9 guys capable of bowling in this side a couple missed out only to be given a bowl at the death. Zac Trewartha and Sam Hole both reminded me that they are good bowlers who I should have got on earlier in the day. They both got wickets late in the day against batsmen who were not giving their wickets away.
Exemplifying our attitude was the run out executed by Jordan Daly. In the last over of the day they turned one around the corner from Sam and expected to amble through for an easy single. Stuff that thought Jordan who raced after it from 1st slip turned and threw it in one motion over the bails to Aiden who had the guy out. Great stuff.
If we can repeat this performance throughout the year we will go a long way to having a successful season.
WE
4th Grade – Manly 3/181 (J. Boyer 60*, T. Sheedy 31) def Fairfield-Liverpool 178 (M. Burgess 5-50[17], J. Wood 2-45[13])
After Max Burgess and Billy D'arcy saw out a tricky 5 overs last week, both batsmen were pretty keen to work hard again to get us off to a strong start.
Chasing 178 on a slow grahams wicket they knew it was going to be hard work in the first hour to get in and really set the platform which they did. After batting for an hour or so, unfortunately Maxi (15) got out to unlucky dismissal before Billy (25) followed straight after that.
This brought James "Rabs" Boyer and Tom Sheedy to the crease where they really steadied the ship and really knuckled town. From here the tahs didn't lose another wicket. Playing smartly and batting time was the key and they did it especially well. Tom (31) showed his experience and class through his whole innings and was unlucky to lose his wicket not far from the finish. Ash Virdi came in at No. 5 batting with Rabs and the two got us home with 8 overs to go in the day. Rabs batted with great patience and showed enormous maturity to take control of the Manly innings after losing two quick wickets, while his concentration to steer the boys home and end his innings not out was just another sign of his growing confidence as a batsman. Great to see Rabs!!!
Looks like a big season ahead for the 4th Grade side. Bring it on Campbelltown!
Billy D'Arcy certainly looking the part out in the middle of Grahams Reserve
James Boyer compiling a solid 60* to take his 4th Grade side to victory

5th Grade – Fairfield 114 (J. Anderson 2/11, A. Virdi 2/19, E. Hole 2/20) & 3/105 def by Manly Warringah 3/115 (E. Hole 51, J. Pickering 46*)
The boys arrived to the game keen to get the 40 runs needed and then try for an outright.
Jack Pickering and Ned Hole continued from where they left off last week and continued pinching singles smartly and putting away the bad balls. By the 12th over, we had chased the 40 runs with Ned getting 51 and Jack ending up with a well-deserved and chanceless innings of 46*. After Ned fell Skipper Simon "Waddo" Waddington decided to declare.
Alex Bain and Abijheet Virdi opened the bowling, both bowled remarkable lines and lengths to build up the pressure from the first ball. Abijheet (1-13) claimed the first wicket getting one of their batsmen out LBW with a hooping in-swinger. This was a well-deserved wicket for the Tahs through Abijheet attacking the stumps and Alex Bain mounting pressure with amazing first spell figures of 0-1 off 6 overs. Nick Osborne (0-11) and Lachie Kerr (1-4) followed the standard set by the openers and continued to build a hefty amount of pressure by bowling good lines. This pressure led Lachie to claim his 2nd grade wicket with the batsmen edging one down leg for Sam Kelly to take a great catch. Jonah Anderson was the pick of the bowlers, bowling 17 overs for figures 1-23. Jonah bowled great lengths and varied his pace effectively, building pressure and creating chances.
Waddo decided to call it when there was 15 overs left and they were still only 3 down. Overall it was a very convincing win for the boys and leaves us still undefeated.
Ned Hole