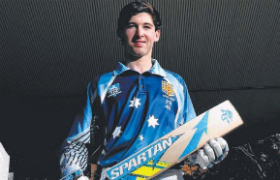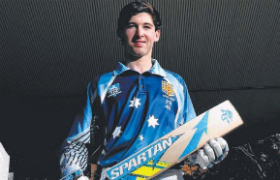 MANLY Green Shield under-16s coach David Gainsford was always confident his squad would be very hard to topple once they began gelling as a unit.
It is a junior outfit laden with talent, who are accustomed to winning after dominating Sydney wide age groups from the under-10s upwards.
An easy first up win versus Eastern Suburbs could have resulted in over confidence, but the coach has ensured the playing unit are focused collectively.
"We beat North Sydney and then were made to work very hard earlier this week against Western Suburbs,'' Gainsford said.
"The boys found themselves 3/10 early on, with our junior Australian players Jack Edwards and Aiden Bariol back in the sheds.
"It was up to the other guys to step up, which they did well."
Elegant middle-order batsman Ollie Davies has been the Waratahs most consistent player when swinging the willow, with Isaiah Vumbaca also showing composure beyond his years.
Manly's bowling has been their strength, with the likes of Hayden Brown and Gabriel Harris snaring regular wickets.
"Our fielding has also been top shelf,'' Gainsford added.
"The guys pride themselves on their athleticism, and some of the work in the outfield has been great."
From 10am today at Manly Oval, the squad will push for their fourth successive victory with the quarter-finals looming next week.
Standing in their way is Sutherland, who happen to have Austin Waugh, the son of Australian cricket legend Steve Waugh, on their teamsheet.
"Following that we have Mosman at home in a rescheduled game,'' Gainsford said.
"They are our neighbours, have a few ex players of ours and are also unbeaten.
"These guys are the future of the club, so it has been great to play a role in their development."
The 2015-16 Green Shield squad: Jack Edwards (c), Jonah Anderson, Aiden Bariol, Mathew Brewster, Hayden Brown, Ollie Davies, Jake de Angelis, Gabriel Harris, Edmund Hole, Harry Kantor-Smith, Kyle Martin, Jacob O'Sullivan, Nicholas Osborne, Isaiah Vumbaca and Ben Watts.
{loadposition cricket}