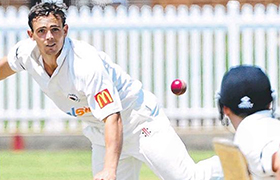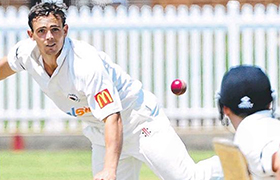 SPINNER SAYS HE NEEDED MANLY GAME TO FEEL BETTER
STEVE O'Keefe is ready to return to the NSW side at the Sydney Cricket Ground today after making a courageous comeback with his Manly mates against Western Suburbs on Saturday.
The Blues start a Sheffield Shield game against Queensland this morning, back on the ground where Phillip Hughes was struck on the head by a delivery against NSW.
O'Keefe was near Hughes when he was struck and was among those who cradled the batsman's head as he lay on the pitch.
The spinner has been named in the NSW side, and players have been given the option of withdrawing if they feel they are not ready to play.
Saturday's first-grade match at Pratten Park demonstrated the ability of sport to bring out the best in people during trying times. Western Suburbs was Hughes' Sydney club.
The players observed 63 seconds of silence before play began. During each drinks break, a tribute photo of Hughes appeared on the electronic scoreboard.
"The game was played in excellent spirit," Manly president Andrew Fraser said. "It was tough at the start for the players but as the day went on I think everyone eased their way back into it."
Fraser drove O'Keefe to the ground, offering his support before what would be a very challenging day for him especially.
"He got better as the play went on," Fraser said.
"At the end of the day, he said he needed that and said that he was ready for Tuesday after having the game with the boys.
"He said it was going to be a strange feeling walking out on to the SCG again."
O'Keefe was understandably a bit flat but bowled well and finished with two wickets as Manly dominated play. They dismissed Wests for 124 and then declared at 3-128 to claim first-innings points.
Manly will be chasing an outright win on Saturday.
To View Our Other Media Articles Click Here
{loadposition cricket}