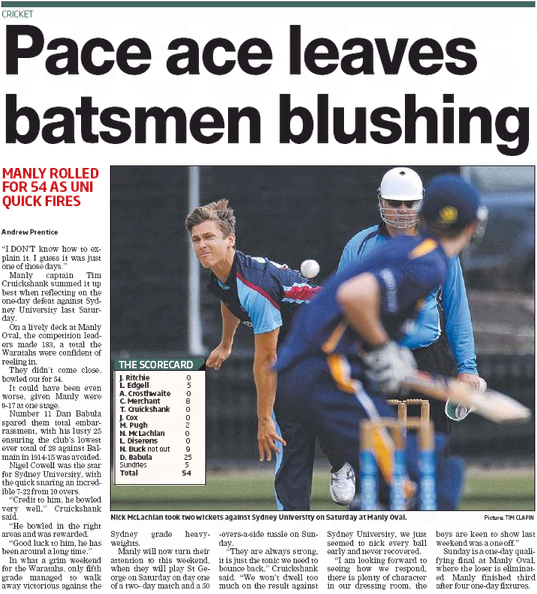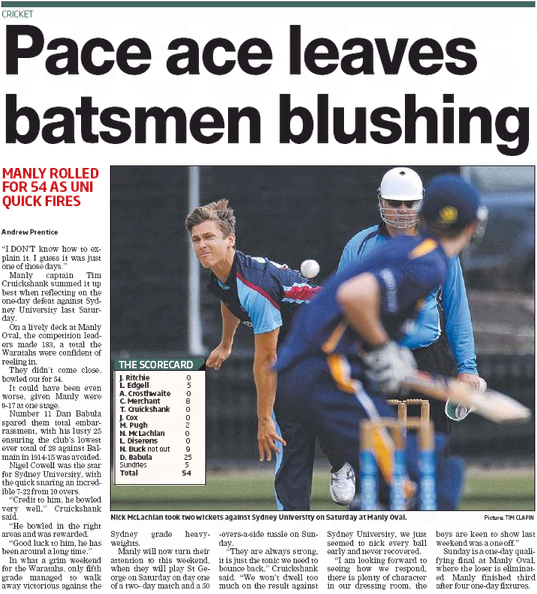 "I DON'T know how to explain it. I guess it was just one of those days."
Manly captain Tim Cruickshank summed it up best when reflecting on the one-day defeat against Sydney University last Saturday.
On a lively deck at Manly Oval, the competition leaders made 183, a total the Waratahs were confident of reeling in.
They didn't come close, bowled out for 54.
It could have been even worse, given Manly were 9-17 at one stage.
Number 11 Dan Babula spared them total embarrassment, with his lusty 25 ensuring the club's lowest ever total of 28 against Balmain in 1914-15 was avoided.
Nigel Cowell was the star for Sydney University, with the quick snaring an incredible 7-22 from 10 overs.
"Credit to him, he bowled very well,'' Cruickshank said.
"He bowled in the right areas and was rewarded.
"Good luck to him, he has been around a long time."
In what a grim weekend for the Waratahs, only fifth grade managed to walk away victorious against the Sydney grade heavyweights.
Manly will now turn their attention to this weekend, when they will play St George on Saturday on day one of a two- day match and a 50 -overs-a-side tussle on Sunday.
"They are always strong, it is just the tonic we need to bounce back,'' Cruickshank said. "We won't dwell too much on the result against Sydney University, we just seemed to nick every ball early and never recovered.
"I am looking forward to seeing how we respond, there is plenty of character in our dressing room, the boys are keen to show last weekend was a one off."
Sunday is a one-day qualifying final at Manly Oval, where the loser is eliminated. Manly finished third after four one-day fixtures.
{loadposition cricket}