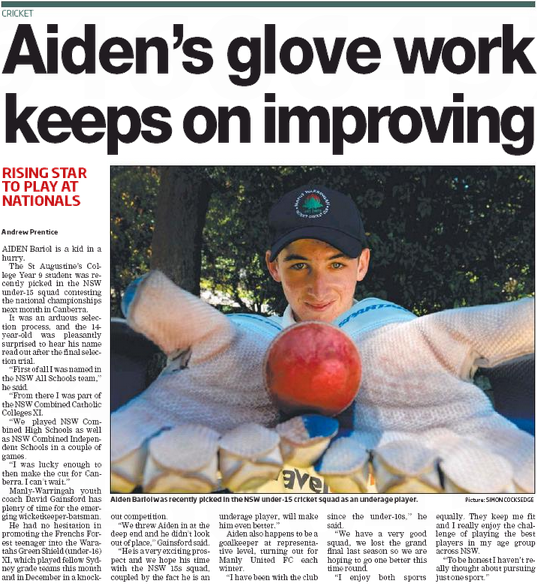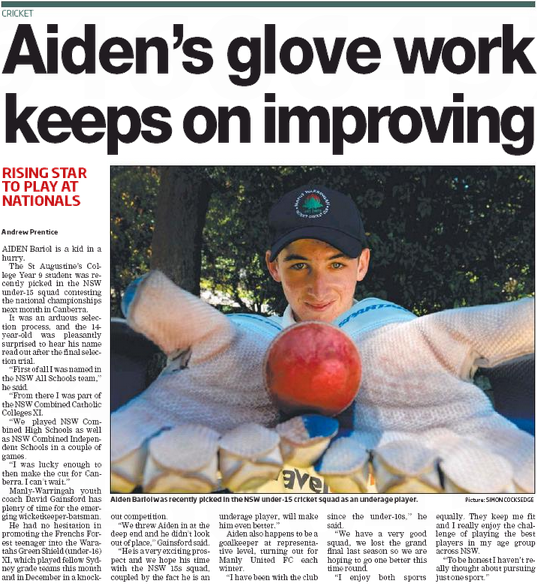 AIDEN Bariol is a kid in a hurry.
The St Augustine's College Year 9 student was recently picked in the NSW under-15 squad contesting the national championships next month in Canberra.
It was an arduous selection process, and the 14year-old was pleasantly surprised to hear his name read out after the final selection trial.
"First of all I was named in the NSW All Schools team," he said.
"From there I was part of the NSW Combined Catholic Colleges XI.
"We played NSW Combined High Schools as well as NSW Combined Independent Schools in a couple of games.
"I was lucky enough to then make the cut for Canberra. I can't wait."
Manly-Warringah youth coach David Gainsford has plenty of time for the emerging wicketkeeper-batsman.
He had no hesitation in promoting the Frenchs Forest teenager into the Waratahs Green Shield (under-16) XI, which played fellow Sydney grade teams this month and in December in a knockout competition.
"We threw Aiden in at the deep end and he didn't look out of place," Gainsford said.
"He is a very exciting prospect and we hope his time with the NSW 15s squad, coupled by the fact he is an underage player, will make him even better."
Aiden also happens to be a goalkeeper at representative level, turning out for Manly United FC each winter.
"I have been with the club since the under-10s,'' he said.
"We have a very good squad, we lost the grand final last season so we are hoping to go one better this time round.
"I enjoy both sports equally. They keep me fit and I really enjoy the challenge of playing the best players in my age group across NSW.
"To be honest I haven't really thought about pursuing just one sport."
{loadposition cricket}