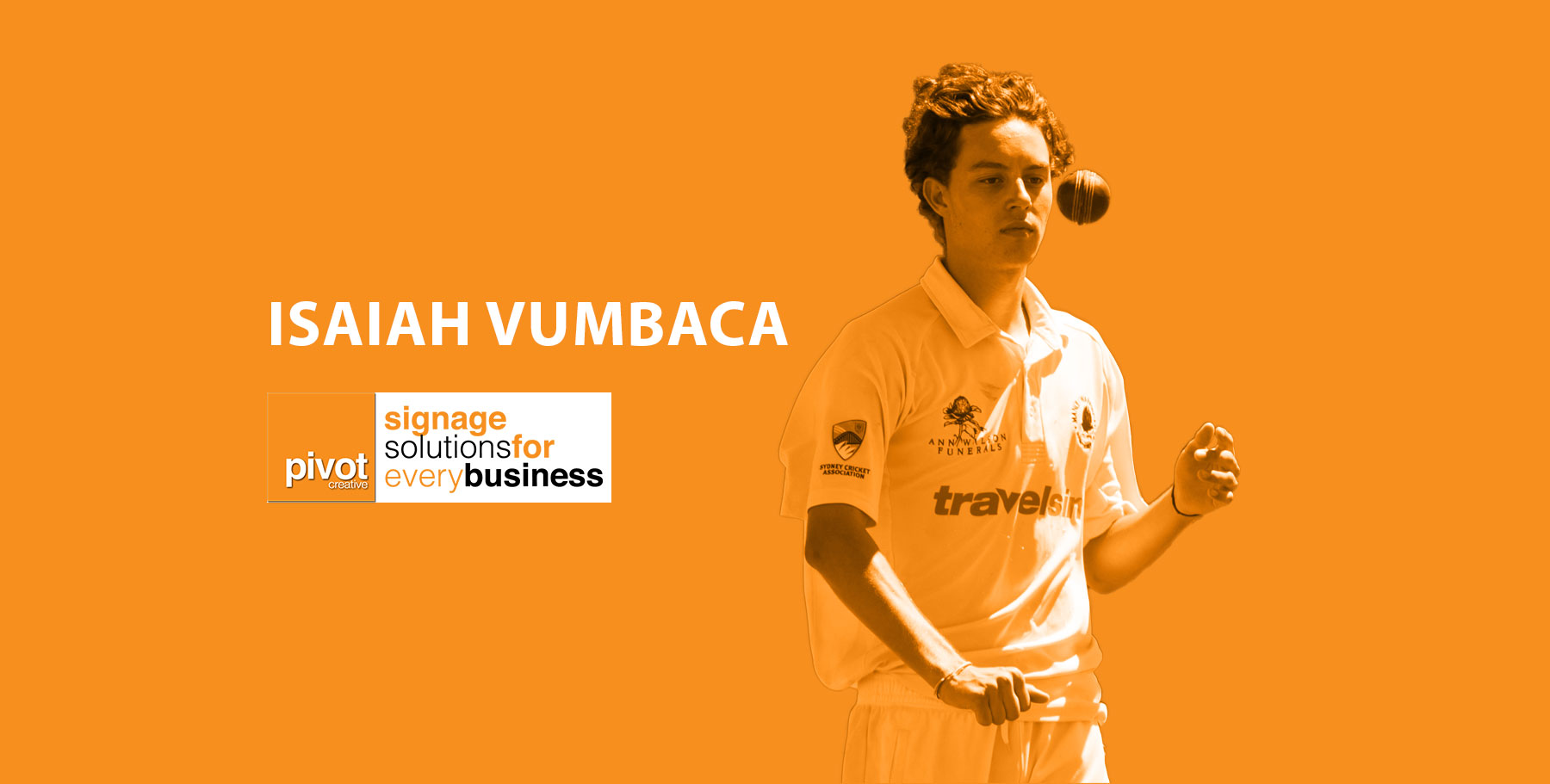 The TravelSim Waratahs are proud to have Pivot Creative sponsor young all-rounder Isaiah Vumbaca for season 2017/18.
Click Here to view Isaiah Vumbaca's player profile.
'Izzy' has become an integral part of the Waratahs over recent years thanks to his all-round ability on the field and his positive attitude off it. Blessed with phenomenal talent as a leg-spinner and clean ball-striker, Isaiah is the type of player that can turn a game in a matter of overs and has done so throughout this season, in particular scoring a pair of match-winning half-centuries for our U21's PG's side in recent weeks.
Sponsoring 'Izzy' this season is Pivot Creative, the signage solution for any of your business needs.
Pivot Creative's team of highly-skilled, experienced, signage professionals offer a full design, manufacture and installation service Australia wide. They work closely with you to bring your company vision to life via dynamic graphic solutions based on over 20 years of digital print and signage experience.
At Pivot Creative, they are proud to be different.
Because it's their difference that makes their products stand out from the rest, and their customers come back time and time again.
Pivot Creative's guarantee to you is:
1. They do what they say when they say they will do it.
2. They take the time to understand exactly what you expect to achieve from your signage, then work closely with you to design and produce the signage that best delivers the results you expect, while working within your budget.
3. They custom make all their signage to your exacting needs and offer an end-to-end comprehensive design, manufacture and installation service. Their designers have the experience to design just about anything and they are highly experienced in 3D design for vinyl wraps.
4. They have a fast 24hr Quote Turnaround — they understand the importance of responding quickly to your quote requests and are generally able to return quotes to you within 1 business day.
5. They offer an Australia Wide Service, so they can come to you, wherever you are, in every city nationwide. They maintain quality control through custom making all of our signage in our Sydney factory.
6. They look after your project files for you so you never have to worry about losing your valuable designs. And if they ever need to do more work for you, they already have the files stored, ready to go.
7. They are an award-winning, accredited team of vehicle graphics specialists. Their installation team are fully trained and industry accredited with both Avery and 3M. They are multiple award winners over many categories for their signage in both industry bodies, the ASGA (Australian Sign and Graphics Assoc.) and SGIAA (Specialty Graphic Imaging Assoc. of Australia)
8. They are a one stop shop for all your your signage needs. Their size and experience means they can help you with every aspect of your retail, vehicle, fleet and corporate digital print and signage solutions.
Pop in to Pivot Creative's office at 176 South Creek Road, Cromer to discuss any of your signage needs with there experts, or alternatively give them a call on 1300 975 285 to find out the perfect solution for you!
We are proud to have the continuing support of Pivot Creative here at the Waratahs and thank them for their support of Isaiah Vumbaca this season!