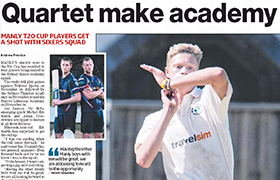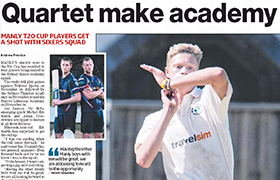 MANLY T20 CUP PLAYERS GET A SHOT WITH SIXERS SQUAD
MANLY'S electric start to the T20 Cup has resulted in four players being named in the Sydney Sixers Academy squad.
The outfit will play games against Triforce Sports on November 18, followed by the Sydney Thunder Academy on November 20 and the Darren Lehmann Academy on November 26.
Jay Lenton, Nic Bills, emerging quick Mickey Edwards and Adam Crosthwaite are tipped to feature in all three fixtures.
Nineteen-year-old Edwards was surprised to get the call up.
"I was out surfing when the call came through,'' he said yesterday. I buzzed (Sixers general manager) Dom Remond back and he let me know I was in the squad.
"To be honest, I wasn't expecting a gig, so it is exciting.
"Having the other Manly boys with me will be great, we are all looking forward to the opportunity."
Crosthwaite was in the same squad 12 months ago with Ahillen Beadle, who has since snared a full-time contract with cross-town rivals Sydney Thunder.
"It just goes to show what happens when you are in the mix,'' Manly coach Shawn Bradstreet said.
"AB (Beadle) is with the full-time squad which is a reward for his tenacity – the whole club can't wait to see how he goes in the Big Bash League.
"Who knows, if our four boys do the business with the Academy squad, they may find themselves as cover for the main (Sixers) squad with Steve O'Keefe."
Bradstreet has plenty of time for Edwards and has no doubt he will hold his own in elite company.
"Mickey has been on our books for some time, he was raw, but in the last few year or so he has come a long way,'' he said.
"His approach to training is a lot more professional, and at 19, he has plenty of time on his side.
"I am stoked to see four of our boys in the squad, it shows our good start in the T20 Cup (four pool wins) was recognised."
{loadposition cricket}