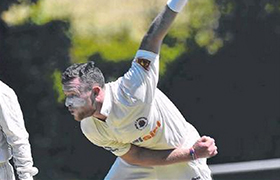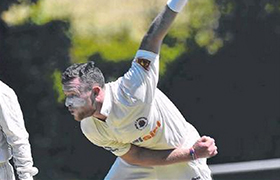 UMPIRES TURN DOWN LBW APPEAL OFF DAY'S FINAL BALL
MANLY 4-387 drew with Gordon 9-387 IN TERMS of sporting heartache, it will be hard to beat.
After a testing day in the field, Tim Cruickshank's Waratahs felt they jagged first innings points off the last ball on Saturday at Chatswood Oval.
Paceman Mickey Edwards delivered a yorker that hit Harry Evans square on the foot.
It appeared to be an obvious leg before wicket dismissal, but the umpires saw it differently.
Evans watched on with glee as the ball trickled to the boundary, knowing his team had avoided a last-gasp defeat.
Rather than stew on the poor decision, Cruickshank has already moved on.
"The pitch really was a batsmen's paradise,'' he said. "We knew what we were in for when we saw how flat the deck was before play.
"Our bowlers toiled hard. It was a battle to get wickets.
"We have to look at the positives. A few other games across Sydney also finished in draws, so to walk away with zero points was disappointing, but not seasondefining."
Evans (151 not out) and Elliot Richtor (136) almost stole the result for the hosts.
Richtor was spectacular before he was caught by Luke Diserens off the bowling of Ahillen Beadle.
He belted 14 boundaries and cleared the rope six times in a swashbuckling knock off 134 balls.
Beadle was Manly's best bowler, finishing with 3-57 from 14 overs.
The table-topping Waratahs host Eastern Suburbs in another two-day tussle starting on Saturday from 10.30am.
"It is another tough assignment,'' Cruickshank said.
"Obviously we were disappointed to come up emptyhanded last weekend.
It is another opportunity to see where we are at."
{loadposition cricket}