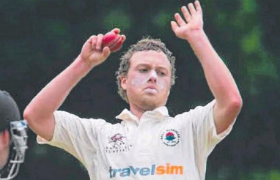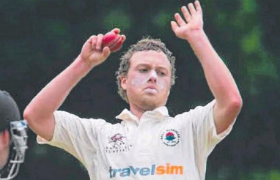 IT'S probably fair to say Matt Alexander and Michael Visser were not front and centre of my plans when I looked at our first XI at the start of the year.
"Viss" and "Mattoes" have been getting the job done in our lower grades for a couple of seasons but they had a bit of a queue in front of them as far as first team positions were concerned.
But it's amazing what can happen when you give a kid an opportunity.
With slots opening up in our top grade side due to injury and unavailability in our fast bowling ranks, the pair have really stepped up for us.
Alexander is the secondhighest wicket-taker at the club, with 33 victims at a very healthy average of 14.39.
Visser is not far behind, claiming 25 wickets at 23.92.
Mattoes took the prized scalp of Sydney's best batsmen last weekend, former NSW player Dan Smith, to help us to a vital win.
And Viss snared the first two wickets, as he has done on many occasions this year.
Visser has really led the first grade attack all year and Alexander is proving a more than capable ally.
The fact they are both local juniors makes their success that little sweeter.
GRIT RESCUES INNINGS
WE ENCOURAGE win-atall-costs cricket at Manly but sometimes a backs-tothe-wall effort is needed just to avoid defeat.
Such was the case in our fourth grade game last weekend.
We were down and almost out at 6-80 chasing Sydney's 252 when the order went out to drop anchor and shut up shop for the day.
By avoiding defeat, we could at least deny Sydney first innings points and stop them inching closer to us on the competition table.
Jacob Graham proved the man for the mission.
He batted for almost three hours, facing 139 balls for just 12 runs and seeing off the last 16 overs.
With great support from No.11 Matt Morris, we held out for a draw in a result that may have a major bearing on our top two aspirations.
PLAY-OFFS APPROACH
IT'S hard to believe we are fast approaching the end of the season but, here we are, just a few weeks away from the play-offs.
Our first, third, fourth and fifth grade sides are all inside the top six but none are guaranteed a finals berth.
All good clubs look to start building momentum leading into the finals, around now.
We as a club are looking forward to the challenge of stepping up as the current club champions and giving the competition a massive shake.
GRITTY opening batsman Jack Ritchie says playing at Graham Reserve in Balgowlah this weekend will be a significant advantage for Manly ahead of their vital round 13 tussle with Parramatta.
The ongoing construction work at Manly Oval has forced the Waratahs to host their western Sydney opposition at a facility their players are not likely to be familiar with.
"It is a throwback to my junior days when I was playing in the lower grades,'' Ritchie said.
BALGOWLAH VENUE ADDS ADVANTAGE
"The outfield looks amazing and, given we train there, it isn't foreign for us.
"The Parramatta boys probably would have enjoyed playing at Manly Oval, so we need to make the most of the situation.
"With the competition being so congested this season, we need to win every game possible to ensure we stay in the top six – after that anything is possible."
Play today and tomorrow begins at 10.30am.
{loadposition cricket}