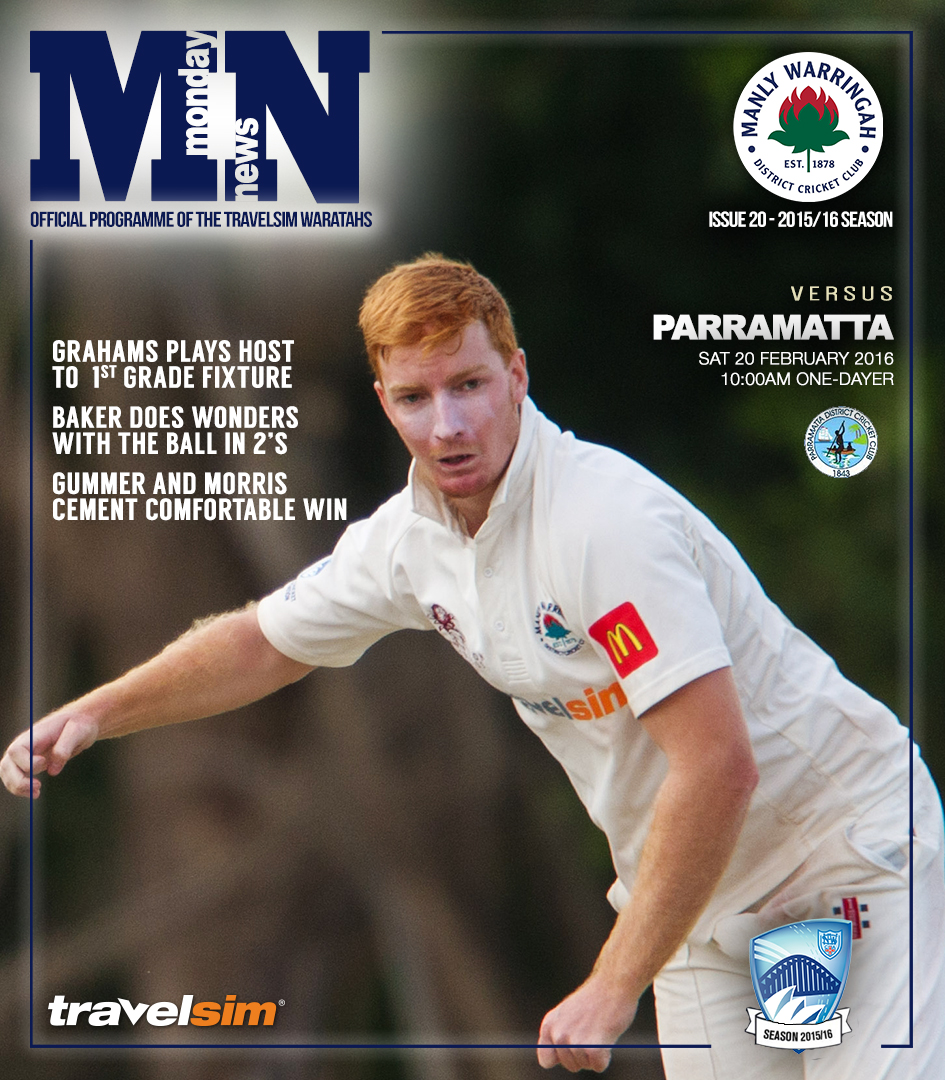 The TravelSim Waratahs had a mixed weekend with a fantastic string of results on Saturday being followed up by a few losses on Sunday. 1st grade compiled a strong 4/330 on Saturday, led by an inspired maiden ton in the top grade by Jarrod Rawlings (120) and another big score to James Crosthwaite (111). However, Sunday turned out to be a very tough day for the Waratahs at there new home of Graham's Reserve, with Parramatta smashing the ball to all parts to chase down the total with the loss of just 4 wickets. The result leaves the side just outside the top 6, however a pair of wins to finish the season will ensure a place in this seasons finals.
2nd grade had an outstanding bonus-point victory at Old Kings thanks to 5 wickets to Aidan Baker. Contributions throughout got Rowan Hamman's side to a competitive 9/187, before 'Flat' ran through the Parramatta line-up for what was this sides most comprehensive win of the season. Jack Edwards led 3's to a 17 run win at Mike Pawley Oval, scoring 71 and taking 2 crucial wickets. Scoring 182 batting first, Parramatta eventually fell for 165 with a few overs left in the innnings.
4th grade had a bonus-point as well thanks to outstanding individual performances to Adam Gummer (101) and Matt Morris (5/34). The result leaves Max Burgess's side well inside the top 6 with the possibility of a home quarter-final if they can maintain the rage! Finally, 5's had a disappointing loss on Sunday having there competitive total of 128 chased down with 4 wickets in hand in a rain affected match.
With 2 rounds to play, and 4 of the 5 grades in finals contention, it's more important than ever for the Waratahs to keep training hard and turn up ready to take on local rivals Mosman next week.
Until then, Go Manly!
4 Pines Player of the Week – Aidan Baker

After a Saturday which saw an astounding three centuries and two 5 wicket-hauls, we've decided that this week's 4 Pines Player of the Week goes to Aidan 'The Flat' Baker for his 5/17 in leading 2nd grade to a bonus-point victory. Special mention must also go to Jarrod Rawlings in hitting in his first ton in the top grade, however we felt that Flat's spell was simply to good to refuse.

Better known for his ability with the willow, with which he is approaching the magical 5000 runs for the Waratahs, Flat showed how he is just as valuable with the ball in hand. Bowling his genuine medium-pace, Aidan nibbled the ball both ways causing havoc in the Parramatta middle and lower order. It's great to see the veteran back amongst the wickets and once again making headlines for the Tahs, because lets face it, we all love The Flat!

Well done Aidan and look forward to a strong finish to the season from you!



1st Grade: Manly 4/330 (J. Rawlings 120, J. Crosthwaite 111, A. Beadle 65) def. by Parramatta 4/331 (N. McLachlan 2/68)
With Manly Oval out of action for the rest of the year, Atmosphere Park was our new home ground with a couple of our players not yet having the privilege to play here. We lost the toss and were sent in. Ritchie and Rawlings opened up with Ritchie falling for 0 snicking off to Parramatta's lanky opening bowler. James Crosthwaite in his new role at number 3 showed more patience than previously seen. At lunch the tahs were 1-58 with the key being only losing the one wicket. After some time with Rawlings being unable to score, Manly started to swing momentum back into their favour with the score being 1-166 at tea. Shortly after bringing up his century J Cross was dismissed top edging a ball that went underground which left the score 2-184. Rawlings was accompanied by Beadle who from the get go was hitting his powerful cover drives. After a slow patient innings Rawlings finally got his maiden first grade century and was shortly out caught down the leg side for 120, leaving the score 3-294. The new skipper Lenton joined Beadle and was looking to score quick runs. Beadle was dismissed with a few overs left trying to pick up the run rate, finding the man on the boundary for a well made 65. Lenton and Merchant finished the day off for us getting us to a great total of 4-330.
Due to overnight rain we lost 21 overs. We didn't get off to the best start with the Manly boys bowling a bit inconsistent and 2 sides of the wicket which is rare for our opening bowlers. Parramatta's opening sticks played some great aggressive cricket and rode their luck at times which they had to do with their season on the line. Things didn't go our way with some sharp catches being put down. Our first wicket didn't come till the score was on 218 where Big Money Visser took a nice catch on the boundary off the bowling of Farrell. Our second wicket came when Visser bowled their century maker Cherry for 132 with the win now out of our hands. Nickos got 2 late wickets and they passed our total with 6 wickets in the sheds.
A disappointing loss but we will be back better next week.
Ralphy
2nd Grade: Parramatta 84 (A. Baker 5/17, L. Diserens 2/25) def. by Manly 9/187 (S. Webber 36, J. Carden 35, N. Hill 31)
There was a great vibe amongst the 2nd grade squadron that followed from a cheery and electric warm up. With Bat in hand, our openers Tom "Hommus" Kaye and Rowan "row-your-boat" Hammond withstood a threatening opening spell by the parramatian seamers, before being dismissed. In came in the classy Aiden "Flatypus" Baker who knocked them around beautifully before departing with 30-odd in the bag. Sammy "midnight WEBcam" Webber hit every single ball out of the middle of the bat, and with some glorious strokeplay, accumulated a well made 40-odd. This was backed by the fluid innings of Nat "God" Hill who made a seamless 40-odd look easy on what was a tricky deck to get in on. Finally, a late cameo from young gun Jakey "Pingas" Carden saw us amass a defendable 180 at stumps. Shot of the day went to Luke "Dizzy" Disserens who bombed his second ever six on the last ball of the innings! An unexpected send-off saw the Manly boys roweled up for a big win!
In the field, we were off to a delightful start with early wickets from both Tay "Booker T" Beatty and Matty "Black" White., who gave us a strong platform to continue the attack. The pick of the bowlers were Lukey Dizzo (2-10) and Flat (5-17) who bowled superbly together and ultimately got us over the line with a bonus point! Congratulations boys! Also a huge shout out to our agile & athletic Sammy Webber who took 5 beautiful catches behind the stumps! The success we achieved today however did not come without resistance. At various points, there was more banter being thrown around than the ball itself from both sides! But it was very uplifting and humbling to join our opponents for a beer in the sheds after the game, as should always happen.
Go Manly!
Javed
3rd Grade: Manly 182 (J. Edwards 71) def. Parramatta 165 (B. Falconer 3/54, J. Edwards 2/14, J. Graham 2/37)
Mike Pawley Oval had a good coverage of grass and the overscast conditions suggested having an early bowl could be favourable which is what Parra did when they, as expected, won the toss. Bariol (0) was run out in the 1st over bringing Sam Hole (17) in early to consolidate with Jack Edwards (71 from 112). These guys did a good job in the tough conditions, a bit streaky at times but an important partnership taking us to 2/51 before Sam was trapped in front to the finger spinner.
Their 3 spinners took all the wickets to fall, a number of them quicker balls trapping us in front playing across the line.
Daly (8) looked in good touch when he did a powerful on drive for 6 but was LBW a few balls later to make it 3/71 from 28. Zac (1) played a shot he is hopefully annoyed with to make it 4/76. Joe Graham (9) was cleaned up by the spinner to make it 5/107. Jack and Ash (16) rebuilt, Ash keen to get down the wicket to the spinners, hitting hard through the off side. Jack was clinical in everything he did. He looked very solid and I thought a breakthrough 100 beckoned before he chipped back a slow full toss. He was getting into his stride and showed great power and timing, especially off his hip and square cutting. He continues to impress at this level.
Upon his dismissal making it 6/153 Ash then played an optimistic lofted cover drive only to find the fieldsman to depart with 6 overs left. The last 6 overs is when Ash can make a significant mark on the game and he no doubt regretted his shot. Evans (8) and Marshall (14) made it their aim to get through the 50 overs but Evans upon being bogged down to the spinners played an agricultural sweep and was plumb. Falcs (1) came and went and with 4 overs to go 167 was not quite enough. Wiggers (5no from 15) played a great hand and he and Dylan put on 15 runs to take us to a par score of 182. Dylan looked comfortable for his 14 before mistiming into the deep in the last over. We will need to bowl well to defend it.
Parra came out flailing away and Falcs (3/53) uprooted off stump. Wiggers (1/24) then had the other opener caught at mid off and Falcs finished off his 1st spell with another bowled. Evans (1/14) got one via a good catch at 1st slip by Ash. Dylan (0/19 from 9) had them in knots. He and Joe (2/37) wiled away and built the pressure. Joe was a bit expensive in his opening overs but a couple of wickets settled him and he bowled well for the rest of his spell.
Jack (2/14) also bowled a very good spell. His hard work in the nets is starting to pay dividends. He has put on a yard of pace since Xmas and is getting some nasty bounce. Soon enough Parra were 8/100. With the bonus point set at 108 we had a sniff but a tough C&B was put down. Some of the discipline then also went missing and no balls and wides became common place. Our fielding became a bit ragged and suddenly with 36 from 4 overs Parra had a chance with two guys going well. Falcs lost his length and patience and went for 18 in the 47th over leaving Parra with 18 from 18 balls to win, one wicket in hand. Jack though hit the nagging line and length he is starting to own and clean bowled the half century maker to give us a win, not the most impressive of wins but 6 points when things are this tight goes a long way. This bumped us to 5th place, anybody's guess where we will finish.
WE
4th Grade: Parramatta 160 (M. Morris 5/34, L. Edgell 2/21, J. Crombie 2/23) def. by Manly 8/246 (A. Gummer 101, J. Crombie 53, L. Edgell 42)
4s rocked up to Merrylands oval to be greeted by an overcast day, a lush outfield and a surprisingly grassy deck. The Manly brains-trust weren't fooled by the extra grass, as Maxy won the toss and chose to bat. Luke Edgell (Bomber) and Gummer opened up, and got the boys off to a nice start, ticking along at 6 and over for the first 15 or so. After calling for a grip/bat tape/water/general advice, Bomber chopped-on the next ball. Jimmy Boyer came and left quickly thanks to an absolute jaffer, and Toby Poole followed soon after, running past a leggy that turned and bounced.
Jimmy Crombie came in and helped to steady the ship, and while the run rate had slowed following Bomber's departure, Gummer and Crombie continued to rotate the strike and to put the bad ball away. Going into the last 15 overs, the two began to up the ante and play some more expansive shots, and the run rate began to climb again. Following a few crisp boundaries, Gummer brought up his first tonne of the season. However, he was run out shortly after as Jimmy smashed one back at the bowler which clipped the bowler's hand and rocketed into the stumps.
The last 10 overs saw a lot of batsmen come and go unselfishly, and Crombie continued to up the ante and find the boundary, bringing up his half century. He departed near the end of the innings, and after a Jacob Graham bomb in the last over, we finished at an above-par 246 off the 50 overs.
Our goals with the ball and in the field were to simply build pressure and ensure we took our chances. The first 15 overs didn't go exactly to plan, with the two opening bats going at 5 an over. But Jimmy Crombie got a crucial breakthrough, and wickets fell pretty consistently following that, yet the runs continued to flow freely. Enter Matt "slippery" Morris. "Millhouse" proceeded to land his leggies on a 20c piece, and the turn and bounce had the batsmen in all sorts. The Garden Gnome picked up wicket after wicket, putting the Tahs right in the driver's seat, and eventually picking up 5-34 off his 8 overs. Parramatta were all bowled out for 160 inside their 40 overs, securing a bonus point victory for the good guys. The win leaves the mighty 4th Grade at 5th position, with a tough game against 8th placed Mosman at home next week.
Gummer
5th Grade: Manly 128 (E. Hole 27) def. by Parramatta 6/132 (I. Vumbaca 3/23)
After a three hour rain delay the 5th grade match Vs Parramatta was reduced to a 37/37. Waddo lost the toss and we were sent in on a seaming Mike Pawley Pitch. We struggled early losing wickets in continual concession. A few of the top order boys fought hard, however were unable to cash in a make a big score after doing the hard work early on. Credit to Ned Hole who batted deep into the innings scoring effortlessly around the ground before meeting the end to a freakish dismissal via a quality straight drive from Sammy A. Manly made their way to 128 before being bowled out with two over to go.
After a great opening spell from Bain and Kittley that went without reward Waddo decided we needed some left arm rapids. He brought himself on and snared a wicket straight away. The much needed wicket had the opposition one down for just under fifty. Wickets were hard to come by during the middle overs but due to a tight bowling partnership between Isaiah and Sam A we snared 2 late ones. This brought about a few more quick ones, however it was a case of too little too late as Parramatta cruised to a victory with 3 overs to go. We let ourselves down with wides, conceding over 25. This is unacceptable when defending a total under 150. Hopefully we can bounce back in the last few rounds and show everyone what this side can really do!
Jonah Anderson
Hardboard Diggers Team of the Round
Our Harbord Diggers Team of the Round see's a team full of players who stepped up when it counted on the weekend, producing some amazing displays. The 2 openers pick themselves with great centuries from Rawlings and Gummer getting us off to a good start. James Crosthwaite's ton see's him at no.3, while Jack Edwards continues to impress in 3rd grade and comes in at no. 4 as well as impressing with the ball. Ahillen Beadle showed some late power hitting in 1s, while Jimmie Crombie makes the team for the first time after some great batting helped 4th grade to a competitive total. Sam Webber was consistent as always behind the stumps and scored some valuable runs. The bowlers also pick themselves with a spin heavy attack complemented by a few allrounders. Morris and Vumbaca both impressed with their leg goes, with Aidan Baker and Ben Falconer providing the swing bowling options after some great contributions with the ball #bleedblue