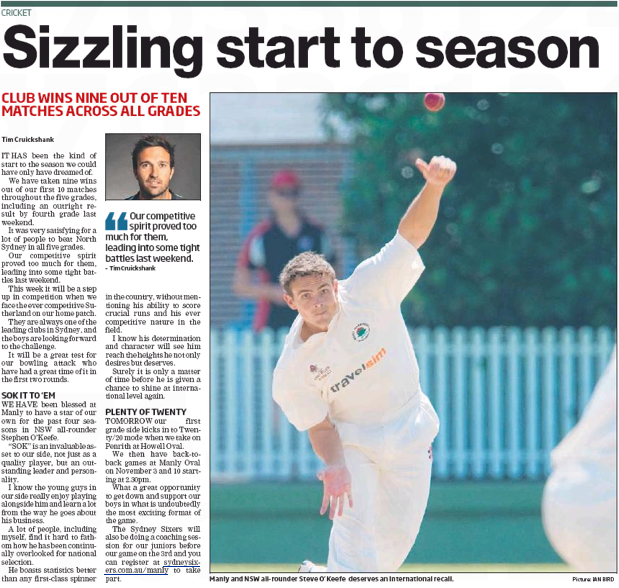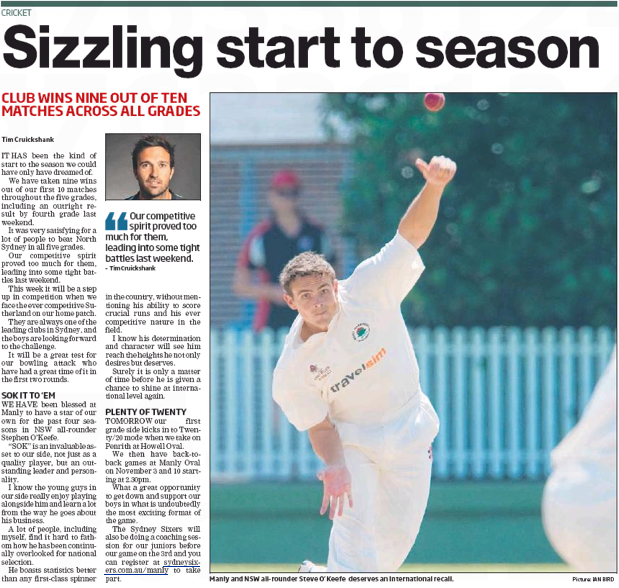 IT HAS been the kind of start to the season we could have only have dreamed of.
We have taken nine wins out of our first 10 matches throughout the five grades, including an outright result by fourth grade last weekend.
It was very satisfying for a lot of people to beat North Sydney in all five grades.
Our competitive spirit proved too much for them, leading into some tight battles last weekend.
This week it will be a step up in competition when we face the ever competitive Sutherland on our home patch.
They are always one of the leading clubs in Sydney, and the boys are looking forward to the challenge.
It will be a great test for our bowling attack who have had a great time of it in the first two rounds.
SOK IT TO 'EM
WE HAVE been blessed at Manly to have a star of our own for the past four seasons in NSW all-rounder Stephen O'Keefe.
"SOK" is an invaluable asset to our side, not just as a quality player, but an outstanding leader and personality.
I know the young guys in our side really enjoy playing alongside him and learn a lot from the way he goes about his business.
A lot of people, including myself, find it hard to fathom how he has been continually overlooked for national selection.
He boasts statistics better than any first-class spinner in the country, without mentioning his ability to score crucial runs and his ever competitive nature in the field.
I know his determination and character will see him reach the height she not only desires but deserves.
Surely it is only a matter of time before he is given a chance to shine at international level again.
PLENTY OF TWENTY
TOMORROW our first grade side kicks in to Twenty/20 mode when we take on Penrith at Howell Oval.
We then have back-toback games at Manly Oval on November 3 and 10 starting at 2.30pm.
What a great opportunity to get down and support our boys in what is undoubtedly the most exciting format of the game.
The Sydney Sixers will also be doing a coaching session for our juniors before our game on the 3rd and you can register at sydneysixers.com.au/manly to take part.
{loadposition cricket}