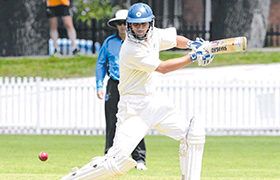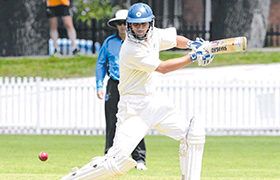 RAMPANT CRUICKSHANK BELTS BRILLIANT 74 FOR WARATAHS
Sydney Grade Cricket Manly 5-261 defeated Eastern Suburbs 258 AFTER four rounds of the Belvidere Cup, the Waratahs are outright competition leaders with 22 points following a workmanlike victory at Manly Oval on Saturday.
Chasing 259 for first innings points on a flat deck, they were made to work hard for their victory.
Openers Aidan Baker (7) and Nic Bills (14) departed early but, as has so often been the case this season, Manly's classy batsmen steadied the ship.
Adam Crosthwaite (65), Ahillen Beadle (43) and Jay Lenton (49) all made good starts, before skipper Tim Cruickshank came in at six and finished the job with an unbeaten 74.
His innings was beyond entertaining, with the club great finding the rope on 14 occasions from 83 balls.
Yesterday he told the Manly Daily he was simply happy to contribute. "I was due for some runs, and was confident I would get a few after how I batted in the nets last week at training,'' Cruickshank said.
"My first scoring shot was a boundary and after that I was seeing the ball well.
"Eastern Suburbs toiled all day in the field and I knew they were never going to hand the game to us.
"We aren't getting carried away, things are going well, but we just have to maintain the rage."
Cruickshank did feel for Lenton, who was run out just one run shy of a halfcentury.
"He deserved a 50 and to be there at the end,'' he said.
"Unfortunately he called a run which wasn't on and I had to send him back.
"Regardless, he batted well and has slotted into our team brilliantly."
In better news for Lenton, he was picked for NSW's Futures League XI ahead of a four-day clash against Tasmania in Hobart which began yesterday.
{loadposition cricket}