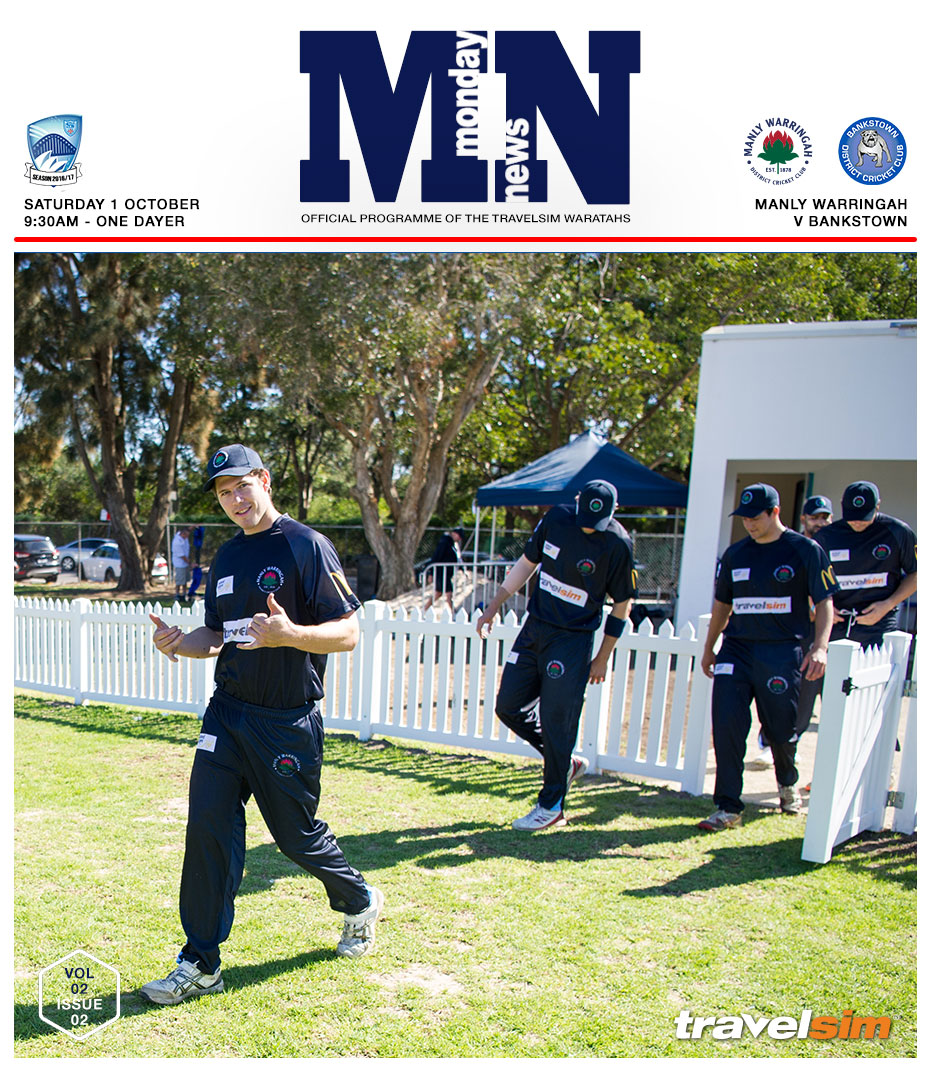 This weekend against Bankstown produced mixed results for the TravelSim Waratahs with the top two grades going down, while the bottom 3 grades produced strong wins. Despite a 5fa and 39 from Ahillen Beadle and a defiant half-century to Jay Lenton, 1st grade fell well short of Bankstown's 246 at Graham's Reserve. 2nd grade set the game up with a great team performance in the field but were unable to complete the job with the bat, while half-centuries to Aidan Baker and Billy D'arcy set up 3rd Grades convincing win.
An excellent 3fa and 53 from Jimmy Crombie combined with Will Wolter's 79 to get 4th Grade over the line in a tight contest, while 5th grade produced what may remain one of the most clinical performances of the season – demolishing Bankstown by 9 wickets thanks mainly to an unplayable spell of bowling from Michael Counsell. Overall, a good weekend of cricket with some excellent bowling highlights especially. Despite this, some improvements with the bat are definitely in order, especially heading into the next few rounds of 2-day cricket.
Up the Tahs
4 Pines Player of the Week – Michael Counsell
This week's 4 Pines Player of the Week is one of this year's new recruits, Michael Counsell, who was the chief destroyer in 5th grade's 2nd bonus point victory in as many games this weekend. The tall quick devastated Bankstown's batting order, taking figures of 5-15 from 10 overs as the visitors were rolled for a measly 67 runs… All the more impressive when considering the 17 extras in the innings as well!

Originally a Cromer junior, Michael has had a couple of injuries which have prevented him having a full season since deciding to move on from the competitive Manly-Warringah park scene to Grade Cricket. He's fitted into Manly like a glove and it's fantastic to see him take such impressive figures in only his second game with the mighty Tahs.

Well done mate, keep it up!!
1st Grade – Manly 146 (J. Lenton 52, A. Beadle 39) def by Bankstwon 246 (A. Beadle 5-60[10], M. Edwards 2-33[6.2])
It was a great day for cricket on Saturday as the Waratahs arrived at the ground to face their old foe Bankstown. Some of the players had not faced them since the grand final two seasons ago. Manly tossed and unfortunately lost to be sent into field first. Bankstown struck the ball well early and got off to a good start but were pulled back by the bowling of Ahillen Beadle who ended up with five wickets.
The middle overs of the Bankstown wicket showed that although thepitch was playing low, it was still possible score runs straight. Another highlight of the game was Mickey Edwards return to the bowling crease. His opening spell was not all that he wished for but he came back late in the innings with two wickets, one of which was a stumping. All the bowlers made valuable contributions.
The waratahs were set an imposing 248 on a pitch which played up the previous week. An early wicket of James Crosthwaite trapped LBW to a ball that stayed low brought concern into the camp. Another wicket fell as Adam was caught at mid on. Jay Lenton and Ahillen Beadle then steadied the ship and constructed a partnership in which Jay took 18 off one ball, christening the new swim centre while doing so. However, in an effort to get the innings moving, AB and Jay went in short succession. The rest of the batting line up did not offer a lot and Bankstown cruised home to a comfortable victory.

Click on the images below for a larger view
"Skipper Adam Crosthwaite tweaking the field in 1st Grade"
"The boys finishing a tough day in the field"
| | |
| --- | --- |
| | |
| "Ahillen Beadle on fire with the ball as he finds the Bankstown edge" | "It was great to see Mickey Edwards back in the 1st Grade outfit" |
2nd Grade – Bankstown 9/160 (J. Carden 2-26 [10], T. Kaye 2-18 [7], M. White 2-45 [9]) def Manly 147 (L. Weston 48, J. Rawlings 47*, J. Daly 22)
2nd grade turned up to Jenson Park pumped for the 2nd round of the 2016/17 season against Bankstown.
Skipper Ritchie lost the toss and they elected to bat. Andrew Jamieson and Matty White got off to a great start despite Bankstown's aggressive batting, getting a few early wickets. Jake Carden and Tom Kaye continued to bowl very tightly with Tom getting a wicket from his first rock. Joe Graham and Jack Ritchie bowled well at the death and it was only due to Bankstown's wagging tail that they got to 160. Overall our fielding and overall application throughout the innings was great, especially given the lightning quick outfield.
We began our chase losing Kaye for 0 and Jack for 1. Logan Weston and Jarrod Rawlings built a good partnership getting us to 76 before Logan fell hitting into the gale-force wind for a dominant 48. Sammy Webber fell 2nd ball for another 0, bringing Jordan Daly to the crease. He started to get on top of the bowling but was caught behind off their spinner with the score at 106. Sam Gainsford fell quickly along with Jake and Jamo, leaving us 8-115. Joe Graham and Jarrod looked like they were going to get it done but then Joe was dismissed LBW.
Matty White unfortunately fell short as he was bowled with 13 runs to get in the 47th over – all out for 147. Overall we were the much better fielding team, however when a scorecard contains seven scores of 0 or 1, it's always going to hamstring any run chase. Rawlings was left not out on 47, giving a lesson on how to put a price on one's wicket throughout the entirety of the innings. Tough loss but some very promising signs especially with the ball and a great opportunity to bounce back and become better.
3rd Grade – Manly 7/273 (A. Baker 87, B. D'arcy 63, R. Trewartha 35, A. Virdi 33) def Bankstown 162 (W. Evans 4-12[10], Z. Trewartha 3-33 [10])
MPO was another belter and after winning the toss we had a bat. Welcoming back Luke Edgell, 3rds had a strong top order (and lower order) with Luke (8) and Bill (63) making things look easy before Luke chopped on. Aiden Baker (87) played a beautiful on drive first ball for four and looked solid the whole way through his dig. Darcy started cautiously picking up singles before finding the boundary with ease before being run out with plenty of overs left. Zac (4) was elevated to #4 but hitting against the wind the ball ballooned up allowing mid on to take a spectacular diving catch. Ross (35 from 21) played a great cameo, his square driving very strong. He hit a beautiful, hard, however uppish on drive to be caught by mid on. Baker was cleaned up by a good ball and we had a little bit of work to do to get 250. Baker looked set for a 130no and hopefully there are more runs to go for this bloke this year.
Verdi (33no from 22) and Evans (19 from 12) ensured we got to 250 and beyond with some lusty blows to and over the ropes before Evans was run out. 273 was the final score and a good one at that.
Bankstown got a flier. Their openers enjoyed the ball coming on and Wigney (0/32 from 5) and Bishop Perret (0/20 from 4) both copped a bit of treatment however hardly bowled a bad ball. In fact our discipline was outstanding with just one wide all innings. At 0/60 from 10 Bankstown were tracking nicely before Baker (2/32 from 7) showed what can be done by slowing down the pace a bit – both openers hitting the ball down Luke Edgell's mouth at long off within 3 balls. I couldn't understand that. Luke took two excellent catches in the swirling conditions.
Evans (4/12 from 10) bowled full and straight and the Townies found it tough to hit him off the square. Breaking through with a bowled and an LBW to get rid of the promising looking # 3 and 4 Evans then really applied to 'squeeze' to the middle order. Things got out of control for the Dogs and when Zac (3/33 from 9.5) came on and bowled full & straight as well we really made things difficult for them. It came down to whether we can get a bonus point. With them right on the target we needed to take 2/0 and step up Zac, with two LBWS to get us home with 7pts.
A great win across all aspects of the game, our fielding was heaps better than last week and our bowlers seemed a bit more aware of what needed to be done.
WE
4th Grade – Manly 8/214 (W. Wolter 79, J. Crombie 53, A. Gummer 23) def Bankstown 8/194 (J. Crombie 3-20[8], J. Graham 2-36[10], S. Alexander 2-50[10])
After a disappointing loss the week before, 4s rocked up to Grahame Thomas looking to turn things around against a strong Bankstown outfit. We had a good game of touch, followed by a couple of Luke Edgell inspired stretches, and endured some of Samoz' terrible uni game stories.
The deck looked flat, and the outfield fast, so we were rather surprised to be sent into bat. Poole and Wolter opened up, with Poole knicking off early to a good rock. Gummer and Wolter consolidated well, progressing to 1-40 off 12, before Gumms knicked one to slip. This bought Jimmy Crombie to the crease, who batted with great intent and ran well between the wickets from the get-go. The pair teamed up nicely to swing momentum nicely in to our favour, with Wolter bringing up his 2nd 50 on the trot. He batted with great patience, and hit some impressive maximums in his innings of 79. As the run-rate started to accelerate, we lost Crombie (53) and Wolter, which tore the momentum away from us slightly. Some nice cameos from skipper Maxy Burgess (20) and a swashbuckling 13 from pinch-hitter McLachlan got us to 8-213 with 1 over to go. S Alexander then successfully negotiated the last over, finishing with red ink for a solid 1 off 9 rocks.
With 215 for Bankstown to get, we were confident that bowling a tight line and the right length would be enough to get the 6 points. Things didn't start too well, with some wayward bowling from the openers, as well as a complementary 4 byes from stand-in keeper Gummer. The introduction of Wilson and Crombie pulled things back nicely, and we started to pick up wickets at regular intervals. After a conservative start, one of their openers started playing some more expansive shots, and the momentum continued to go back and forth between the two teams. An outstanding bowling partnership between Jacob Graham (2-36) and S Alexander (2-50) meant we were back on top, and with Sammoes guiling their opener to run past one, things were all but in the bag. Some late order hitting provided a few scares, but the Dogs finished 20 runs short at 8-194 off 50.
It was a great all-round performance from the boys, and good to get back on the horse after a poor Rd 1 loss. Things are looking up for the mighty 4s – looking forward to our first 2 day fixture at home against Syd Uni next week.
Up the 'Tahs
Gumms
5th Grade – Manly 1/69 (N. Cohen 31*, J. Mason 23*) def Bankstown (M. Counsell 5-15[10], A. Bain 2-14[6])
With a strong bonus point victory last weekend against Easts, our focus had now turned to a strong Bankstown side with the game once again being held at picturesque Manly Oval. A few changes this week meant the inclusion of Joel Mason whose experience is invaluable as well as a well-deserved debut for Matty Brewster as wicketkeeper. Unfortunately Waddo lost the toss and Bankstown elected to bat first on a good looking wicket. With a strong bowling line-up consisting of openers Archer and Counsell as well as Bain, Hole, Akhurst and spinners Anderson and Outred we were quietly confident of getting the job with the ball.
The Bankstown opening batsmen started slowly, as openers Archer and Counsell hit their spots from ball one and utilised pace and bounce to their advantage continuously testing the batsmen. Apart from the occasional lusty hitting from their captain, they rarely looked likely to score in anything other than 4's or 6's. Some strong fielding and pressure led to the first chance being created by Mike Counsell with an edge flying to the slips for a smart catch for his first and Manly's first wicket of the day. Fortunately we didn't have to wait very long for the second with a clever bit of bowling leading to Counsell's second in two balls as the batsman misjudged a fuller ball and was struck on the pads trapped in front. Chances were created at regular intervals from then on as Archer and Counsell went about their business showing how successful bowling in partnerships can be. Big Counsell tore through the Bankstown top order with two more wickets being caught by Anderson and Cohen and Archer bowled fantastically in support. He afforded little to no scoring opportunities for the batsmen and was unlikely not to pick up more than his 1 wicket for the day.
Alex Bain was then brought on and picked up exactly where Archer left off as he created numerous chances bowling to the middle order batsmen, giving away no easy runs and supported Counsell brilliantly through the back end of his spell. This allowed Counsell to complete a well-deserved five wicket haul and finish his spell with the excellent figures of 5/15 from his 10 overs straight – a fantastic effort from the big man. Ned Hole was then called upon and had immediate impact as he picked up a wicket with a top edge to Archer a mid-on. Bain also chipped in with tidy figures himself of 2/14 and was unlucky not to have a third. Special mention also goes to Waddo with an early contender for catch of the year for his one handed diving catch in the slips. With the wicket a little slow and showing inconsistent bounce, spinner Anderson was brought on to bowl to the tail, and was rewarded with a wicket utilising the bounce of the pitch getting one to turn and bounce catching the number 11's outside edge with a great catch by Brewster to cap off a very tidy day behind the stumps.
Bankstown's total after 27 overs was a well below par 67; a huge credit to the bowling attack. With contributions from Archer, Hole, Anderson and Bain, the superstar was undoubtedly Michael Counsell for his fantastic 5/15. Counsell bowled with pace and bounce, utilising the wicket to his advantage and his height and speed always troubled the batsmen. The bowlers all worked together and bowled with a plan, this paid off hugely as we now found ourselves chasing 68 with the opportunity for a second bonus point victory in two weeks.
Openers Cohen and Outred made their way out to the middle with the goal of making their intentions clear racing to 20 before Outred was unfortunately caught behind for 5. This was all the good news the Bankstown bowlers received however, as Mason then joined Cohen and the pair worked towards swinging the momentum back in the small run chase, taking advantage of an inexperienced Bankstown bowling attack. The pair were successful in guiding the side home inside 12 overs for an emphatic 9 wicket bonus point win. Mason finished with a well-made 23* and Cohen on 31*, meaning 5th grade are now two bonus point wins from two games. Our attention now shifts to next week's away fixture against the strong Sydney University– a big test for the boys. Special thanks must go to Todd Harper and Don Sellen for all their efforts throughout the day. Cheers Guys.
Nick Cohen
Click on the images below for a larger view
"Matty Brewster made his 5th Grade debut on the weekend"
"Will Outred more than impressed with his new navy floppy"
"Simon Waddington discussing some pre-match plans with Will Akhurst"
"Michael Counsel was the pick of the bowlers claiming his first manly 5fa"
Hardboard Diggers Team of the Round
This weeks Harbord Diggers Team of the Week see's a team dominated by the lower grades as per the weekends results. D'Arcy and Rawlings open up with Beadle and Baker coming in at 3 and 4 after a great game with both bat and ball. Wolter and Lenton come in the middle order after solid half centuries, while Crombie continues his good form with bat and ball to come in at 7 and be the teams premier all-rounder. Trewartha showed his bowling still has some venom in it and comes in as pinch hitter at number 8, while the rest of the bowling attack picks itself with Evans, Bain and Counsell all excelling with the ball on Saturday #bleedblue